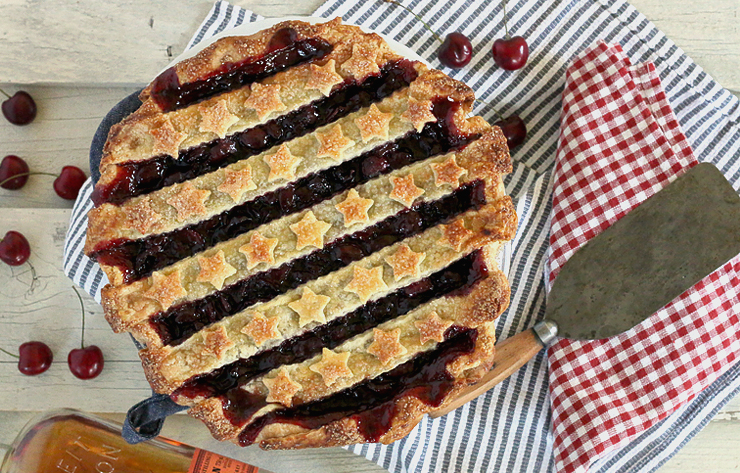 It's July in America and y'all know what that means....beers, buds, bbqs, blowing stuff up and Bourbon Cherry Pie. While these are some of the reasons I love this country, they are a big metaphorical slice of what makes living in the land of the free so exceptional. A lot of us tend to take our freedoms for granted, whether it's freedom of speech, the right to vote or simply the liberty of instantly streaming any 80's buttrock music video we desire (thank you YouTube and Warrant for providing us with this American classic). As Americans, it's important that we recognize how lucky we were just to be Born in the USA.
The relaxed summer vibe that comes with the 4th is a powerful thing where I come from. Folks go all in to show their patriotism by filling up on tater pigs (it's a real thing) and loading up on (possibly illegal) fireworks/explosives just to see who can create the biggest bang. Since I can't be back in my old stomping grounds celebrating with my family this holiday, I did the next best thing and came up with a recipe for a true American pie. This recipe for Cherry Bourbon Pie with a stars and stripes design is pretty patriotic. Made with sweet locally grown cherries, Kentucky straight bourbon and a crust as buttery as a biscuit, this pie is basically 'Merica on a plate. The bourbon mellows the sweetness of the cherries and the orange and bitters
bring a touch of Old Fashioned americana to the filling. My All Butter Vodka Pie Dough wraps the bourbon cherry filling in a flaky blanket of broad stripes and bright stars launching your tastebuds higher than a bottle rocket.
So, as the skies light up and the drinks go down this Independence Day, remember to be grateful for your freedom. And maybe if you're feeling extra thankful, give a little fist bump to those who poured your beer, grilled your dog or baked your pie. Happy Birthday America!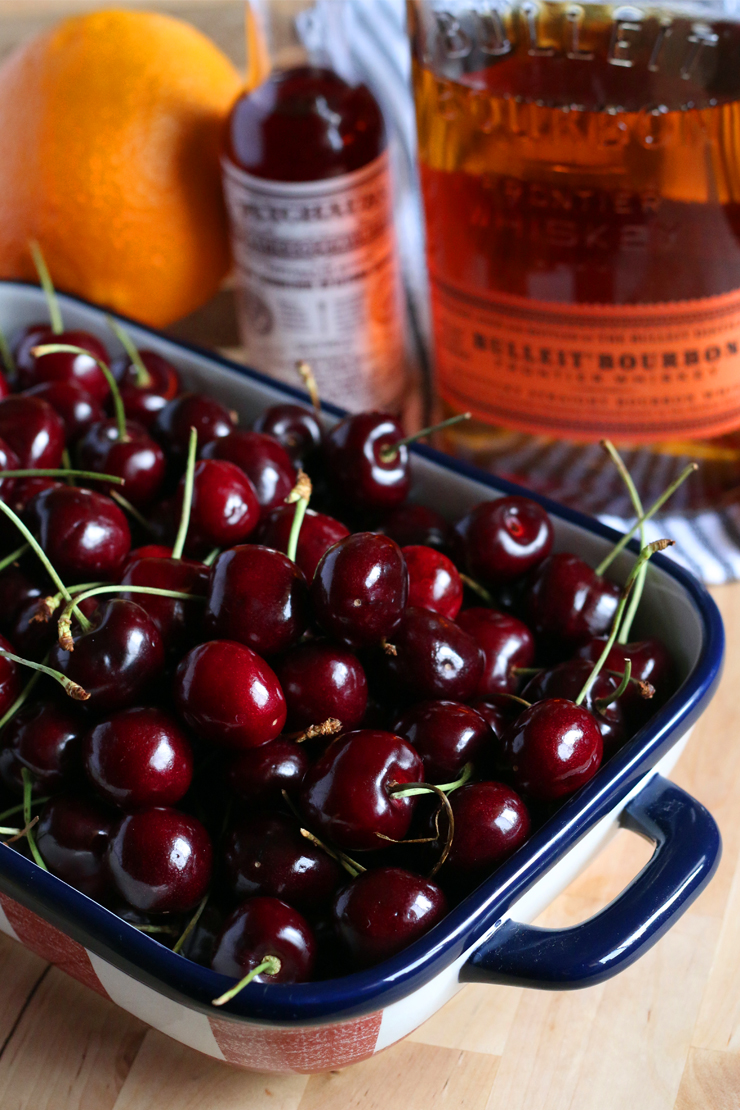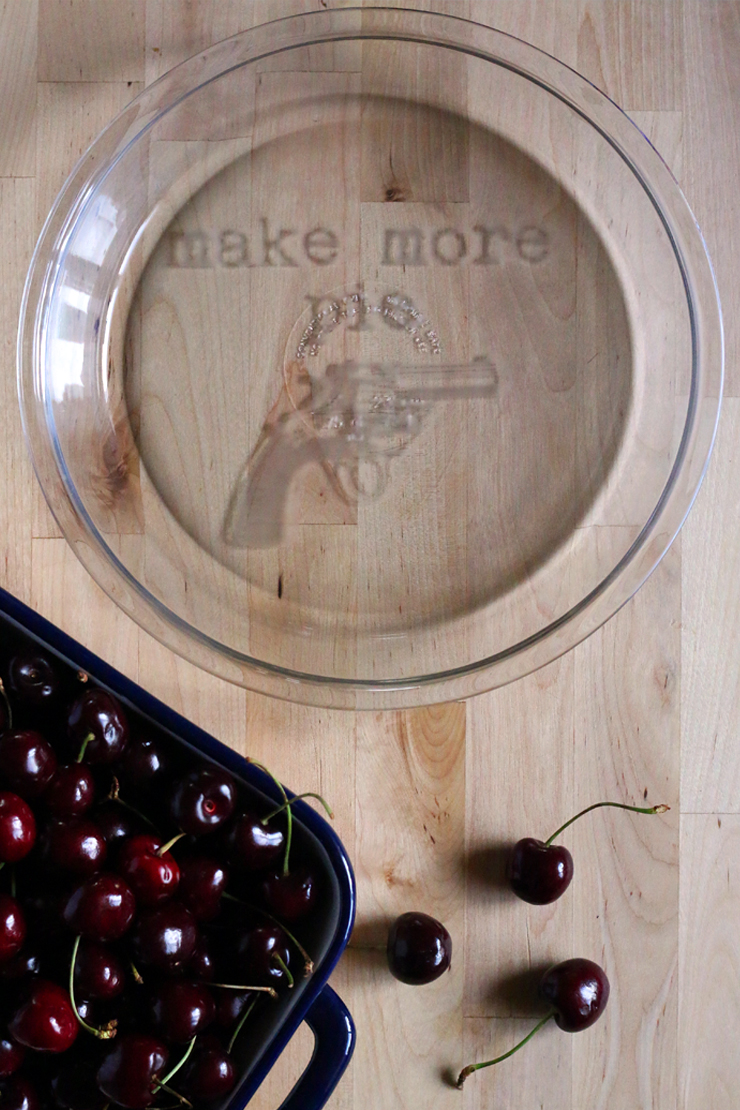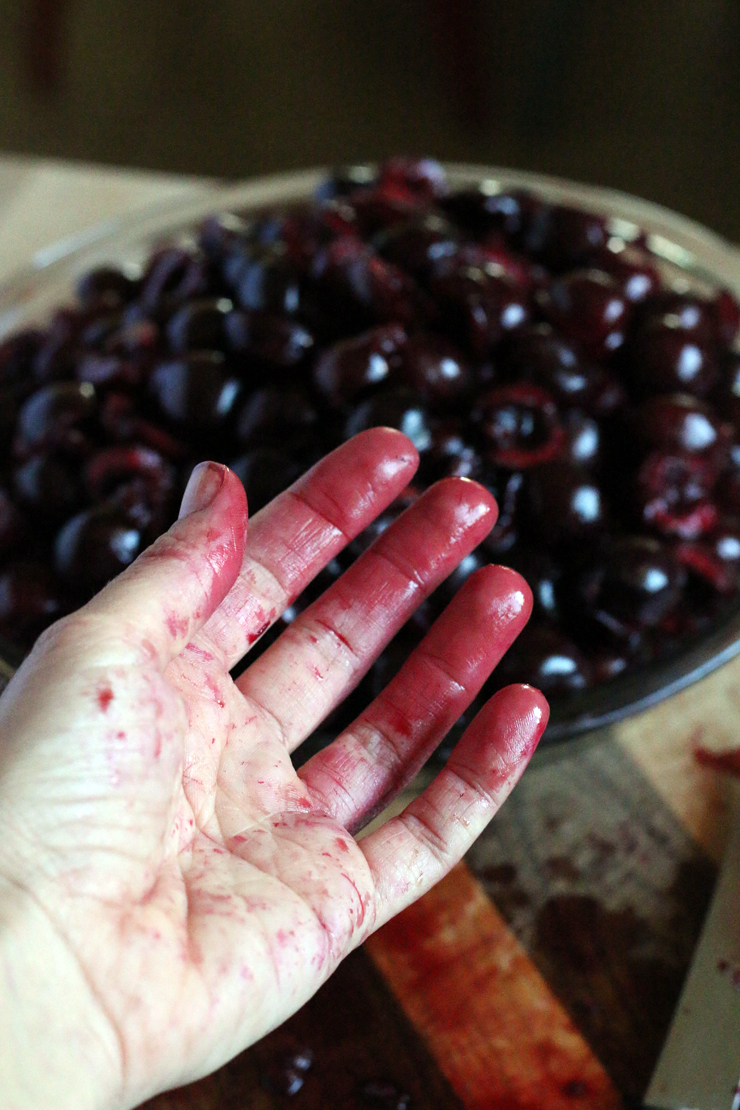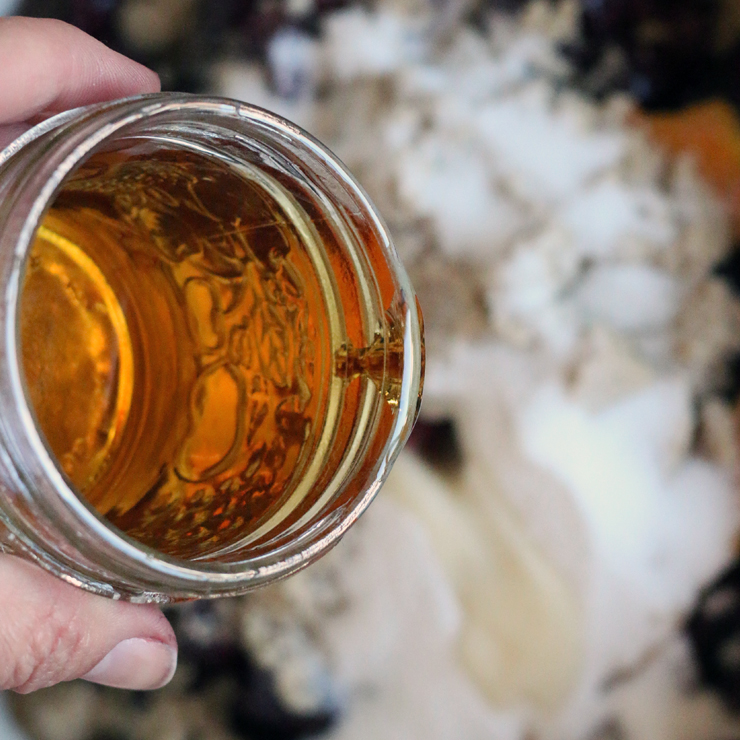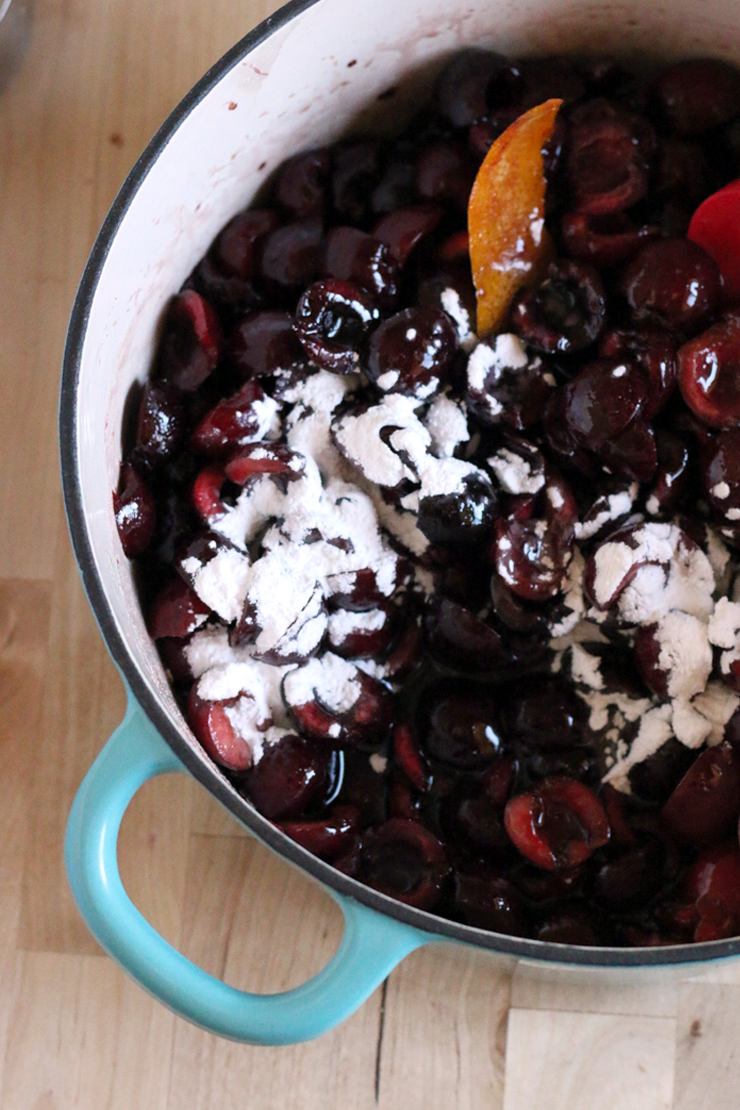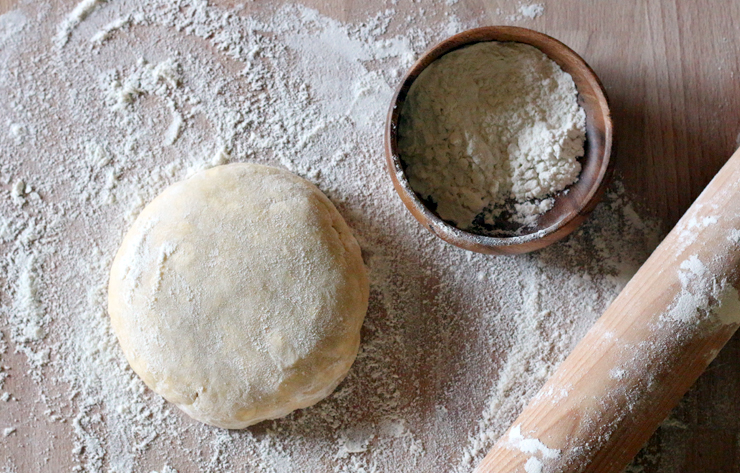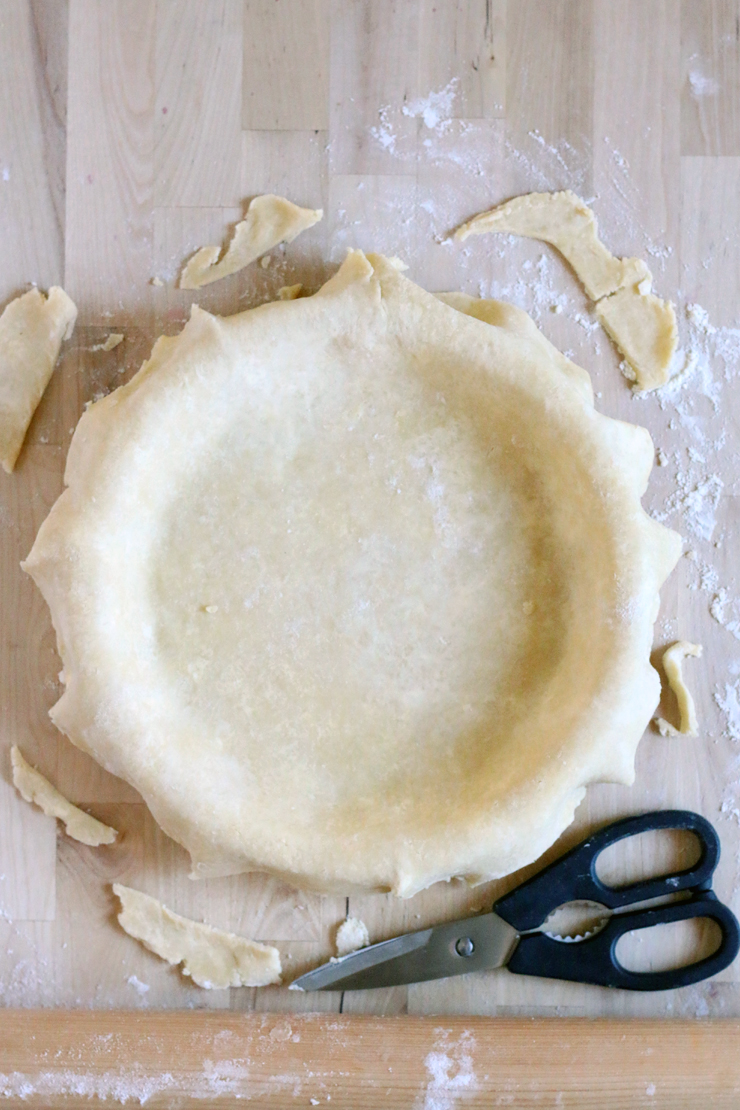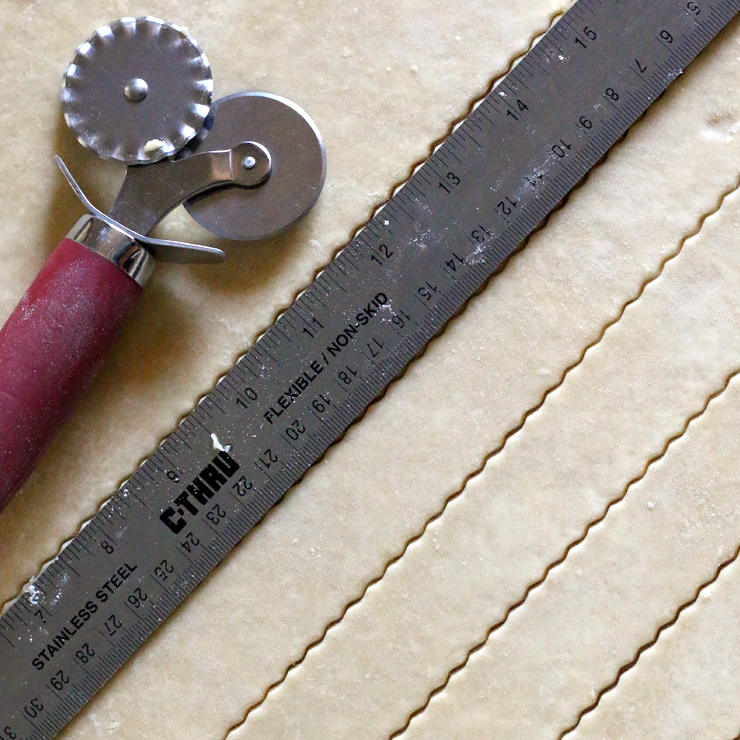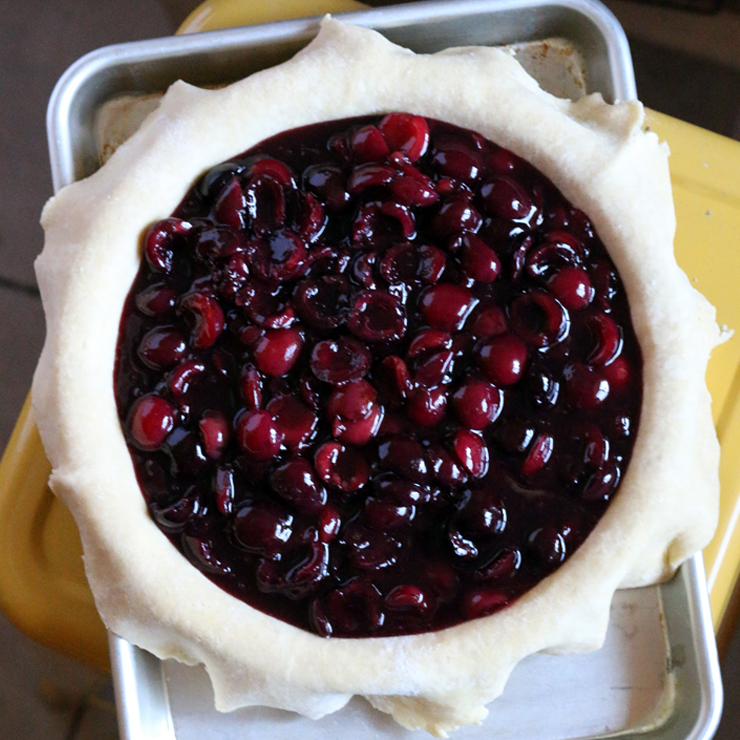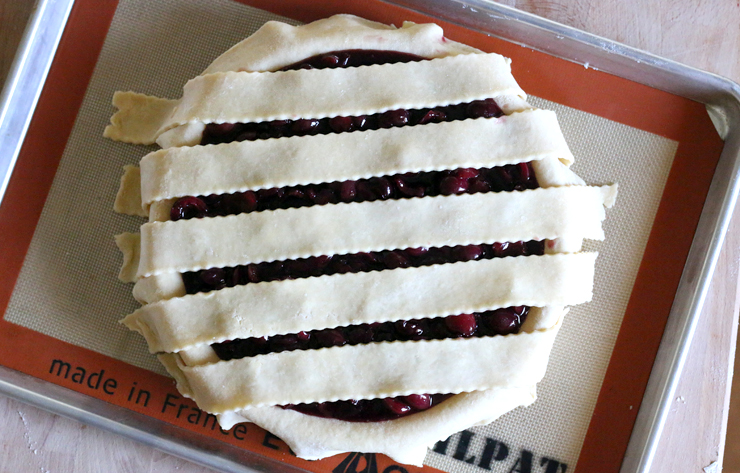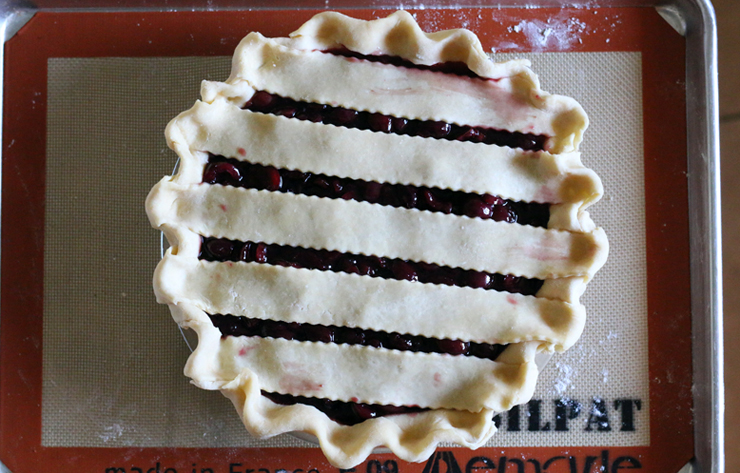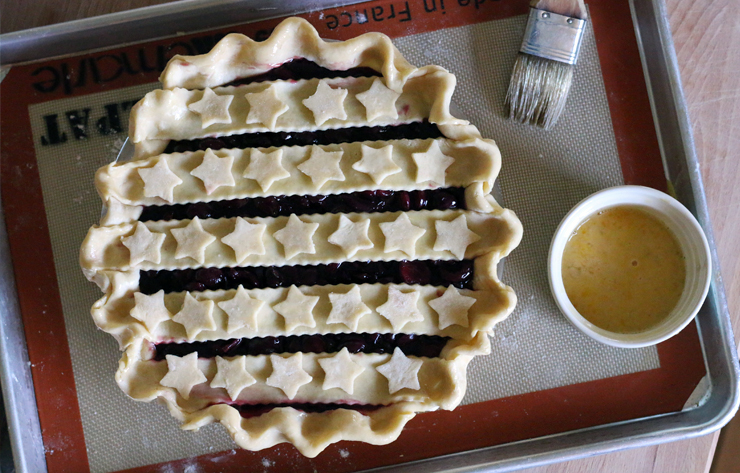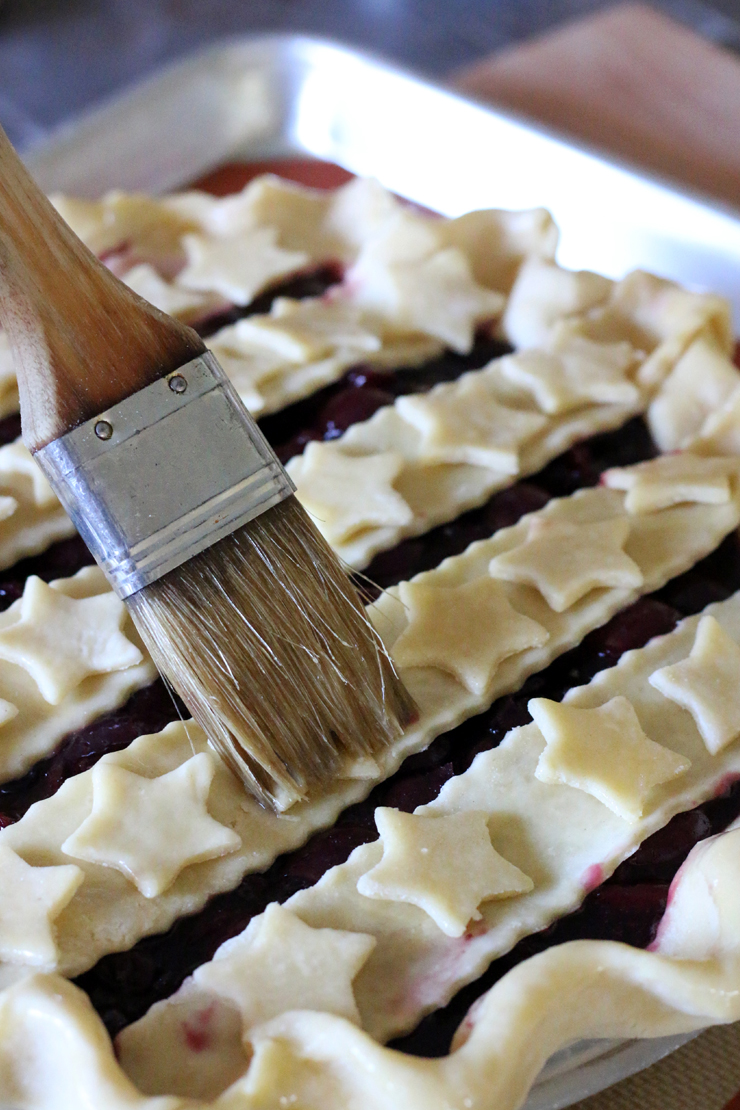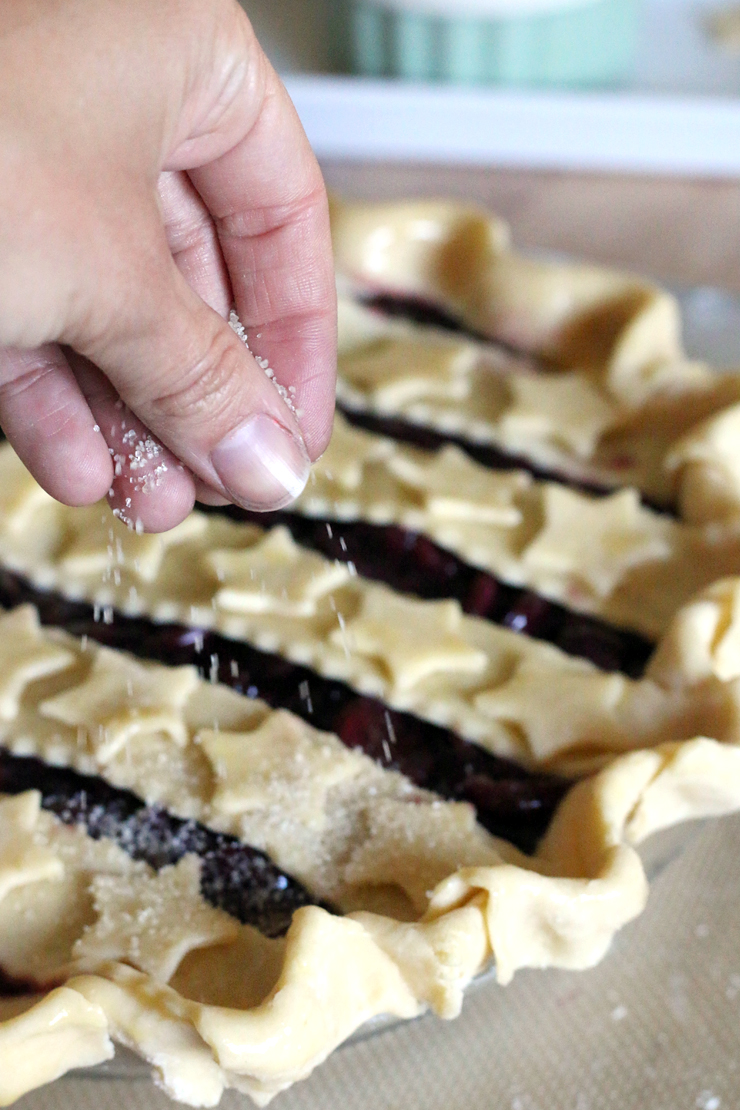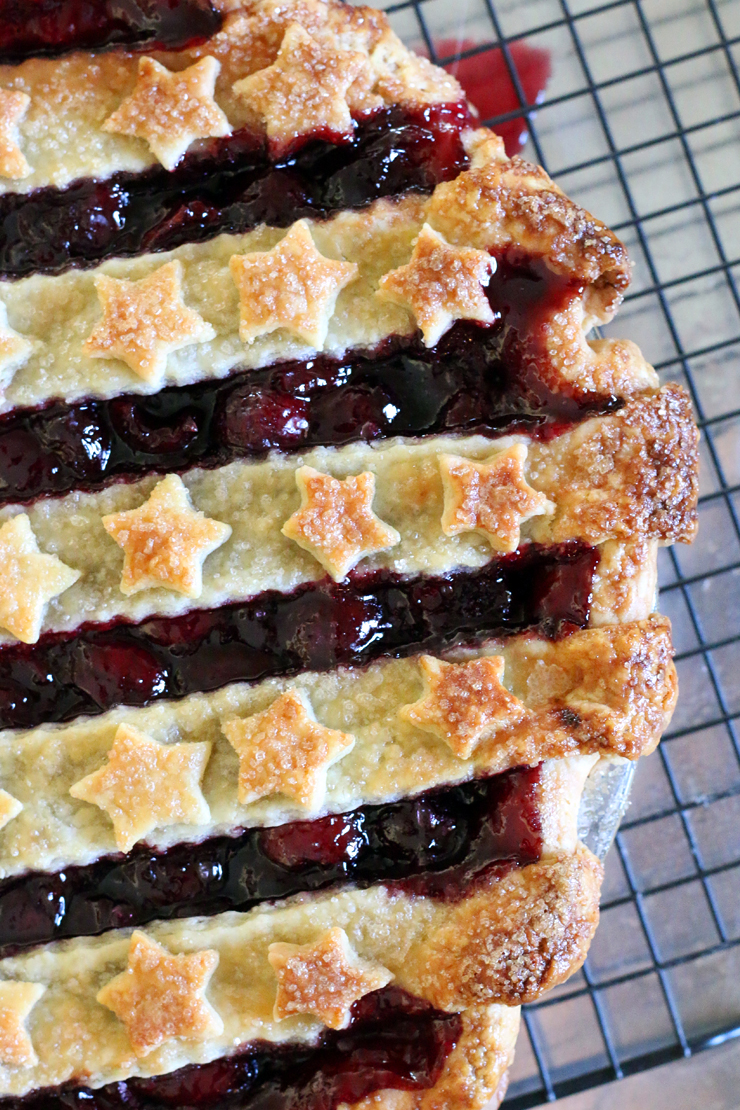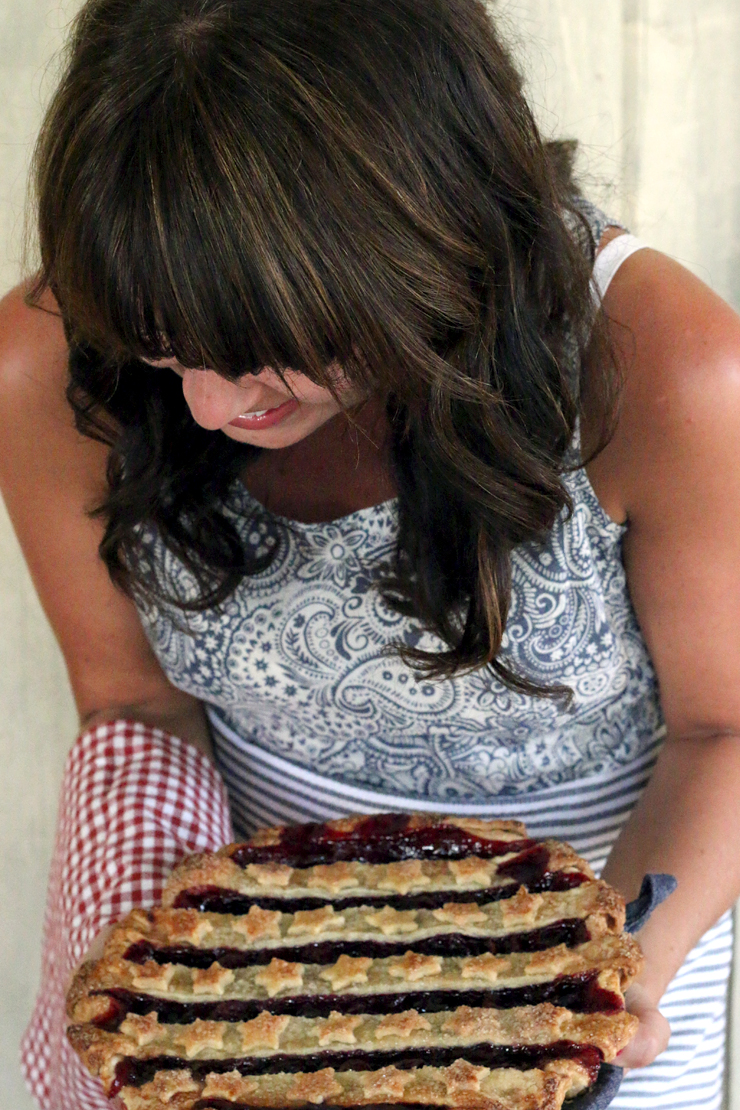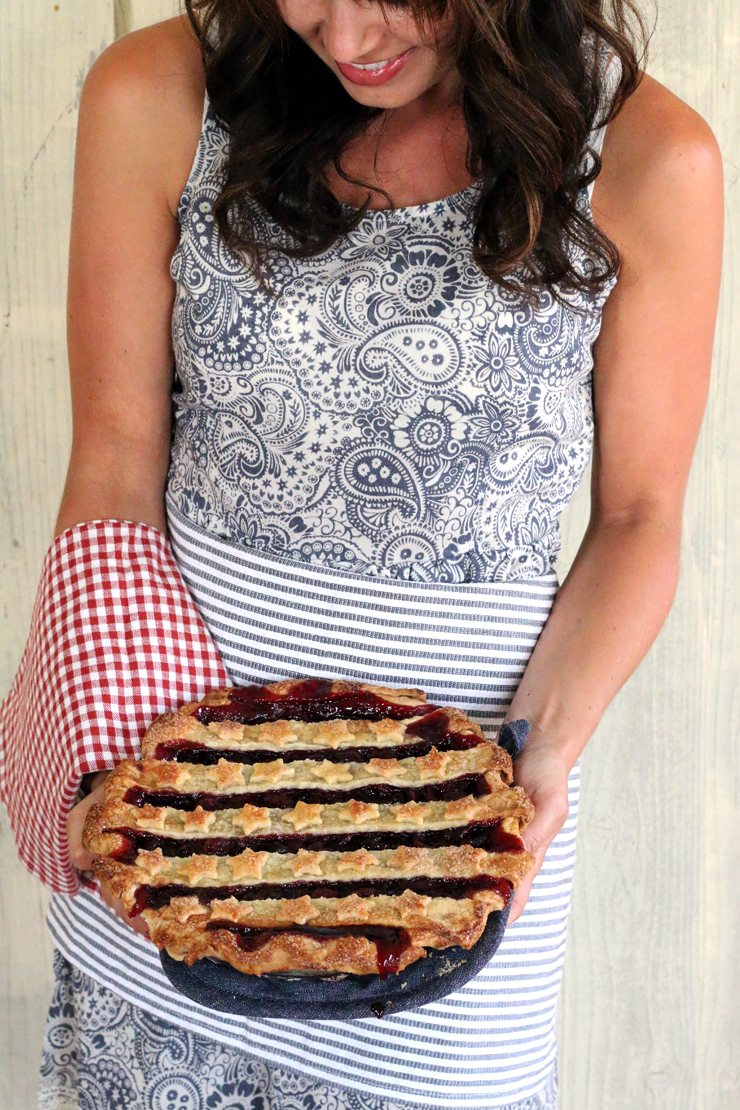 Print
📖 Recipe
CHERRY BOURBON PIE
---
Total Time:

2 hours 55 minutes

Yield:

8
Description
This Cherry Bourbon Pie combines red cherries, Kentucky bourbon, a buttery stars and bars crust and a touch of orange zest and bitters to bring an Old Fashioned Americana twist to the classic Cherry Pie.
---
All Butter Vodka Dough Recipe
1

batch (2 disks) of my All Butter Vodka Dough (- see link in instructions)
CHERRY BOURBON PIE FILLING
5

-

6

cups

fresh red cherries, pitted and halved
orange

1

2 strips of zest and 2 tablespoons of juice

¼

cup

bourbon (+ 1 teas)

½

cup

brown sugar

2 tbsp

tapioca starch

¼

cup

granulated sugar

1

teas pure vanilla extract

1

teas bitters

1 tbsp

turbinado sugar
---
Instructions
All Butter Vodka Dough Recipe
You will need a single batch (2 disks, one for the top crust and one for the bottom crust) of prepared pie dough, you can't go wrong with my All Butter Vodka Dough Recipe.
CHERRY BOURBON PIE FILLING
Pit and halve 5-6 cups of cherries and set aside in a mixing bowl. Peel two 1" wide strips of orange peel and add to cherries.
Combine the cherries, brown sugar, granulated sugar, ¼ cup of bourbon and orange juice in a large saucepan or dutch oven. Allow to sit at room temperature for 15 minutes.
Add tapioca starch and simmer mixture over medium/low heat for about 5 minutes, until it begins to thicken.
Remove from heat and remove orange peel. Stir in vanilla and bitters. Transfer to a mixing bowl and refrigerate the filling until cool, about an hour.
ASSEMBLING & BAKING THE PIE
Place oven rack in the lower third of oven and preheat oven to 400°F.
Remove dough disks from refrigerator and roll out the first disk into a 12" round on a lightly floured surface. Gently transfer the dough disk into a 9" pan, leaving a 1" overhang all the way around. Let it chill in the fridge while you prepare the rest.
Roll the second dough disk out into a 12" round and cut desired top crust design. To create the stripes and stars, first slice the dough round into 1" strips using a straight edge and a pastry wheel.
Pour the cherry filling into the prepared pie shell. Use the cut strips to create a stripe design over the filling. Cut little stars from the remaining pie dough and decorate the pie as desired.
Mix the egg and 1 teaspoon of bourbon together in a small bowl. Gently brush the top crust with egg wash and sprinkle with turbinado sugar.
Bake for 20 minutes on 400°F. Lower the oven temperature to 350° and bake for another 25-35 minutes until the crust is a deep golden color.
Allow to cool for at least an hour before enjoying. FYI, you have all the mixings to make yourself an Old Fashioned so why not pour yourself one while you wait.
Prep Time:

2 hours

Cook Time:

55 minutes

Category:

Dessert, pie

Cuisine:

American