This buttery Coconut Pie Dough has a naturally sweet and nutty flavor with a tender, flaky and chewy crust. Use this simple pie dough recipe for pies, hand pies or galettes.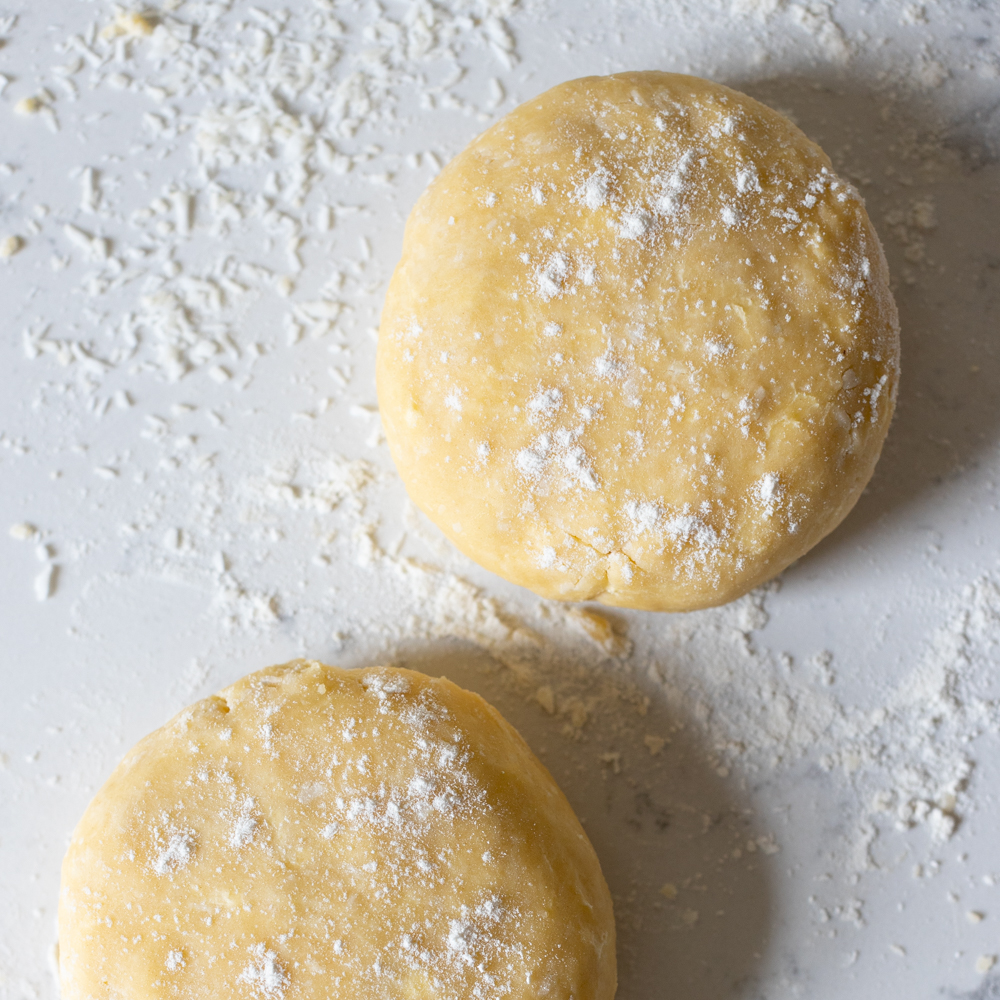 I wasn't planning to write a full blog post on Coconut Pie Dough. I shared it in my Raspberry Lime Coconut Galette recipe and most recently in my Pineapple Lime Coconut Hand Pies. The more I make it, the more I realize that this Coconut Pie Dough has legs. It can stand on its own as a full blown recipe and you should be able to use it however you dang well please.
This recipe Coconut Pie Dough works great for pies, hand pies or galettes
For this recipe, as with all of many of my pie doughs, it begins with my All Butter Vodka Pie Dough base. It's been my number 1 recipe for all of my pies, hand pies and galettes for as long as I've been baking. Needless to say, it's a staple. But, incorporating something new and exciting into pie dough always makes for an interesting surprise.
All good pies begin with a good pie dough recipe
Sometimes I spice it up by mixing ground pepper in to the crust, like in my Raspberry Rhubarb Pink Peppercorn Hand Pies. Or I'll give the crust an extra luxurious tender tang by incorporating cream cheese into the Cherry Hand Pies with Cream Cheese Crust. Let us not forget about my all ride or die recipe, my Apple Cheddar Pie with cheddar cheese baked right into that crust. It's my favorite recipe of all time, ever. My point is, when you have a solid base, you can build up from there.
The changes from my All Butter Vodka Pie Dough to create this Coconut Pie Crust are minimal
I just sub in ½ cup of finely shredded coconut for flour and use a little less vodka. Simple as can be. The coconut gives the dough some serious character and adds a special something to the basic buttery dough. I will say, it can make the dough a little tougher to work with, but this pie dough is forgiving. Plus pies, hand pies and galettes are supposed to be rustic, that's how you know they are good.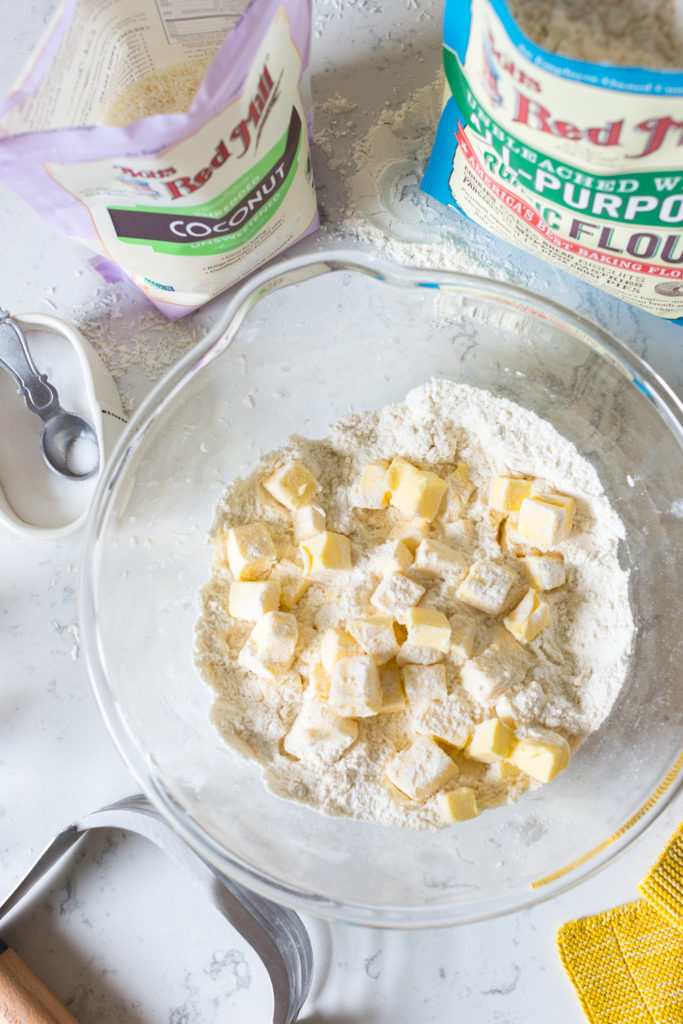 This Coconut Pie Dough has a lot to offer:
Taste: the shredded coconut adds a nutty, natural sweetness to the dough. This gives it a little more character and personality.
Texture: the shredded coconut brings a whole other textural dimension to the already flaky pie dough, offering the bonus of a welcome chewiness that just adds to the crust.
Attitude: mixing in the coconut to the pie dough gives it an edge. The coconut brings a tropical vibe without trying too hard. It sets off the Coconut Pie Dough, giving it something distinctly unique.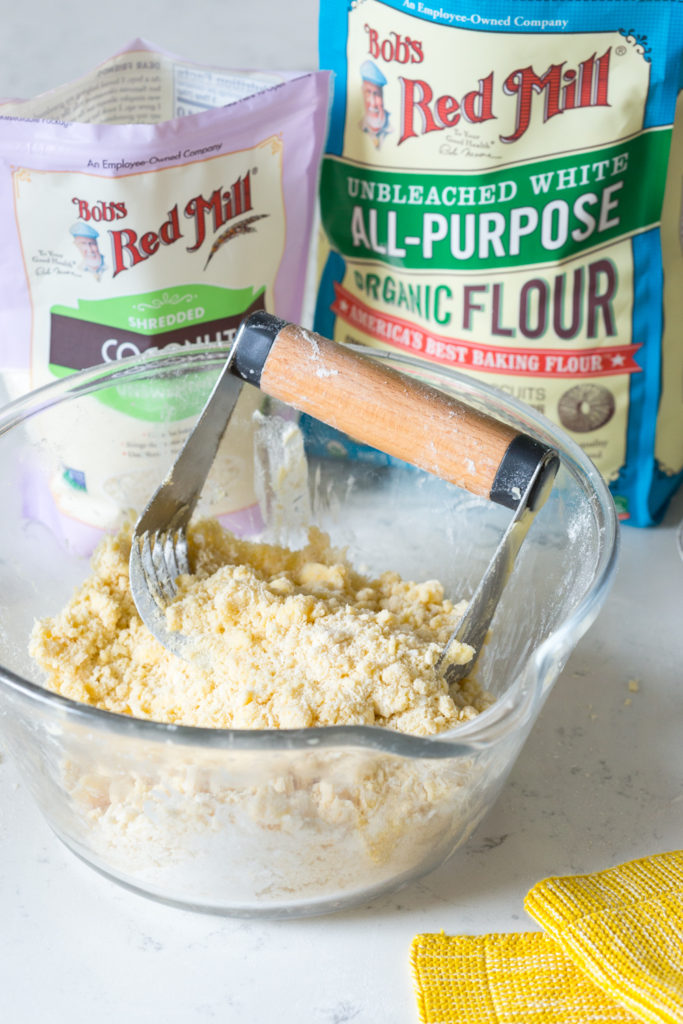 You can pie dough a few different ways:
By Hand: all you need here is a mixing bowl and a fork. Then you just squish the butter into the dry ingredients between your fingers. Then use a fork to hydrate the dough with the vodka. You just need to move quick because you don't want that butter warming up and melting.
Pasty Blender: this is one of my favorite kitchen tools. It's inexpensive and cuts the butter into the dry ingredients easily. Plus, the butter won't melt as fast as it might when you mix it by hand.
Food Processor: if you've got one, use it! You can mix up pie dough in snap with a food processor. With a handful of pulses your butter is cut into the dry ingredients into a consistent texture. But be sure to just go one pulse at a time because you don't want to over-mix here. This is especially handy if you are making multiple batches.
Here are some of my favorite tips for working with pie dough:
Keep it chill! The flaky crust comes from the cold ingredients. Make sure your butter and vodka/water are nice and cold when you mix.
Vodka loosens the tension. Using vodka in place of water tenderizes the dough, giving it a flakier crust. Plus, the alcohol evaporates faster creating puffy little pockets that add texture to the dough as it bakes.
Don't over work it - it's not worth it. If you over mix the dough you'll wind up with a dense, flat pie crust. Less work means more texture!
Forgive and forget. Pie dough is supposed to be rustic. If your dough tears while rolling it out, patch it up. It's forgiving. Now forget the idea of perfection and keep rolling!
How to properly hydrate pie dough
Gather that Coconut Pie Dough into disks and gently pat it together. You never want to knead pie dough as that will cause it to be overworked and in turn tough. The less you mess with your pie dough, the more tender and flaky it will bake up.
I'm way into the idea of dipping into a tropical theme with this dough. Coconut just screams summer in the topics. But, I imagine this Coconut Pie Dough would work well as a savory dough too. I'm thinking some kind of spiced up veggie curry situation. Ok, either someone needs to get on that immediately or I need to develop a new recipe because that just sounds too good.
This versatile Coconut Pie Dough has a lot to offer to your pie, hand pie and galette recipes. I look forward to seeing what you can create with it!
Print
📖 Recipe
Coconut Pie Dough
---
Description
This buttery Coconut Pie Dough has a naturally sweet and nutty flavor with a tender, flaky and chewy crust that's perfect for pies, hand pies & galettes.
---
1

cup

unsalted butter (- cold)

2

cups

all purpose flour

½

cup

finely shredded coconut

2 tablespoons

granulated sugar

2 teaspoons

fine sea salt

2 tablespoons

ice cold vodka

2

-

4

tablespoons ice cold water
---
Instructions
Place the flour, coconut, sugar and salt in a mixing bowl and whisk together. Or combine in a food processor and pulse a few times to mix.
Cut the cold butter into ¼"- ½" cubes.
If using a food processor, add the cold, cubed butter to the dry ingredients in the food processor. Gently pulse until the flour changes from silky to mealy; this should only take a handful of pulses so watch it carefully.
If you don't have a food processor, you can easily cut in the butter by blending the flour mixture with either a pastry blender, two butter knives or even just by squishing it between your fingers, just be careful that the butter doesn't start to melt. You want it to stay cold for a flaky texture.
If using a food processor, while pulsing, slowly pour the vodka through the feed tube just until combined. If you aren't using a food processor, use a pastry blender or fork to combine the vodka into the dough.
At this point, I like to turn the crumbly dough into a large mixing bowl to check the hydration level of the dough by gathering a small fistful; if it holds together, it's ready. If it is dry or crumbly, slowly add the ice cold water, 1 tablespoon at a time, using a fork to blend. Test the dough by squeezing a small handful together, it should just stick together but not feel heavy or wet or dry and crumbly.
*Be careful to add only as much water as it takes to combine the dough into a ball or disk. The exact amount of water can vary depending upon the moisture content of the flour, the quality of the butter, and the weather. When it has the proper amount of water, the dough will come together without much effort or deliberate packing. If you need to add more water, make sure the ingredients are still cold.
Form the dough into 2 disks and wrap in plastic. Chill for at least 1-2 hours before rolling and forming. If you don't plan on using the dough within a few hours or on the day you prepare it, you can store the dough in the freezer. *If it sits in the refrigerator too long, it could start to turn a grayish color.
Once your pie dough has chilled, on a lightly-floured counter, roll one disk to ⅛"-¼" thickness. Use for pies, hand pies or galettes!