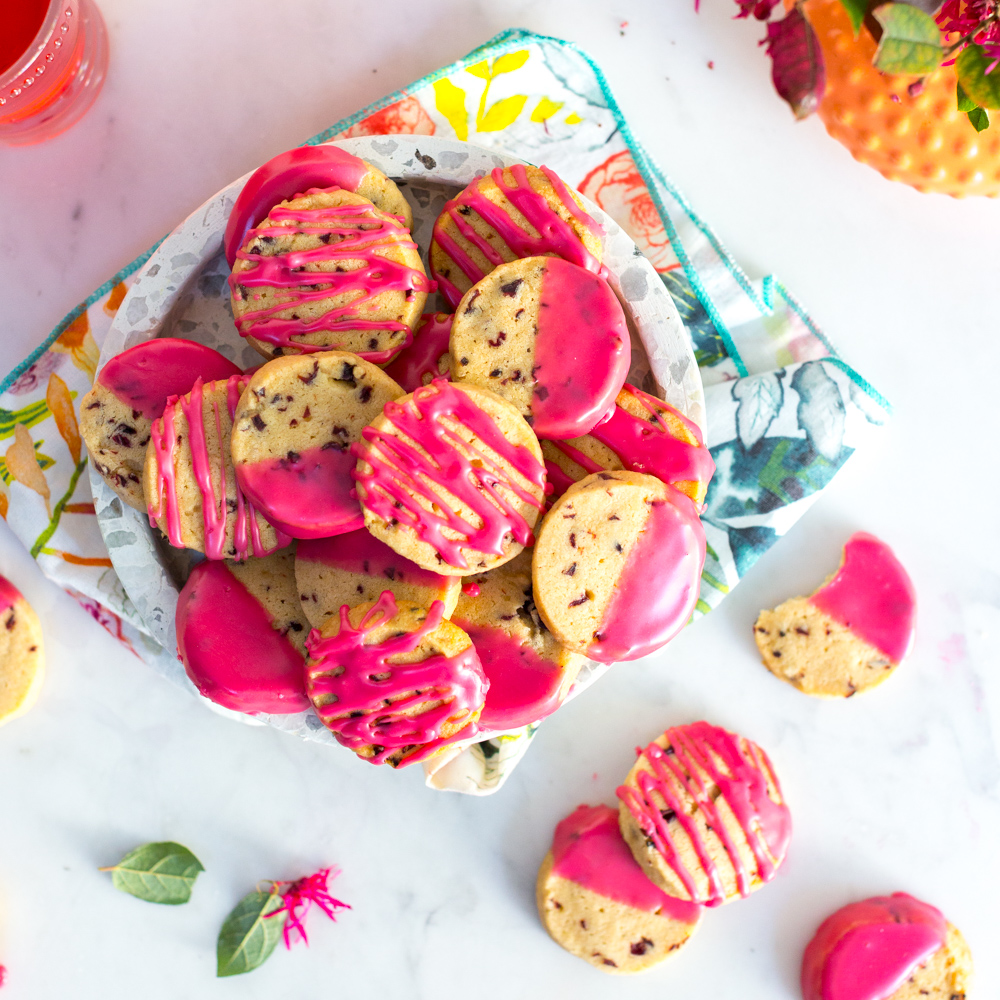 At first sight, the star ingredient in these Glazed Hibiscus Shortbread Cookies might conjure up visions of the Demogorgon that haunts the town of Hawkins in the 80's nostalgia inspired Netflix series, Stranger Things. The dried hibiscus flowers may look strange with their slightly unsettling, tentacle-like extremities, but don't let the creepy crawlies get the best of you because they are a delightful treat with a tangy zip and a kiss of floral sweetness. More tart cherry with flowery undertones than the deep, dark scarlet lit world of the parallel Upside Down universe where they could easily originate from.
I've long been a fan of the tart and refreshing Mexican Agua Fresca, Jamaica, also known as Hibiscus Tea
. Here is a refreshing Jamaica Punch recipe from my pal Kate of the blog Hola Jalapeño. The bright and zippy flavor refreshes like no other and is especially welcome alongside a spicy Mexican dish. When I spotted the dried hibiscus flowers
in the fruit and nut section at my local Trader Joe's last summer, I bought 2 bags immediately, no questions asked. I've been picking up a bag nearly every visit since and we endearingly refer to them as Demogorgons around here. I love adding the "Deomogorgons" to cheeseboards or snacking on them like candy when I need a little sweet rush. And while it can be a bit of a challenge to convince yourself that you are actually biting into a hibiscus flower and not some super-organism that crawled in from the Upside Down, the immensely tart sweetness will immediately win you over.
These Glazed Hibiscus Shortbread Cookies perfectly showcase the best qualities of the dried hibiscus flowers with a simple shortbread cookie base that allows the brightness of the hibiscus color and flavor to shine through. When developing this recipe for Glazed Hibiscus Shortbread Cookies, I slayed those Demogorgons into little cheery bits of magenta magic and sprinkled them into the easy butter shortbread cookie dough. The flavor combo of the simple buttery shortbread cookies with the tart and tangy dried hibiscus bits, plus a little punch of cinnamon
combine into an other-worldly tasting experience and an all-star texture combo. The strange thing is, I just made one small ingredient change to a basic cookie recipe and I feel like I've opened the door to a whole new, untapped cookie world.
These Glazed Hibiscus Shortbread Cookies are one of the simplest cookie recipes I've ever made but quickly climbed up to the top as one of my favorite cookie recipes ever! Don't worry Salted Peanut Butter Chocolate Chip Cookies, you'll always be an Eleven in my book. I love these Glazed Hibiscus Shortbread Cookies as is, but I wanted to take them one step further and make shortbread cookies with icing. Not to worry, that extra step could not be easier, you literally just brew a bit of bright and beautiful Hibiscus Tea
and whisk it together with some powdered sugar
, for a brightly sweet, vibrant hibiscus glaze that would even stop a Demogorgon in it's tracks. Isn't is a beautiful thing?
You're probably thinking, I really want to make these Glazed Hibiscus Shortbread Cookies but where on earth do I find dried hibiscus flowers
and hibiscus tea
? The dried hibiscus flower been hanging out at Trader Joes in the dried fruits and nuts section for a while now on you can find all kinds of hibiscus tea on Amazon. If you aren't able to get your hands on dried hibiscus flowers, you can absolutely sub in tart dried cherries
or dried cranberries
for the chewy dried fruit bits in the shortbread cookie dough.
If you've never tasted hibiscus
or used it in baking, don't be scared, there are much stranger things out there. It's time to transport yourself into this delicious dimension and bake up a batch of these Glazed Hibiscus Shortbread Cookies.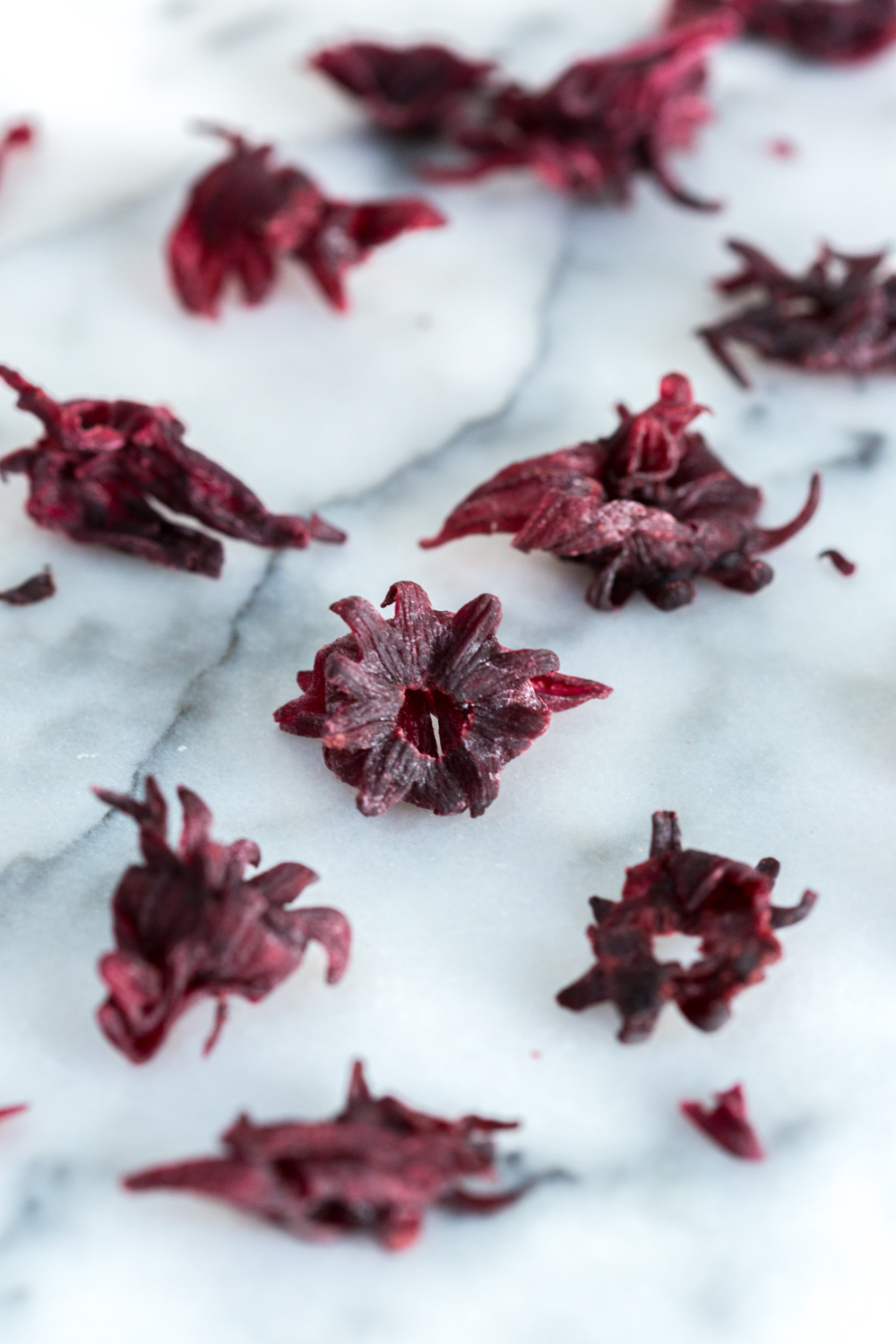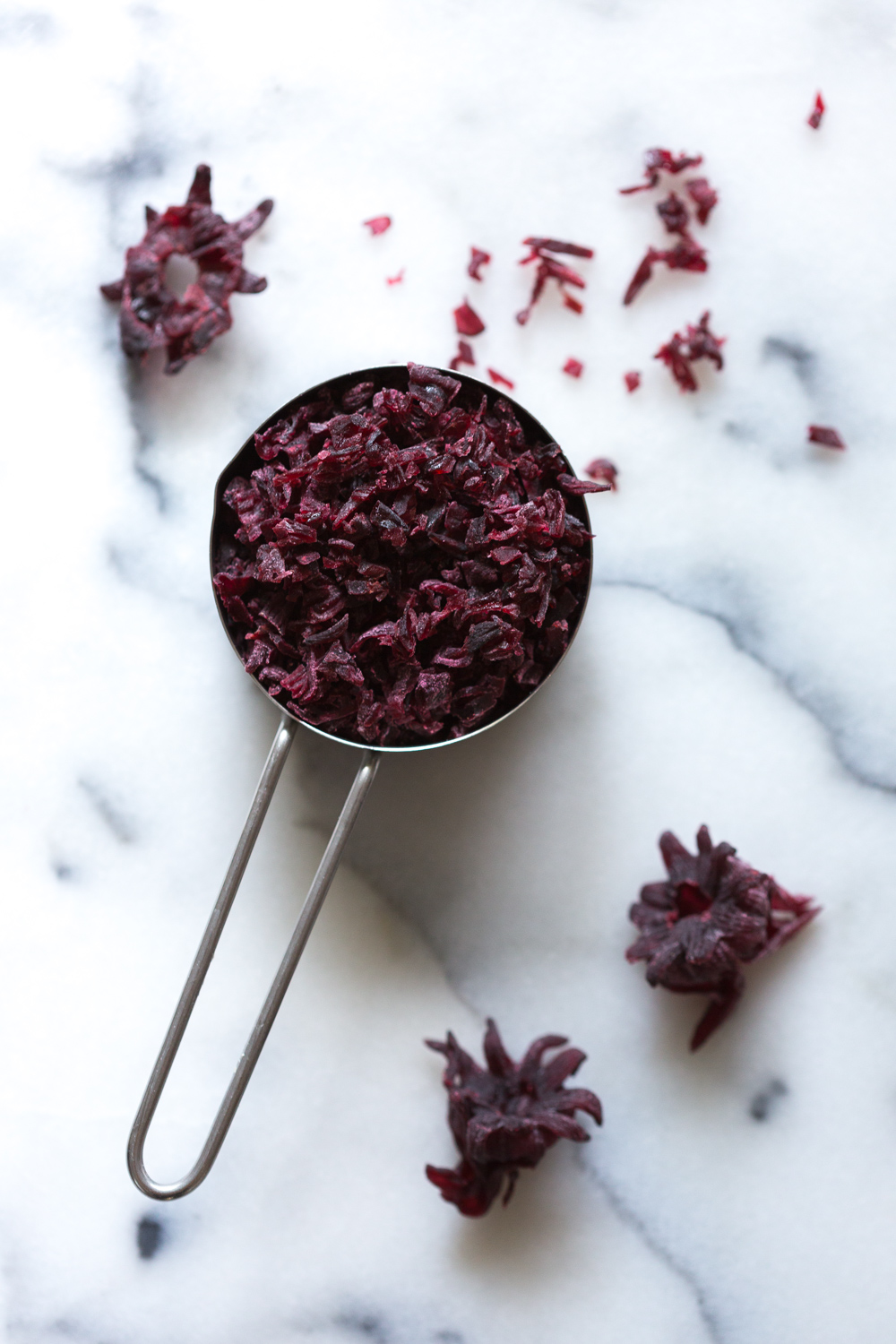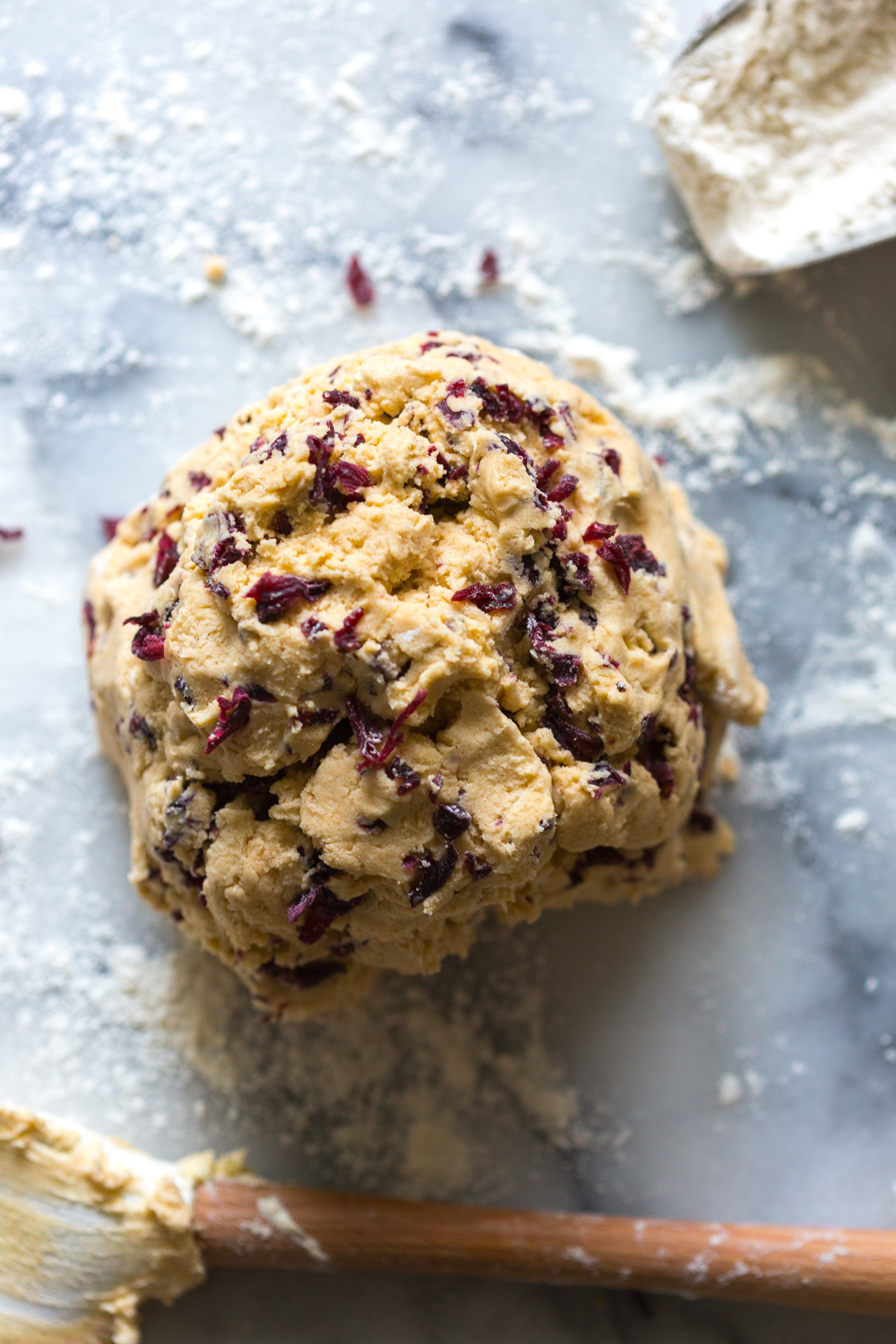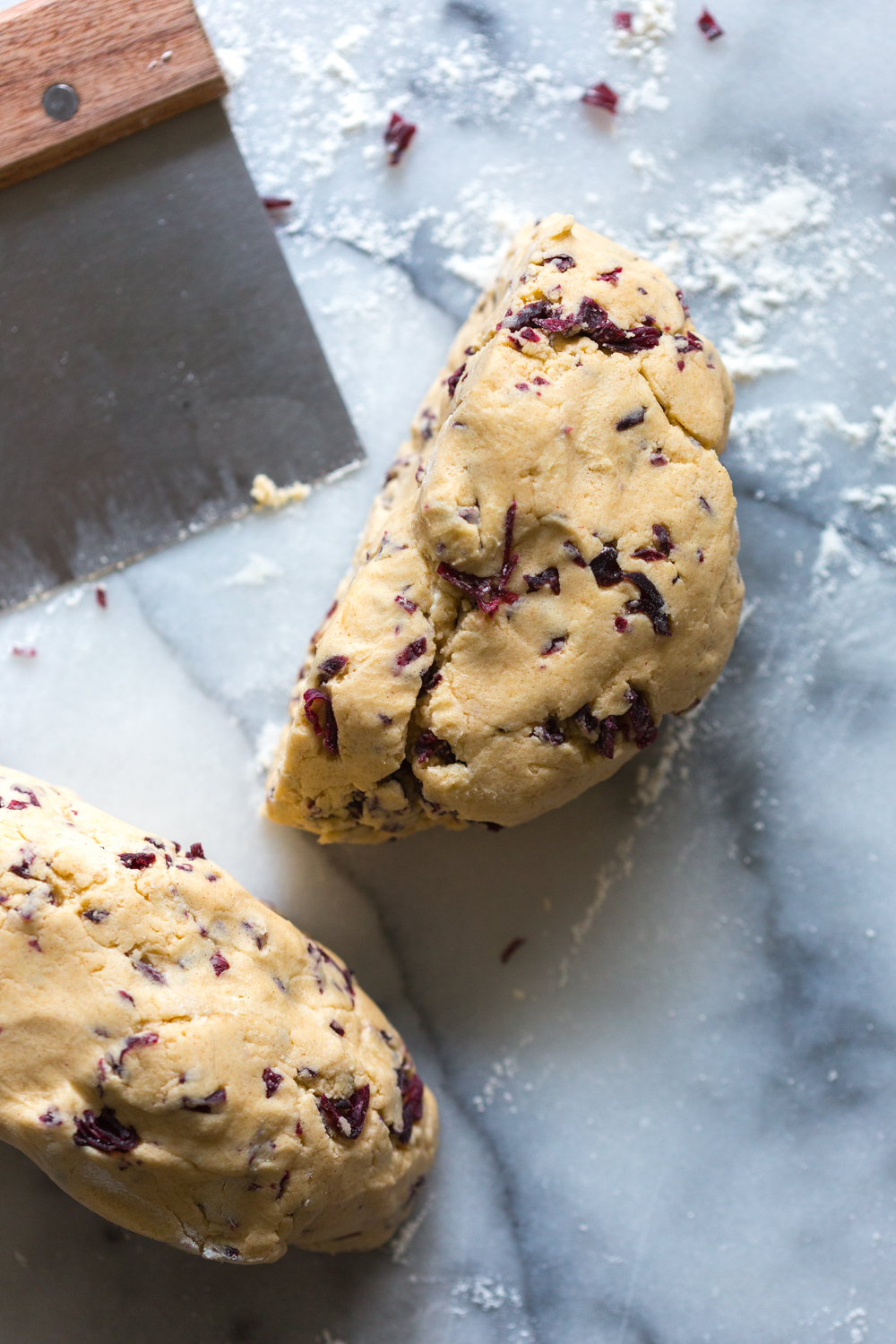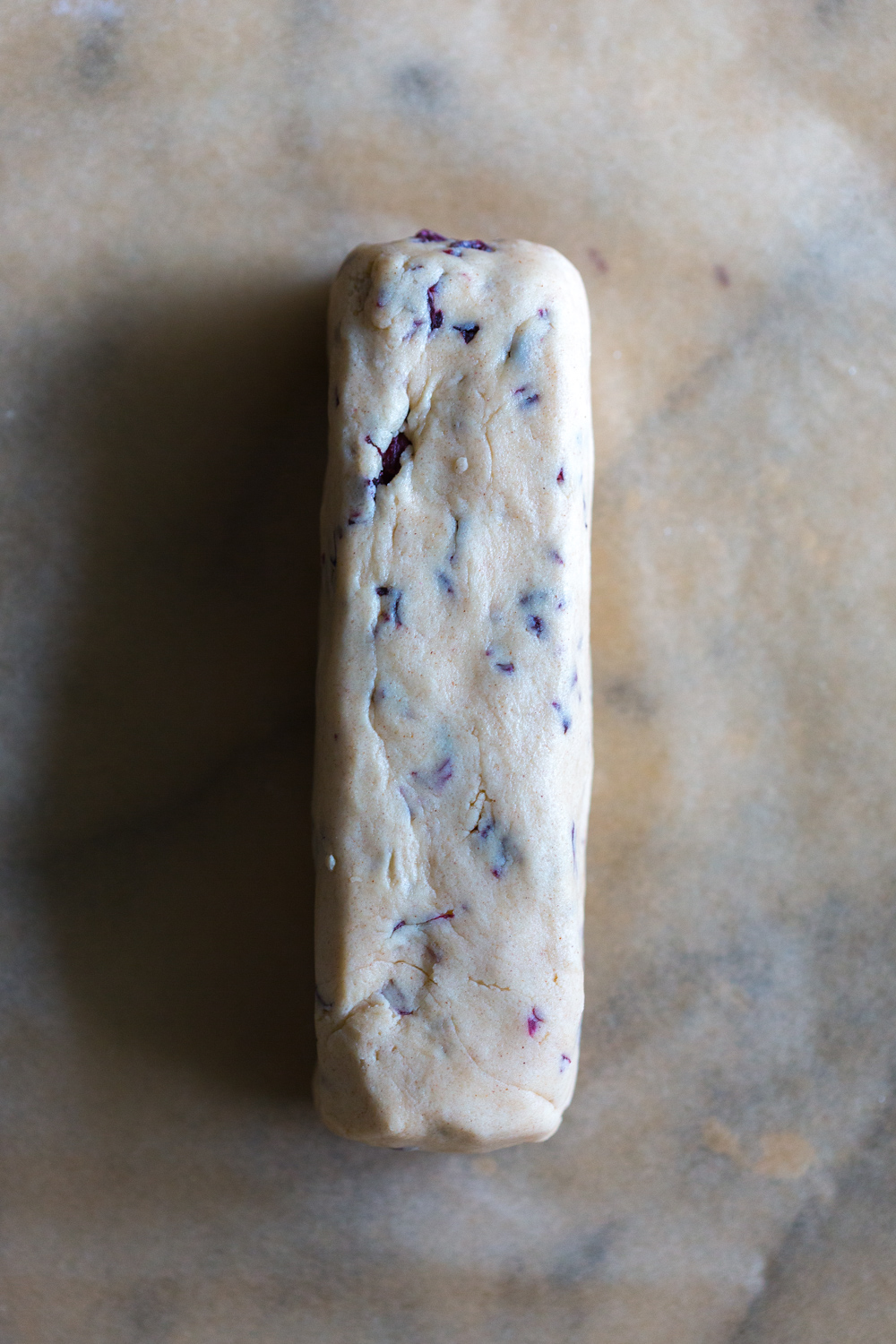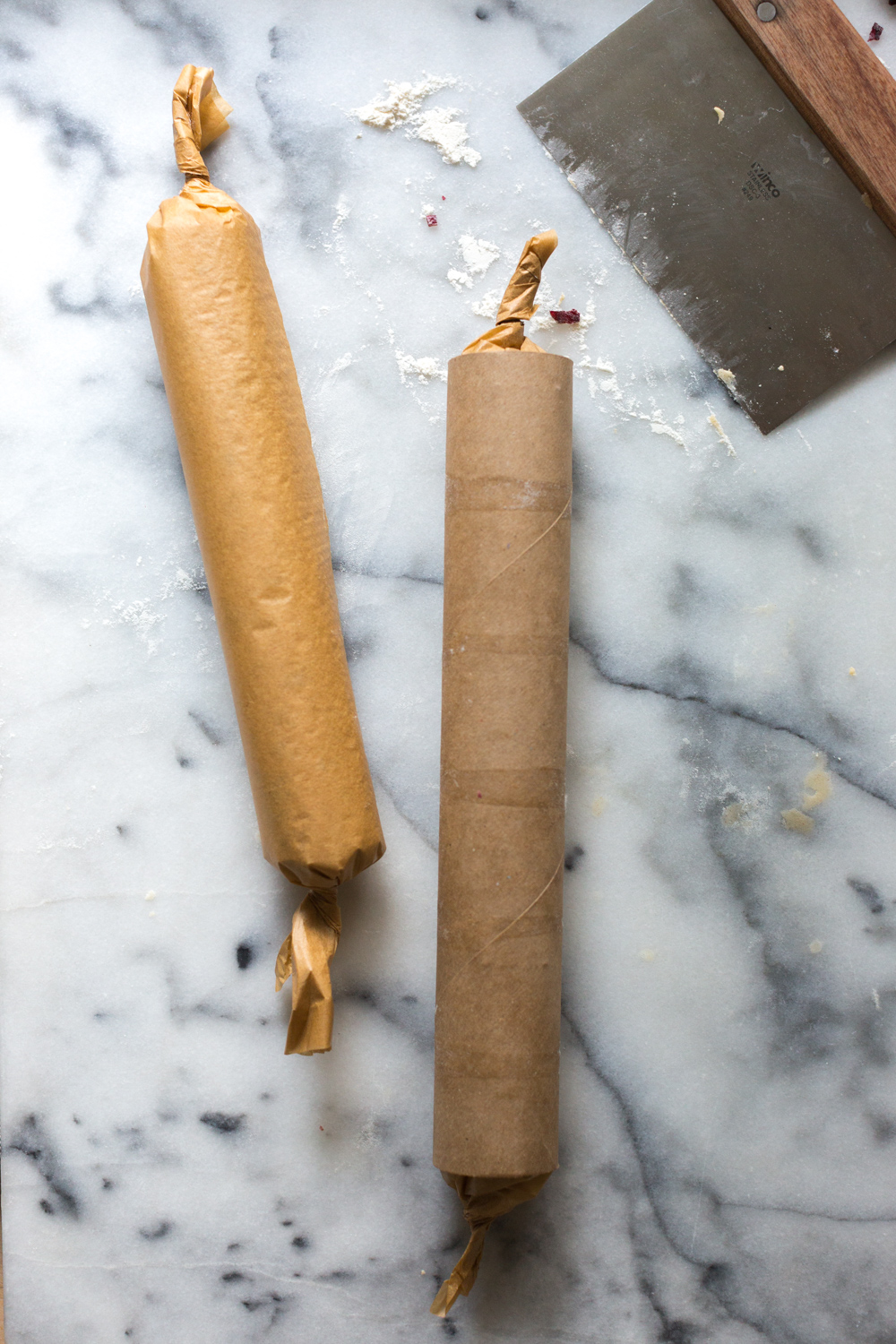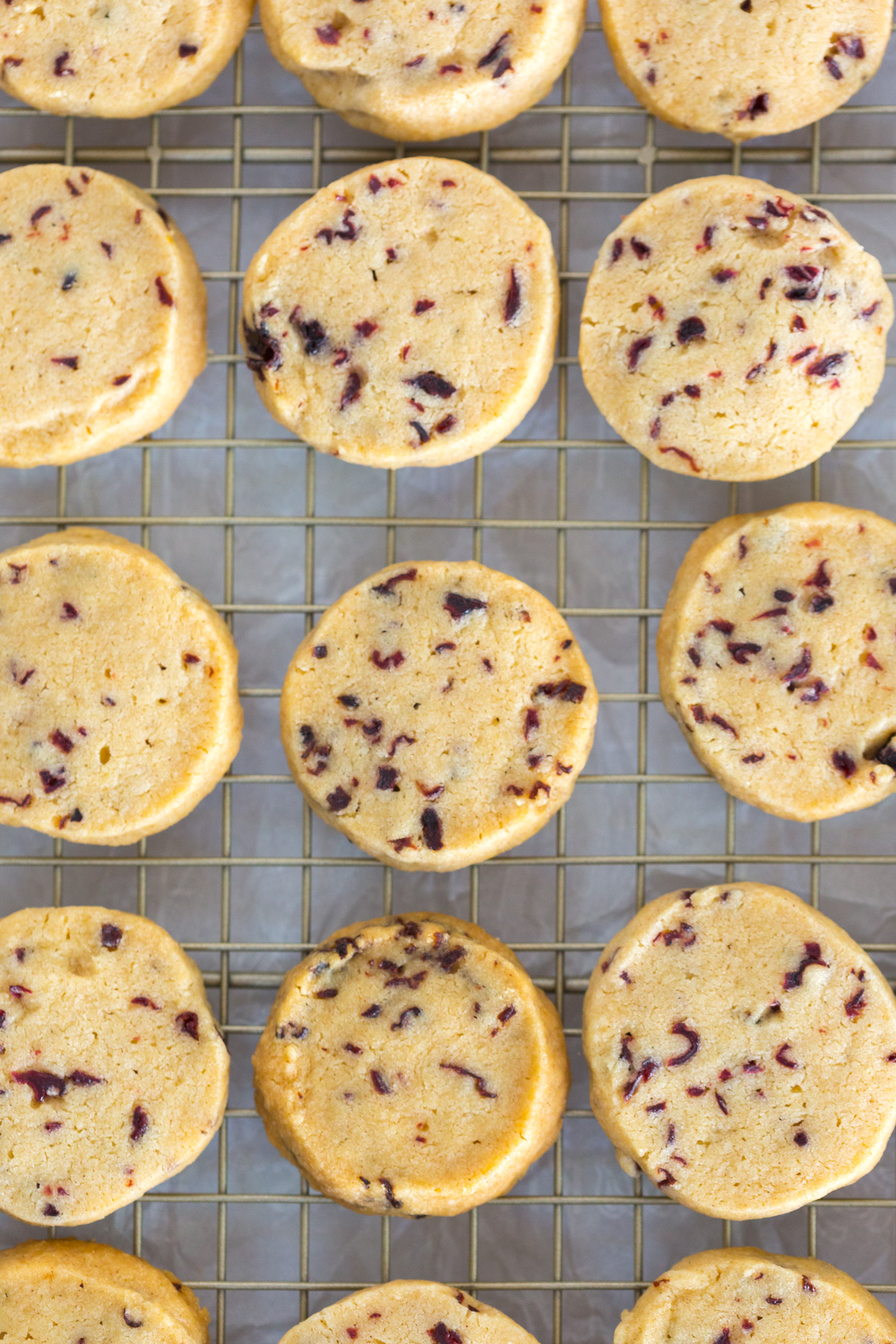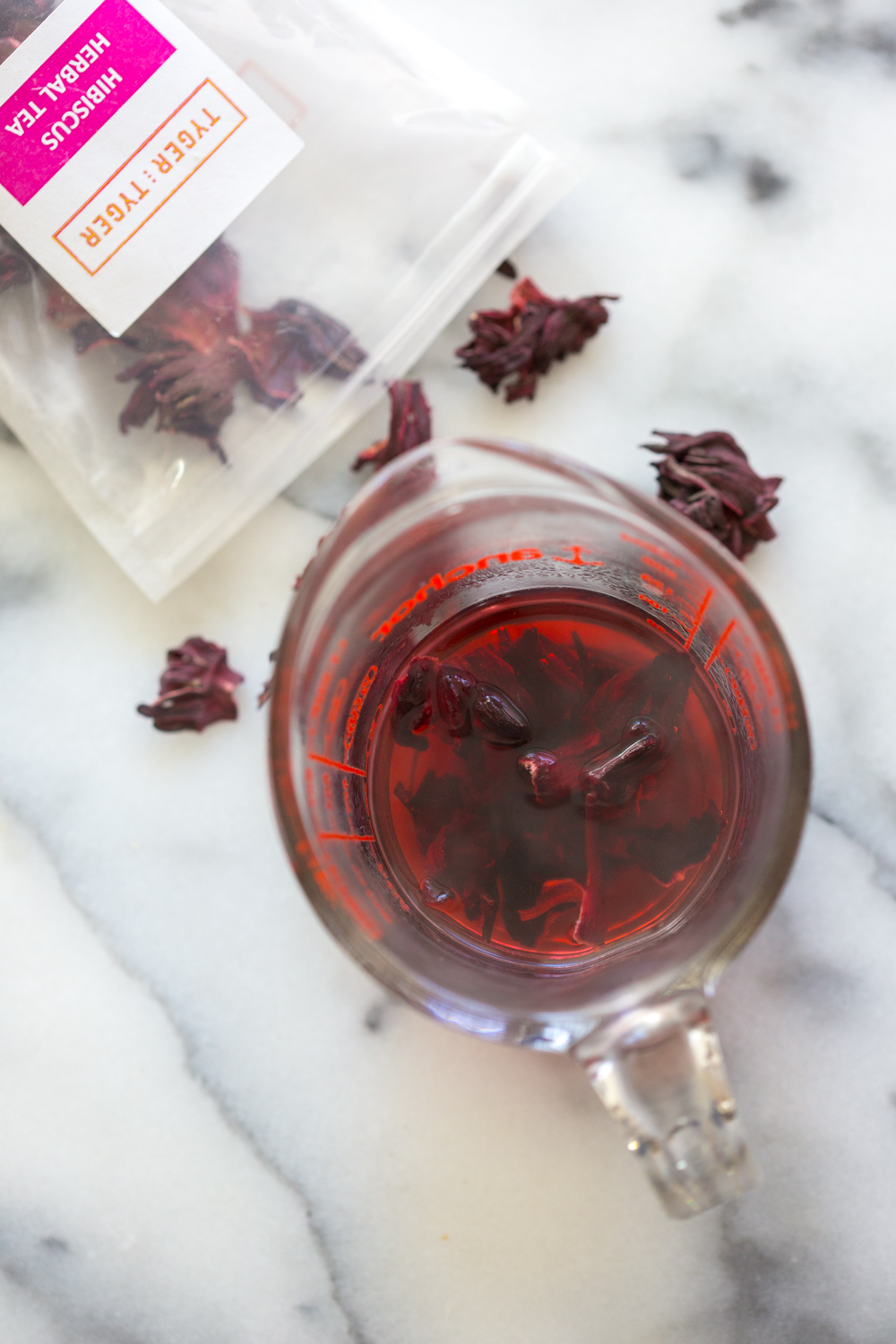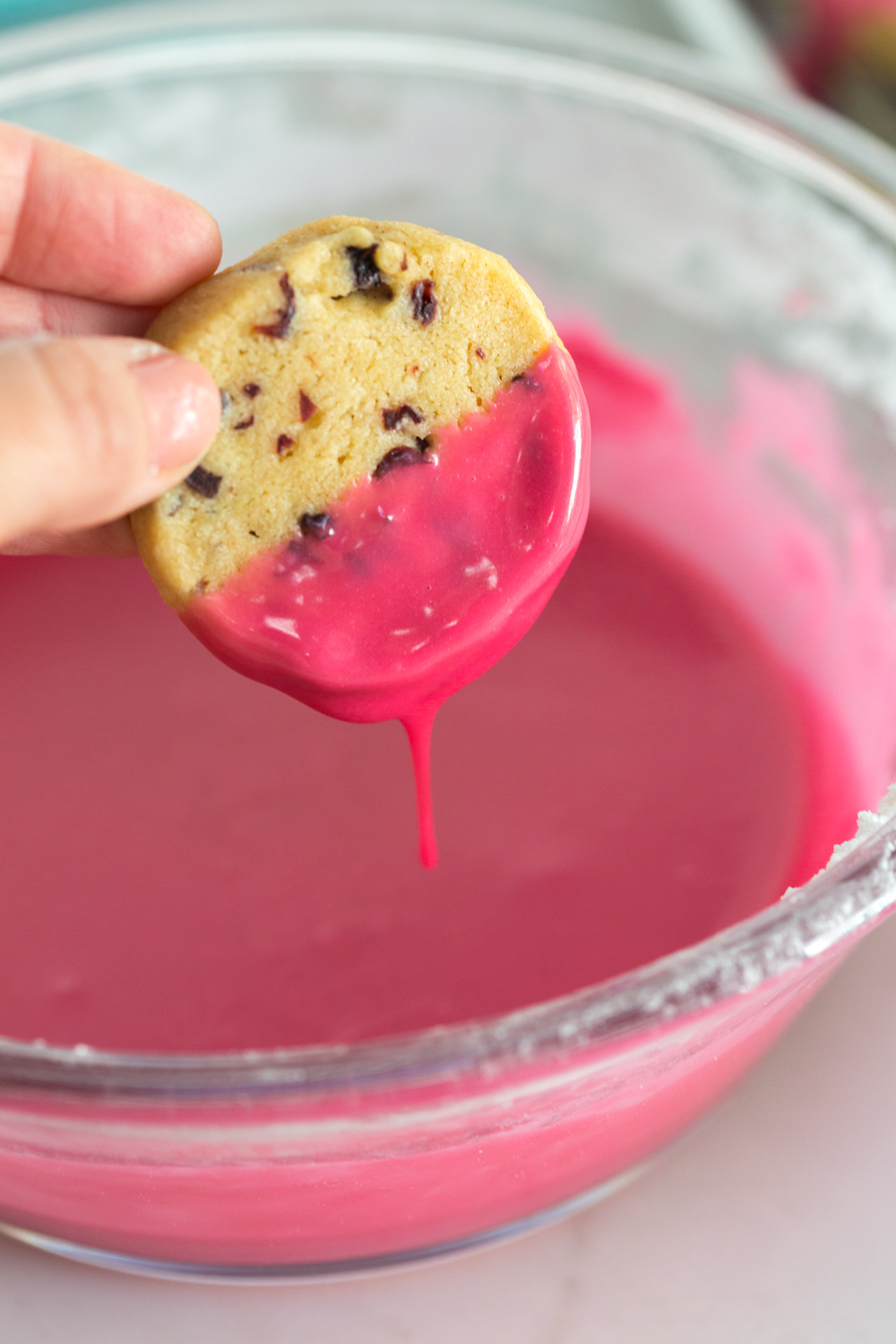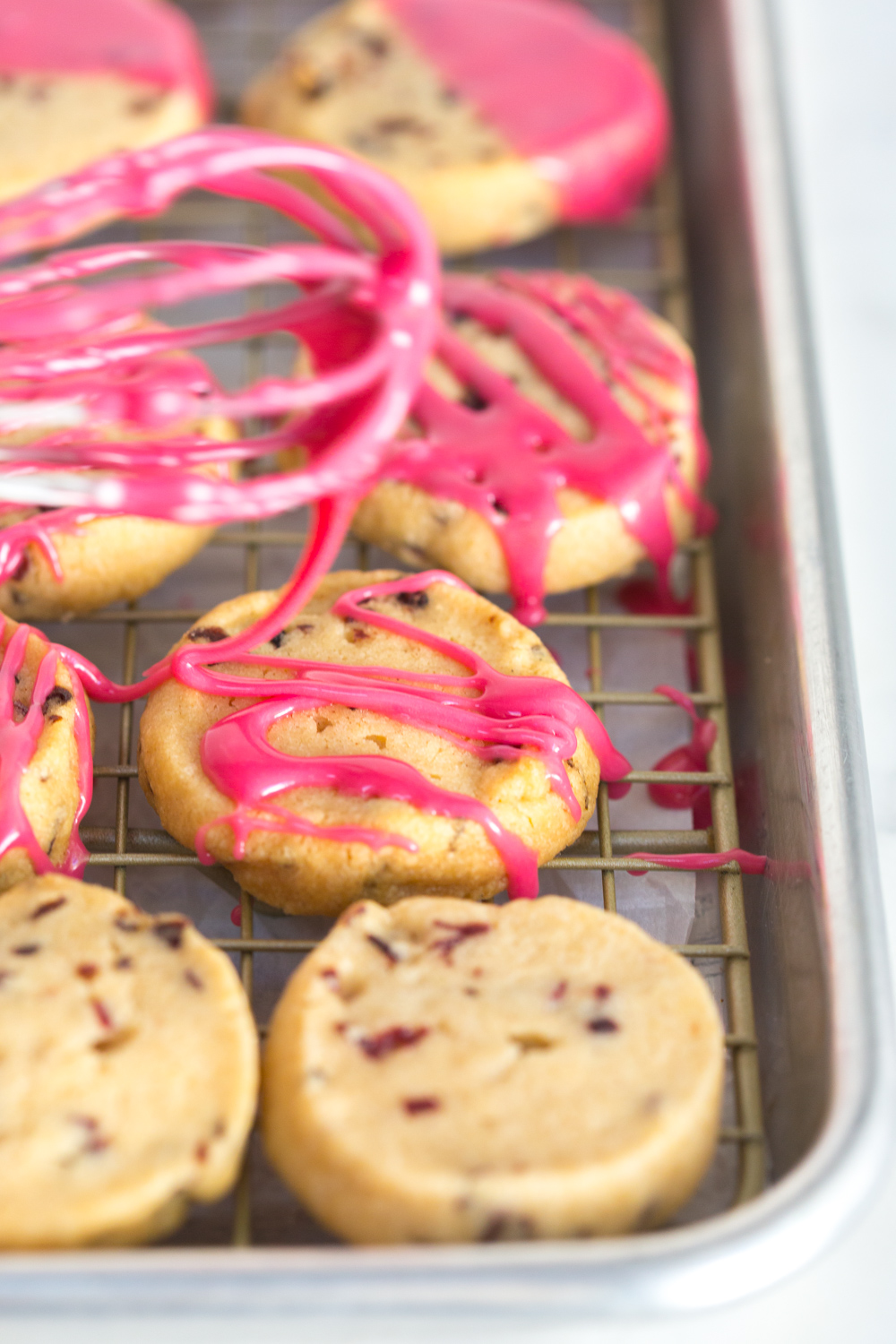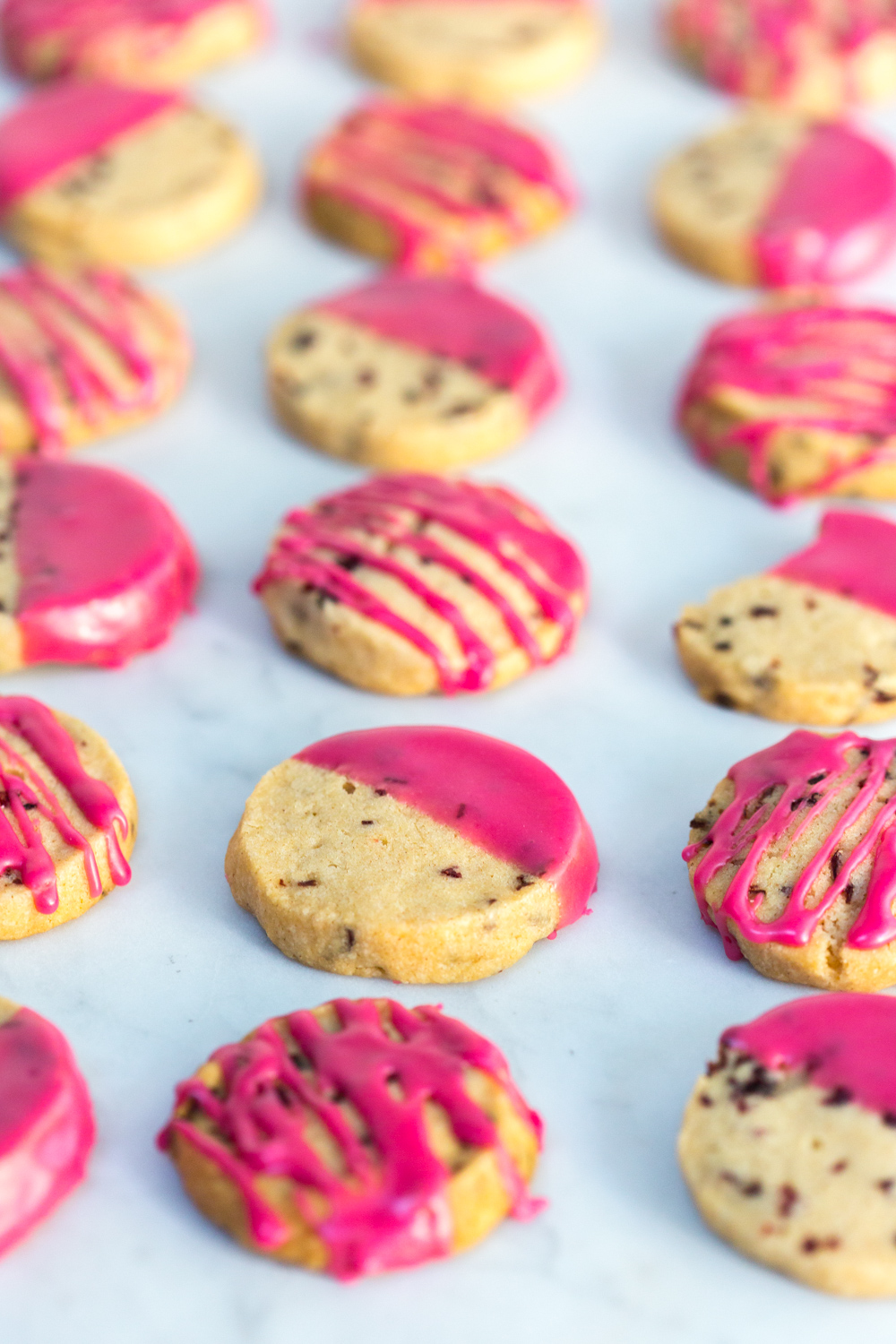 Print
📖 Recipe
Glazed Hibiscus Shortbread Cookies
---
Description
A simple buttery shortbread cookie base is peppered with the zippy tartness of dried hibiscus flowers, rounded out with warm cinnamon notes, then dipped and drizzled with a vibrant hibiscus tea glaze.
---
HIBISCUS SHORTBREAD COOKIES
2

cups

all purpose flour

1 teaspoon

fine sea salt

1 teaspoon

ground cinnamon

1

cup

unsalted butter (- at room temperature)

½

cup

granulated sugar

1 teaspoon

pure vanilla extract

½

cup

dried hibiscus flowers (- coarsely chopped)
HIBISCUS TEA GLAZE
1 ½

cups

powdered sugar

2 tablespoons

loose leaf hibiscus tea

½

cup

water
---
Instructions
HIBISCUS SHORTBREAD COOKIES
Measure flour, salt and ground cinnamon into a mixing bowl and whisk together.
With the paddle attachment on a stand mixer, cream together the butter and sugar on a medium high speed for about 5 minutes, until fluffy, airy and lighter in color. Be sure to stop your mixer and scrape down the sides of the bowl a few times so you are sure to incorporate all of the sugar into the butter.
Add the vanilla extract and cream until blended.
With the mixer on a low stir, slowly add the dry ingredients until just incorporated. You don't want to over-mix here, only mix until things have just come together.
Gently stir in the chopped dried hibiscus flowers until just incorporated.
Turn out the dough onto a clean, lightly floured surface. Gently gather the dough together into a disk by gently patting, not kneading the dough, and pat to flatten the top. Once you have a round disk shape, use a knife or a bench knife to cut directly in half and set aside.
Clean your work surface with a bench knife, then lay down a sheet of parchment paper. If you have a couple of empty paper towel rolls handy, have them available. Drop one of your dough halves on the parchment paper and use your hands to shape a rough log shape, roll into a smooth log until it is about 1 -1 1⁄2" in diameter (eyeball it to about the size of your empty paper towel roll).
Wrap the parchment paper around your dough log, lengthwise. Then twist each end of the paper into pigtails in opposite directions (one towards you and one away from you) to form a locking mechanism. With each twist, the dough will compress and becomes smoothed out (think of it like a sausage in a casing). Roll from the center outward until you feel that you have a smooth, cylindrical log.
Now you can get tricky (optionally) and stuff that dough log into an empty paper towel roll, it should be a snug fit but should slide in and out easily. *The idea behind the paper towel roll is that your dough is going to hold it's cylindrical shape while it chills instead of having a flat bottom.
Repeat with second log. Then refrigerate the dough for at least 1 hour, if not 2. This allows the dough to set up and hold it's round shape nicely when baking. *You can also freeze the dough at this point. Just remember to defrost it overnight in the fridge or at room temperature for about an hour before slicing and baking.
Preheat oven to 325° F.
Remove dough logs from the fridge and unroll on a cutting board.

Using a sharp knife, slice the log into 1⁄4" - 1⁄2" thick cookies. You should get about 16-20 cookies per log. Arrange them on a Silpat mat or parchment paper lined baking sheet in a 3 x 4 pattern, evenly spaced.

Bake for 16-18 minutes, rotating the pans halfway through the bake. They should come out with a golden ring around the edge and be firm to the touch with just a bit of give in the center.
Allow to cool either right on the trays or on a cooling rack.
HIBISCUS TEA GLAZE
Boil water, then pour over the hibiscus tea to brew. You want the color and flavor very concentrated so it doesn't take much water. Once it's cooled, pour through a fine mesh sieve an set aside.
Sift the powdered sugar into a mixing bowl. Slowly whisk in the brewed and cooled hibiscus tea, 1 tablespoon at a time. Whisk until smooth. The glaze should run off of the whisk in a thick flowing ribbon. If the glaze is too thin, slowly whisk in more powdered sugar. If the glaze is too thick, slowly add more tea.
To Decorate:
For the drizzle method - Place the cookies on a cooking rack and use the whisk to wave the icing back and fourth over the cookies creating a vibrant, messy drizzle.

For the dip method, gently dip the cookies halfway into the glaze, at an angle. Transfer to a cooling rack to set.

The glaze needs at least 30 minutes to set. It will harden and form a soft, eggshell like glaze.
Prep Time:

20 minutes

Cook Time:

18 minutes

Category:

cookies

Cuisine:

dessert
Keywords: Glazed Hibiscus Shortbread Cookies, cookies, shortbread cookies, hibiscus cookies, dried hibiscus, hibiscus tea cookies, slice and bake cookies