I'm not big on Christmas, it brings me much more stress than joy. Valentine's Day is gross. And I'd rather have bad luck for an entire year than spend one night out with all of those drunken fools chugging green beer while sweating through their too tight "Kiss Me I'm Irish" shirts on St. Patrick's Day. Cinco de Mayo, on the other hand, brings out my inner fiesta.
I'm not sure specifically what makes me go loco for cinco but I suspect it's a mixture of the season and the food. But if I'm being really honest, it's probably the margaritas. Cinco de Mayo comes at a time of year when we are all ready to shed our coats, fire up our grills
and let loose with a couple-few adult beverages. It's a bit of a kickoff to the summer season and big fat hasta luego to those long and cold months. I'm a big fan of Mexican food so any excuse to fire up the grill
and invite some friends over for a casual fiesta with festive food is all I need. As soon as the sun comes out I have an insatiable desire to eat all of the chips
, salsa
and guac I can get my hands. And once the temps rise above 70° F, you can finding me whipping up a refreshing batch of my Guacamole with Spicy Cucumbers and Radishes likely, just for myself.
Cinco de Mayo also signifies a shift in ingredients from heavier fare to lighter and brighter recipes with a bounty of spice
and salt. I've been celebrating Cinco with these Margarita Cupcakes for years and when I don't have quite as much time to invest in a recipe, I whip up this Key Lime Tequila Tart that everyone seems to love. So this year, I decided to turn that tart on its head and mix it up with some bittersweetness.
This recipe for Grapefruit Margarita Tart with Pretzel Crust is based off my original recipe for this simple to make, Key Lime Tequila Tart with it's crunchy and salty pretzel
crust surrounding a creamy citrus filling, infused with a healthy shot of tequila. But, this Grapefruit Margarita Tart with Pretzel Crust incorporates fresh squeezed grapefruit juice for a more grown up flavor and uses an additional egg yolk to amp up the custardy, yellow filling. A drizzle of bitingly bitter Campari is added to the surface of the creamy filling and gently swirled in to add a hypnotizing, vibrant, psychedelic pink pattern to the tart. I top each slice with a few piped dollops of tequila infused whipped cream, because TEQUILA! And finish the Grapefruit Margarita Tart with Pretzel Crust with a sprinkle of Jacobsen Sea Salt
to compliment all of that zesty citrus. The textures, flavors and colors are irresistible are really bring the fiesta to dessert.
Whether you go all in on the cinco celebrations or are just looking for a seasonal treat to celebrate spring, this Grapefruit Margarita Tart with Pretzel Crust delivers. I might make just one suggestion though, it's a good idea to make two tarts because people really do go loco for this tart, especially when they are hopped up on tequila. I'm just saying. 😉
---
FYI, it's Margarita Week from April 28th 2018 - May 5th, 2018! Did you know that? I made this recipe in collaboration with a bunch of talented bloggers who have created dozens of beautiful margarita inspired recipes. For loads more #margaritaweek inspiration, check out this mouthwatering collaboration put on by the lovely and brilliant Kate from Hola Jalapeño!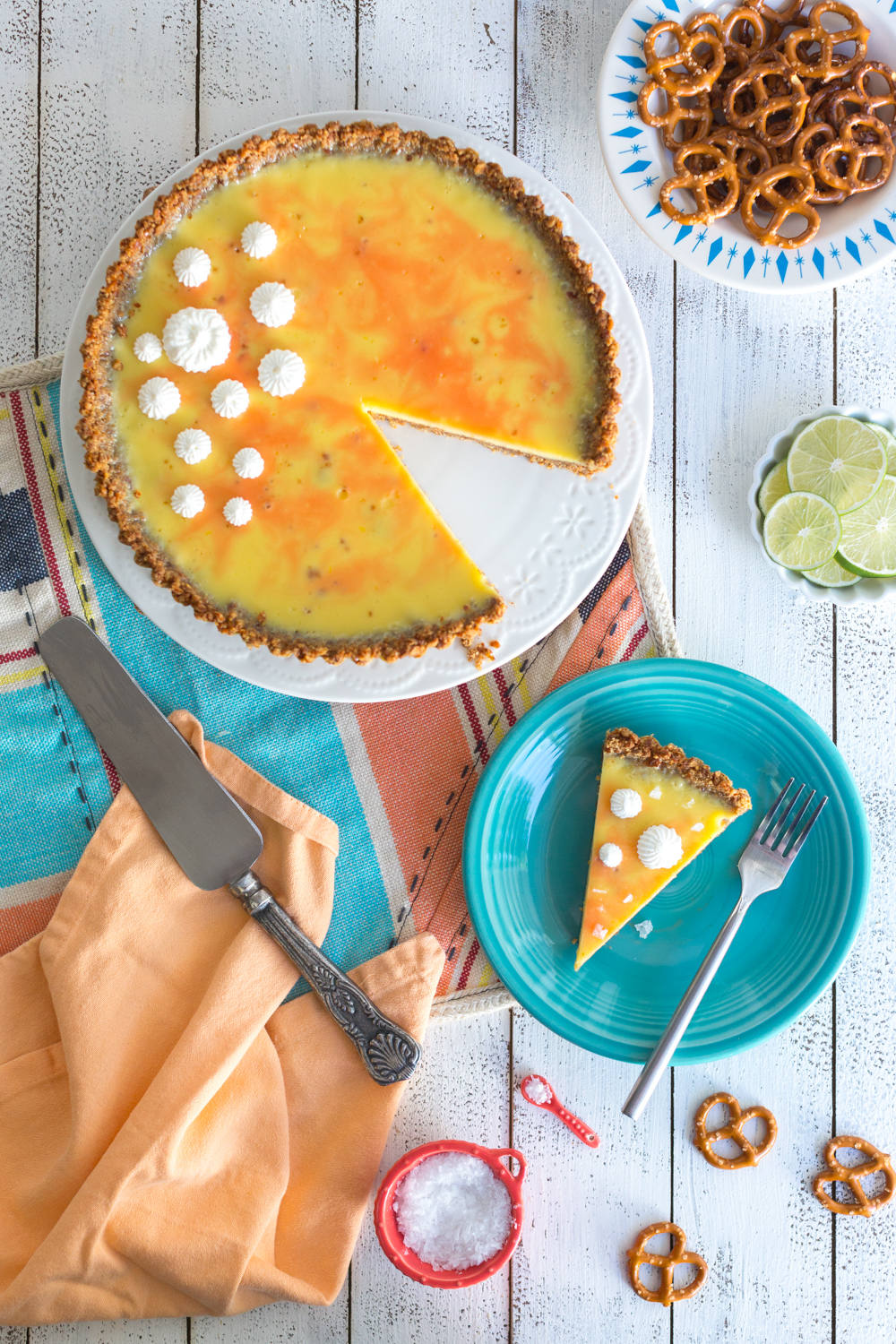 Print
📖 Recipe
Grapefruit Margarita Tart with Pretzel Crust
---
Description
A simple to make tart with a crunchy, salty pretzel crust surrounding a custardy grapefruit filling, infused with a healthy shot of tequila. Swirled with a vibrant pink twist of bitingly bitter Campari and topped tequila infused whipped cream stars and a light finish of sea salt flakes.
---
PRETZEL CRUST
3

cups

salted pretzel twists

12 tablespoons

unsalted butter

2 tablespoons

brown sugar (- firmly packed)
GRAPEFRUIT MARGARITA FILLING
4

large egg yolks (- at room temperature)
1

14

ounce

can sweetened condensed milk

⅓

cup

freshly squeezed grapefruit juice

1

large lime (- juiced)

3 tablespoons

good quality tequila

1 tablespoon

Campari (- optional)
TEQUILA WHIPPED CREAM
½

cup

heavy cream

1 tablespoon

granulated sugar

1 tablespoon

good quality tequila

1 teaspoon

sea salt flakes (- for garnish)
---
Instructions
PRETZEL CRUST
Preheat the oven to 325° F. Lightly grease a 9" removable bottom, round tart pan with butter. Place the tart pan on a baking sheet.
Pulse the pretzels in a food processor until they are finely ground, with some larger pea-sized chunks remaining. Pour into a large mixing bowl.
In a small saucepan, melt the butter over low heat. Continue to heat, stirring frequently, until the butter starts to foam up and brown bits begin to form. Whisk in the brown sugar and stir until fully dissolved. Remove from heat and set aside.
Pour the butter mixture over the ground pretzels and stir to combine. The mixture should look like wet sand. Transfer the crumb mixture into the prepared tart pan and use a spatula to spread the mixture evenly into the pan and up the sides slightly.
Bake the tart on the the baking sheet for about 15 minutes, until it starts to turn a deep brown and looks set. Set aside and allow the crust to cool completely.
GRAPEFRUIT MARGARITA FILLING
Turn the oven up to 350° F.
In a medium sized bowl, whisk together the sweetened condensed milk and the egg yolks until smooth. Add the fresh squeezed grapefruit juice, the lime juice and the tequila and continue whisking until completely smooth.
Gently pour the filling mixture into the cooled pretzel crust shell. For that optional pretty pink swirl, gently drizzle about tablespoon of Campari over the top of the filling. Use a wooden skewer to swirl the Campari into the top layer of the filling, creating vibrant pink swirls on the yellow filling.
Bake for 15-ish minutes until the filling is set and doesn't jiggle when you shake it.
Place on a cooling rack and allow tart to cool completely. Once cooled, transfer to the refrigerator and allow the filling to set for at least 2 hours before serving.
TEQUILA WHIPPED CREAM
Chill the metal bowl and whisk of a stand mixer in the freezer for at least 10 minutes.
Pour the heavy cream and tequila into the chilled bowl and whisk on a medium-high speed for about 1 minute.

Add the sugar and beat for a couple more minutes until soft peaks form.

Chill in the refrigerator until you're ready to serve the tart. If you fancy, use a piping bag and an open star tip to pipe cute little stars on each slice of tart. Otherwise just dollop it right on top just before serving. Serve with a sprinkle of sea salt flakes to balance out the sweet and tart flavors.
Prep Time:

20 minutes

Cook Time:

15 minutes

Category:

Dessert

Cuisine:

tart