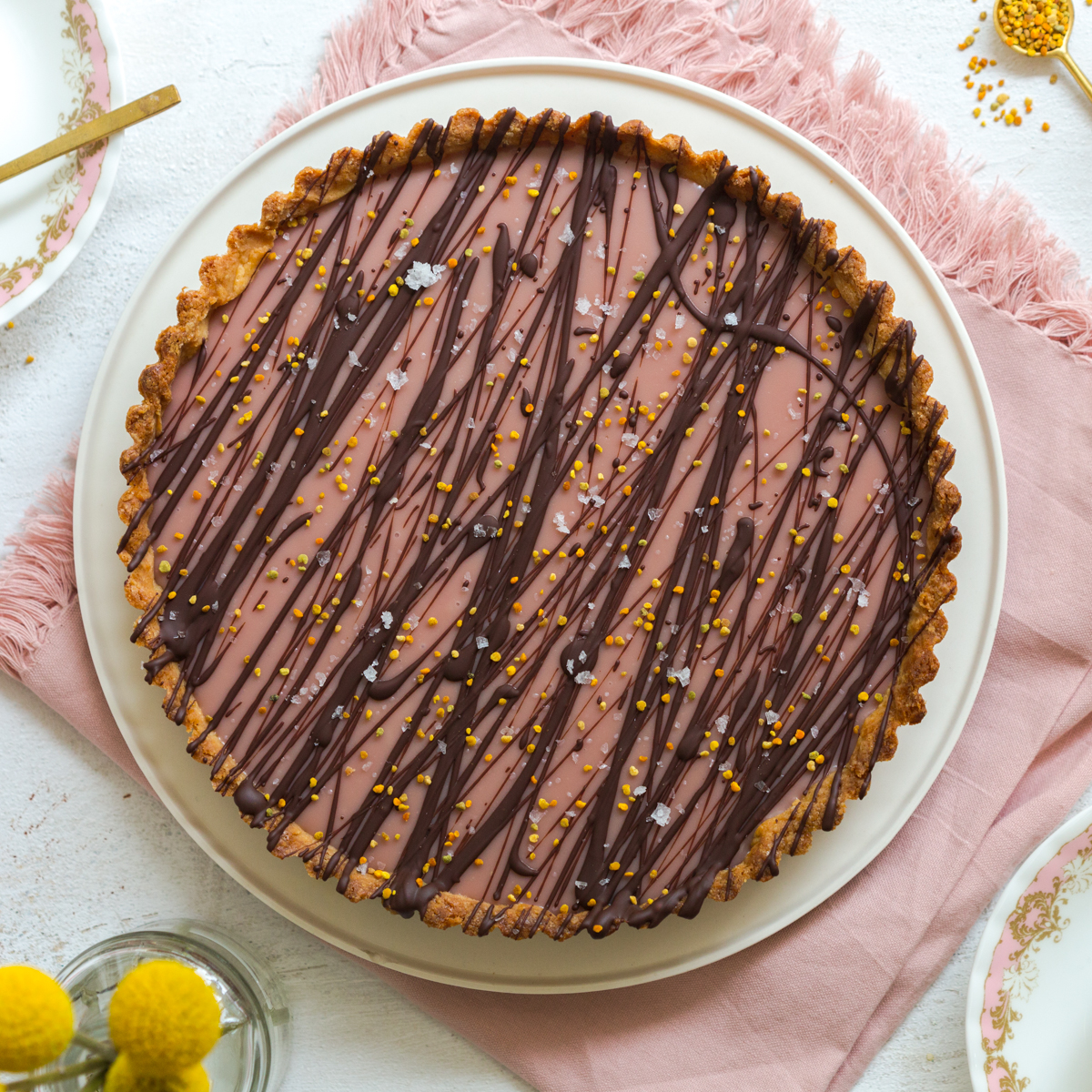 How many of you have bought these Ruby Cacao Wafers from Trader Joe's but not known what to do with them once you got them home so you just end up eating them by the handful until they are gone? I know I am not alone in this.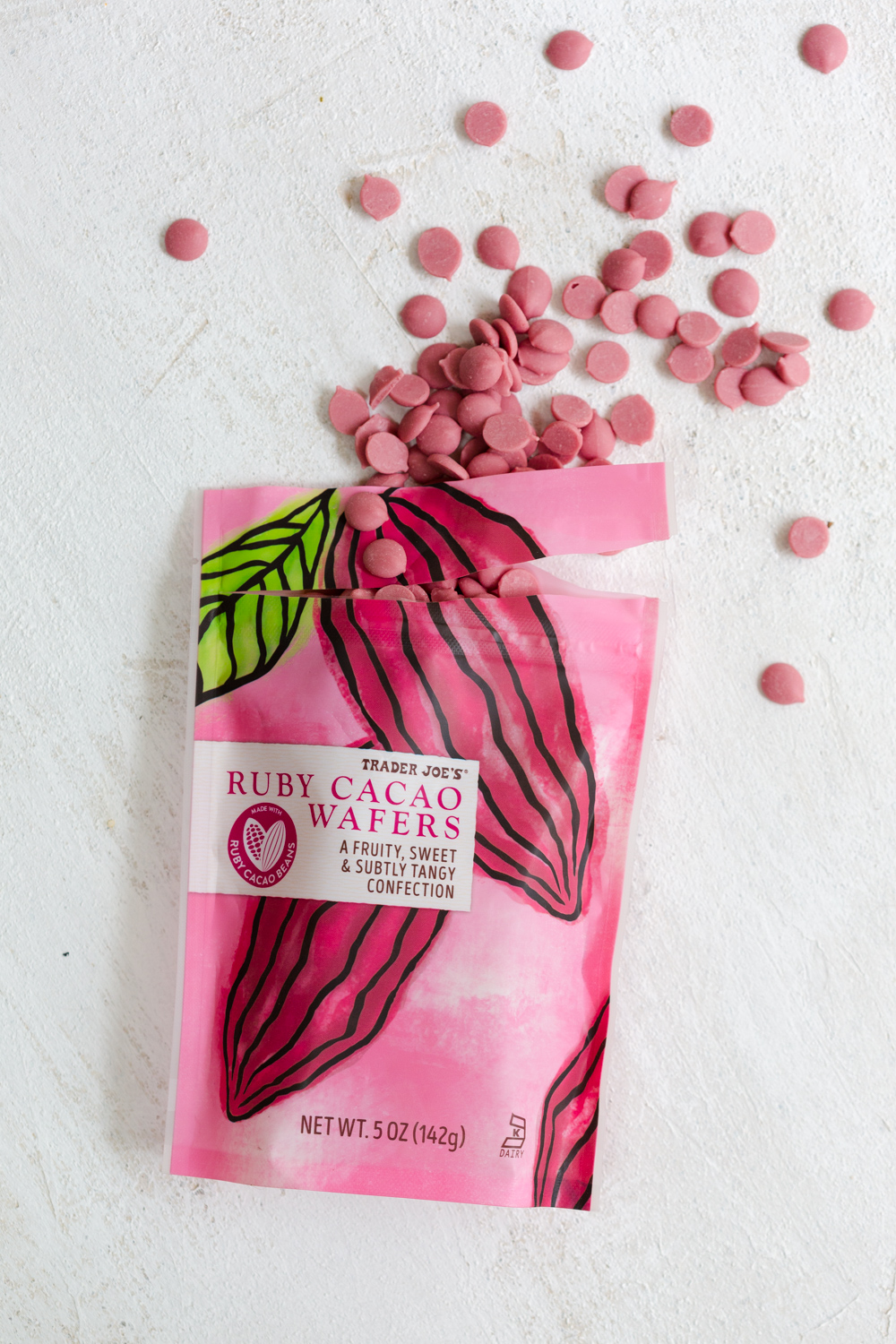 I've done this at least three times and I finally came to my senses and decided to incorporate them into this Ruby Cacao Ganache Tart recipe. The funny thing is, I was planning to make a dark chocolate ganache but realized I didn't have enough dark chocolate
in my pantry. Unable to face Whole Foods on a Saturday, I started scouring my baking cupboard and spotted these pretty pink pastilles way in the back. Then I put these babies to work, best decision I've made in a long time.
The best news is, this Ruby Cacao Ganache Tart ridiculously easy to make. It combines my Basic Tart Dough with the worlds easiest filling - a simple mix of Ruby Cacao Wafers
, heavy cream and some honey
. That is it. And here's the kicker, making the ruby cacao ganache filling takes less than 8 minutes and literally comes together with the flick of a whisk
. All you do is warm the heavy cream and honey
in a heavy pot
on the stove until it's simmering. Then pour it over the ruby cacao wafers
, let them hang out for about 5 minutes and then whisk
it all together by hand. Then you pour the ruby cacao ganache into a prepared tart shell and let it set for a couple of hours. It's laughably easy.
To finish this fanciful Ruby Cacao Ganache Tart, I made good use of that quarter bag of dark chocolate chips
I had left and melted them down in a double boiler
. Then I used a whisk
to wave over an artsy drizzle of dark chocolate
adding a rich flavor, beautiful design and a slight crunch. I sprinkled on some bright yellow bee pollen
to add a punch of color and an earthy grounding flavor. A sprinkle of sea salt flakes
adds a delicate salty crunch that balances the rich chocolatey flavors perfectly.
While it isn't a requirement to serve this Ruby Cacao Ganache Tart with a cup of espresso
, it probably should be. The rich and creamy flavors of the ruby cacao ganache with the bitter, dark notes of espresso are a match made in dessert heaven. This Ruby Cacao Ganache Tart is such a fun twist on a basic Chocolate Tart. The complimentary colors, slightly tangy and fruity pink chocolate filling and crisp tart shell all come together in a modern tart that's super simple to make but looks like a million bucks. I for one, am so glad that I decided to take chance on the Ruby Cacao Wafers and create this beautiful Ruby Cacao Ganache Tart. I hope you will give it a go too! I mean why have a boring, regular ol' chocolate tart when you can have a pretty pink chocolate tart?!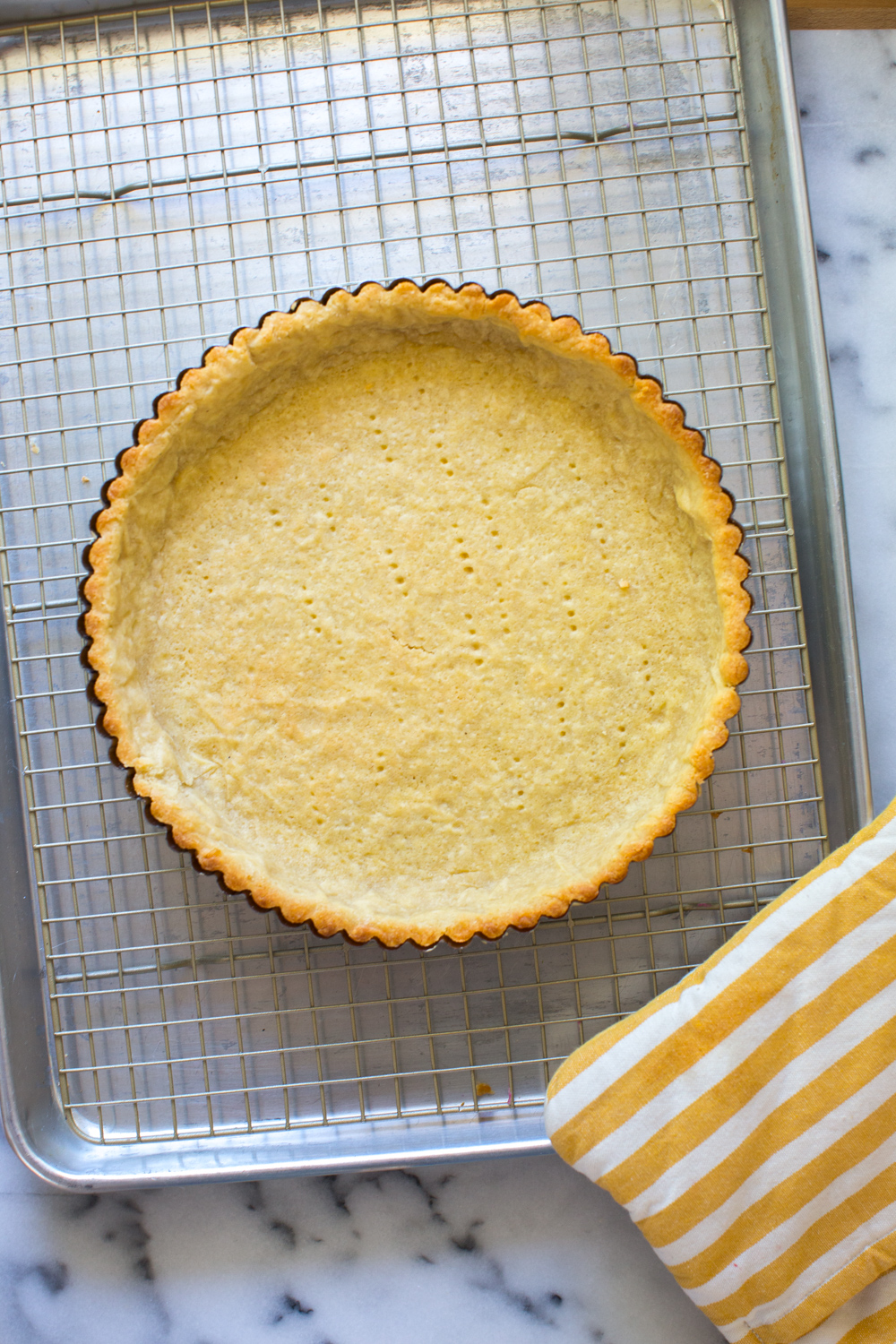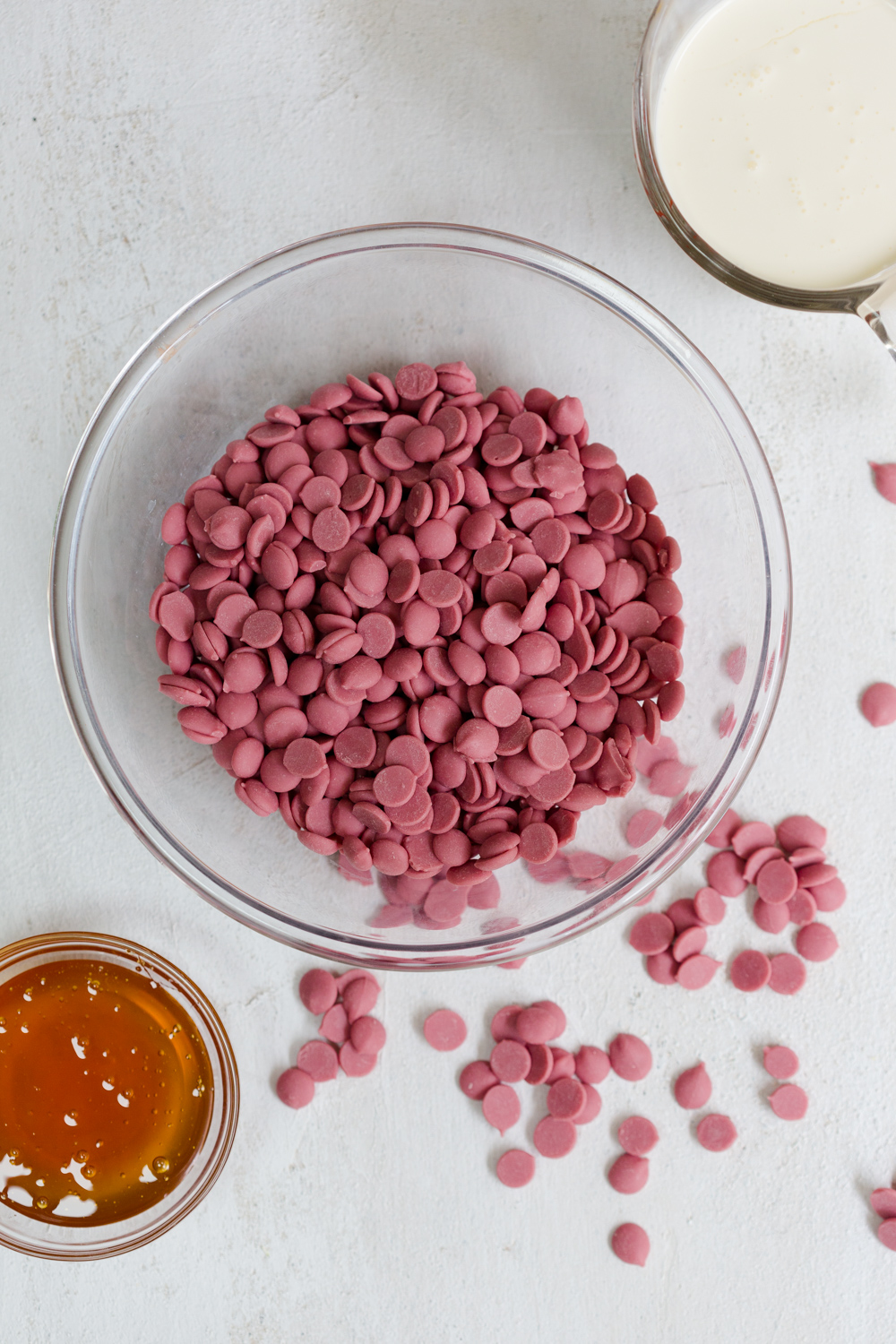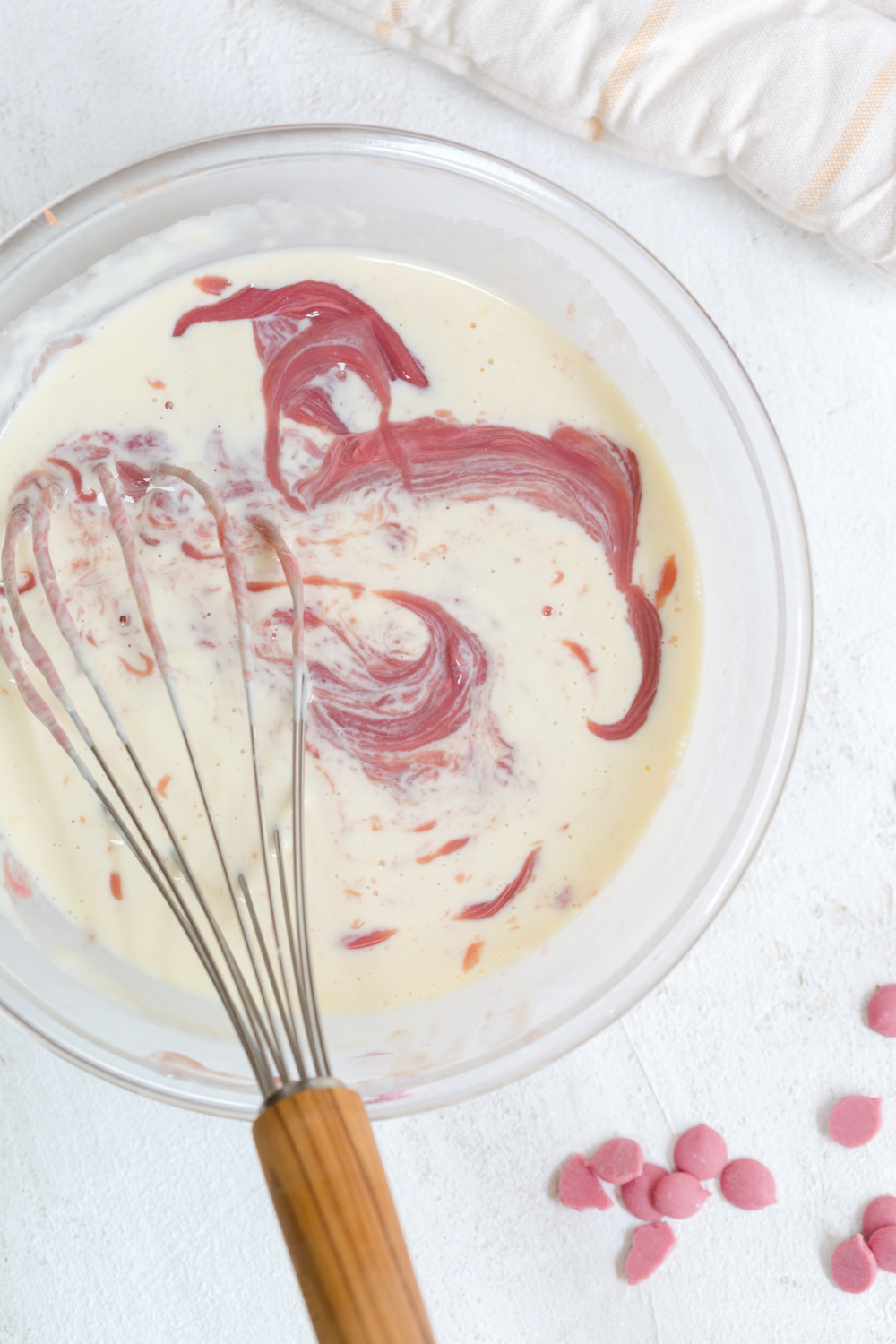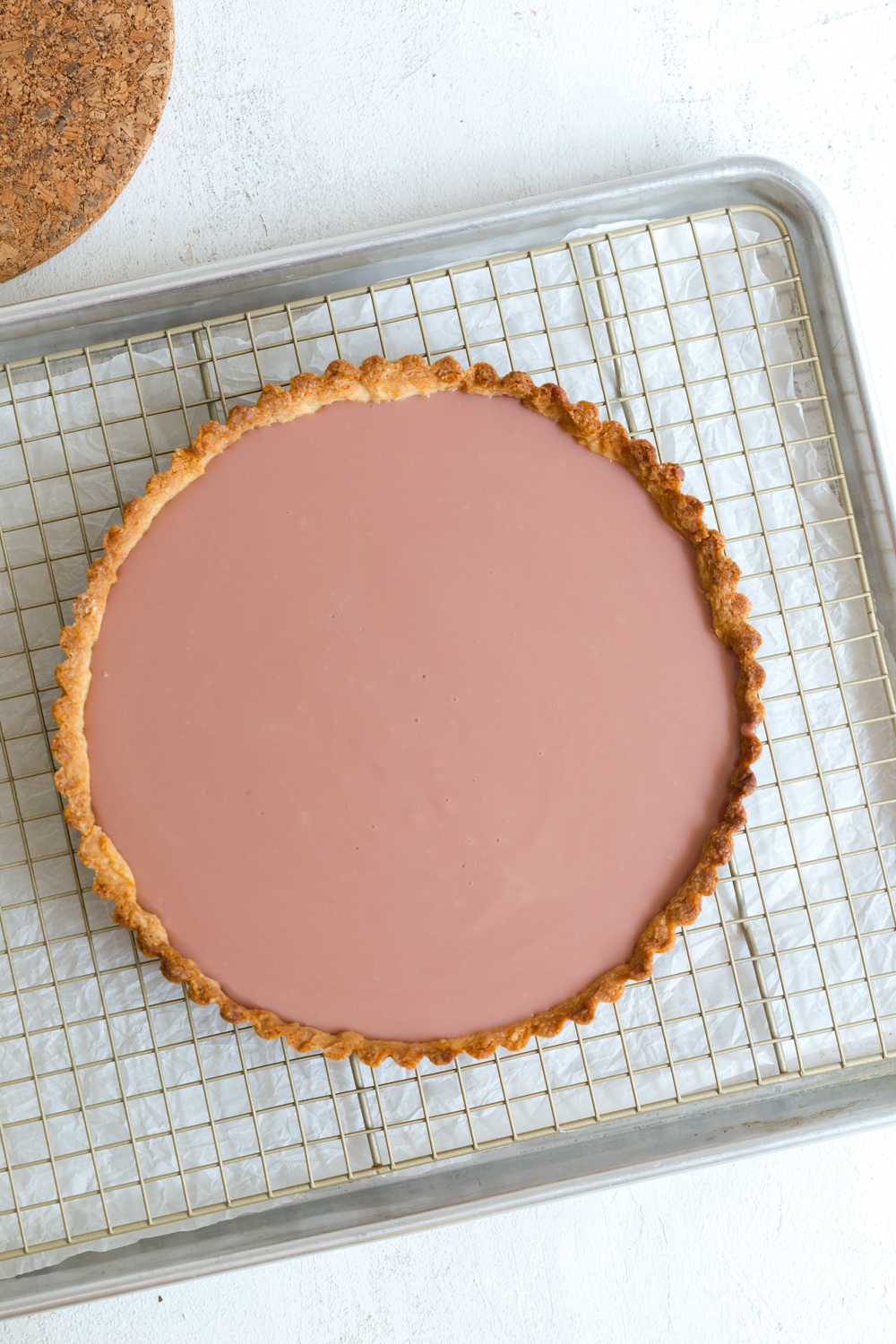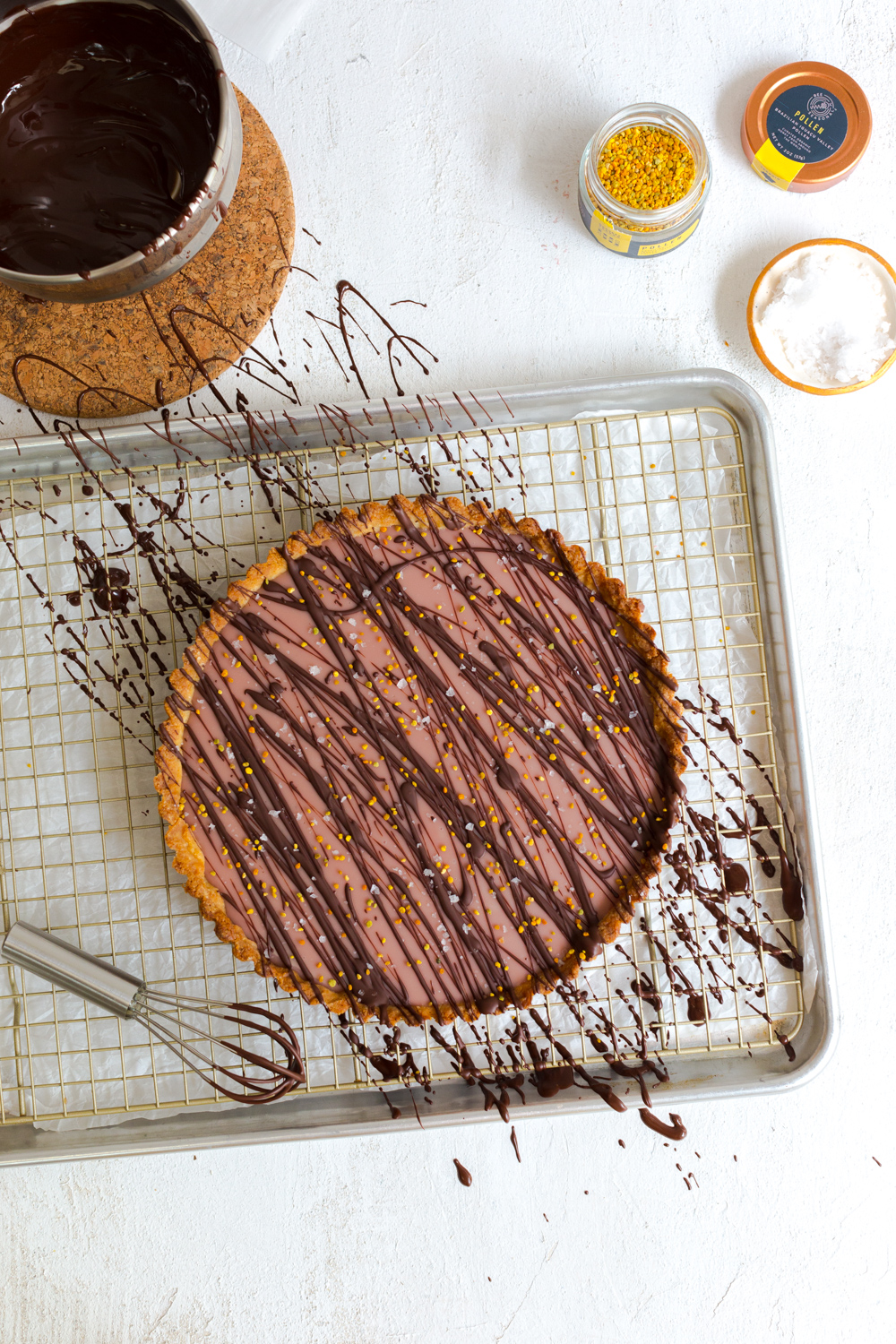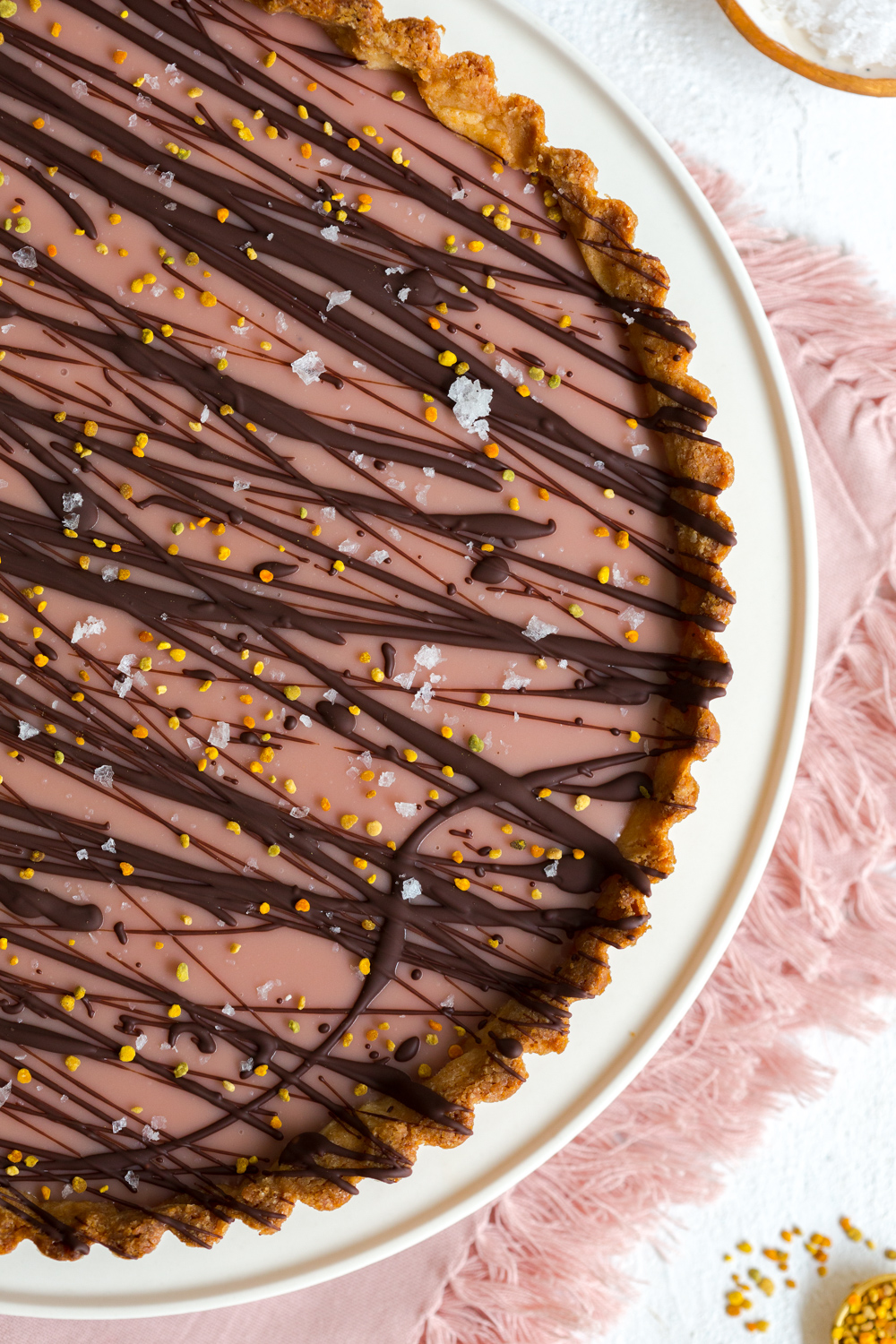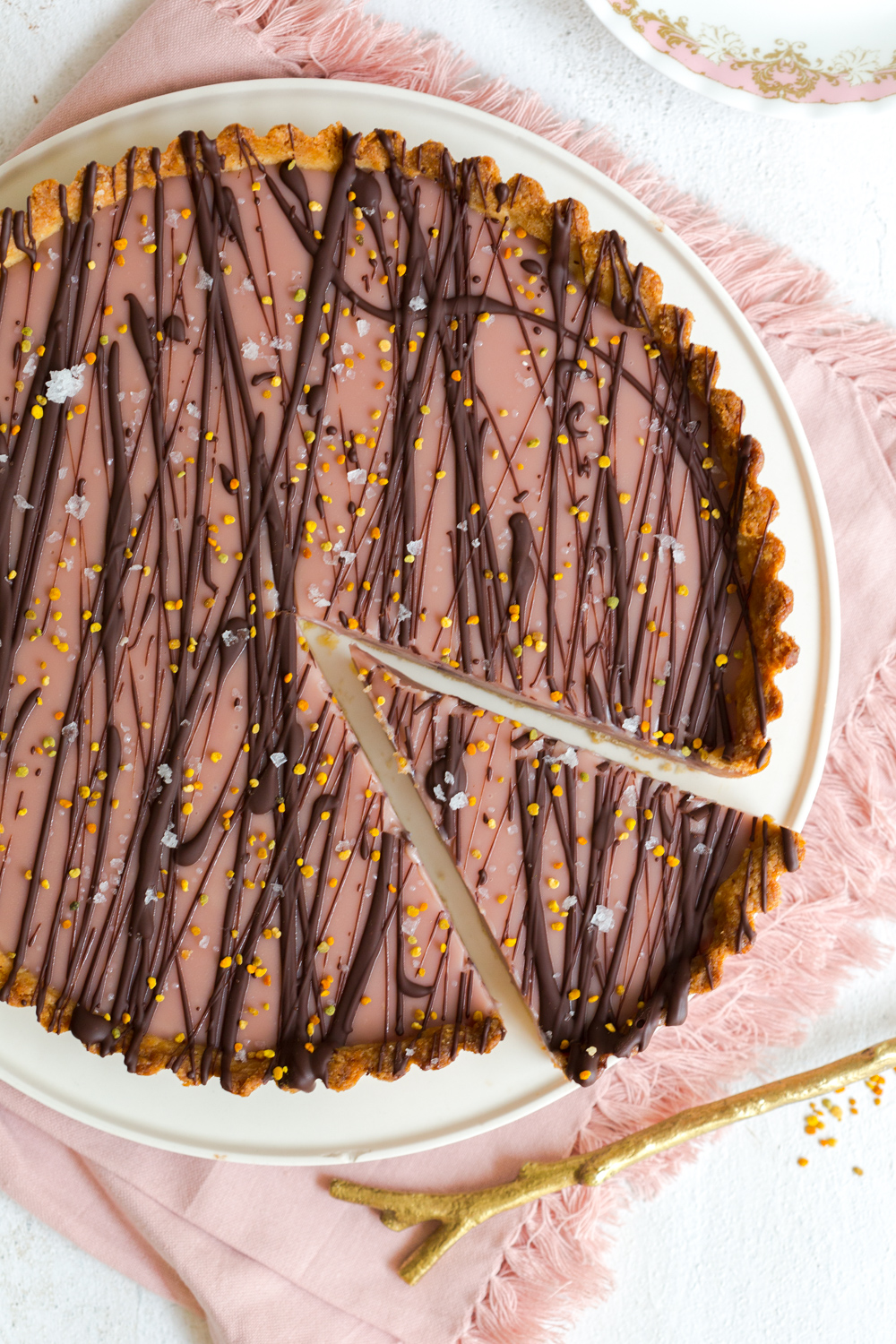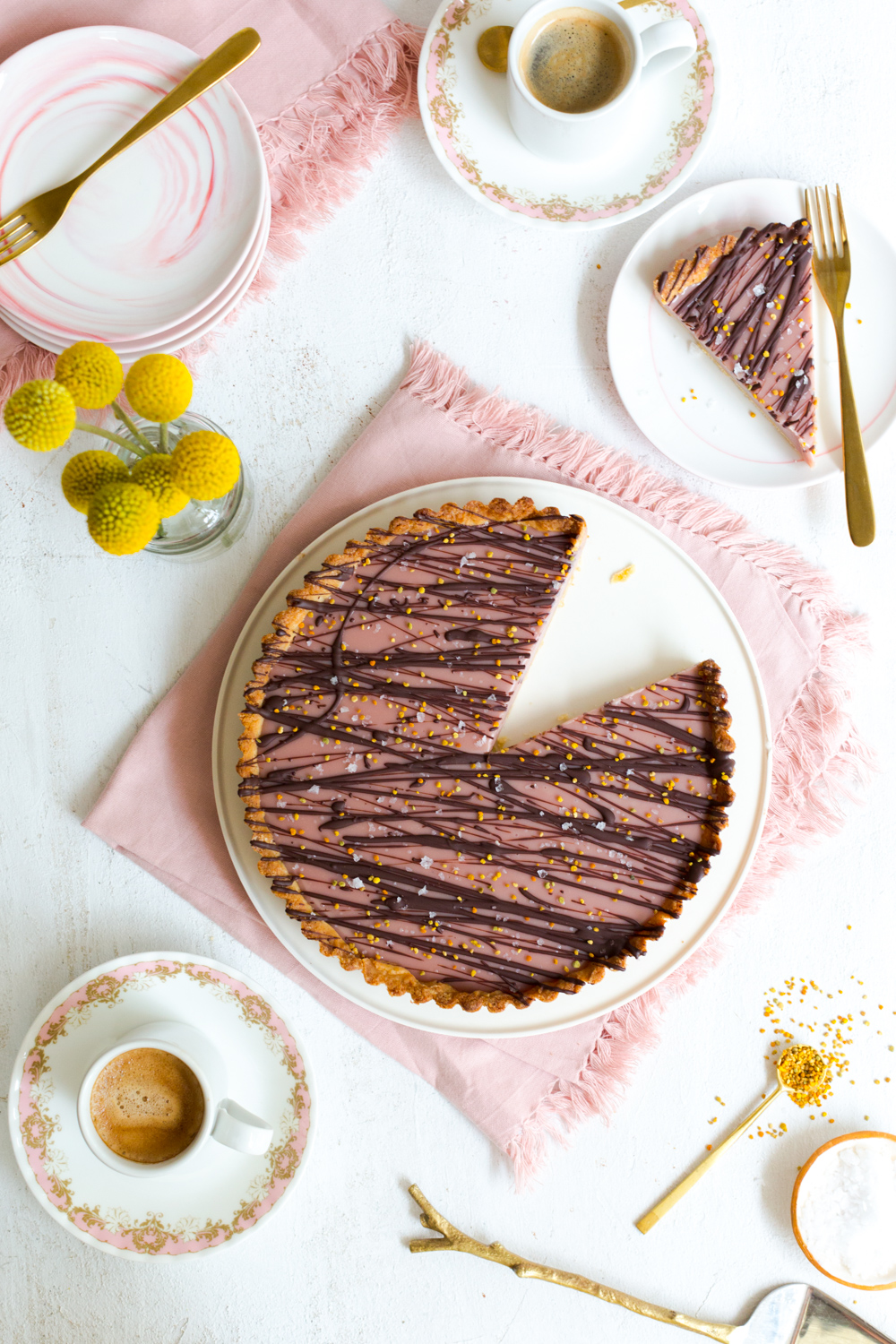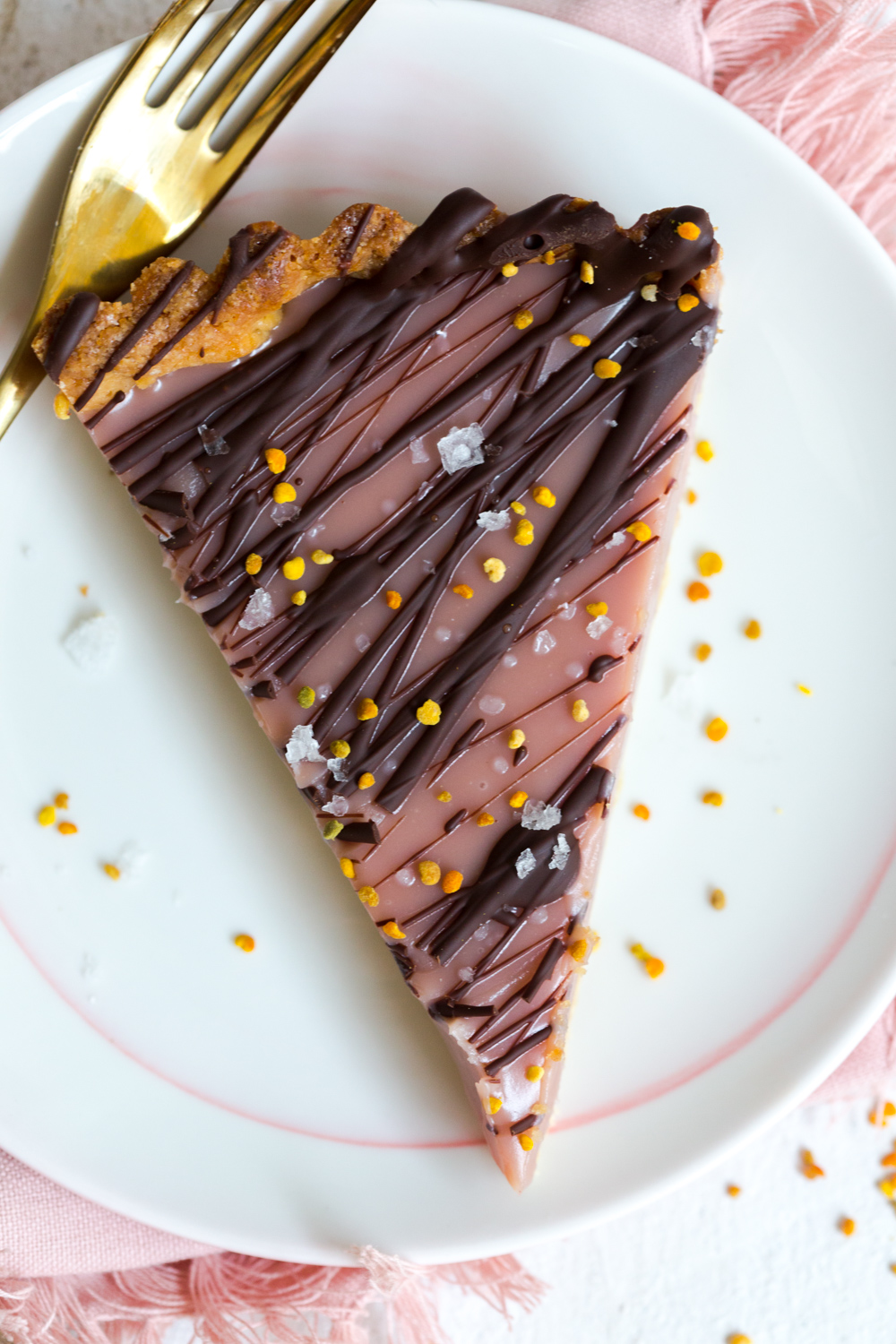 Print
📖 Recipe
Ruby Cacao Ganache Tart
---
Description
This Ruby Cacao Ganache Tart is a modern twist on a basic Chocolate Tart with Ruby Cacao Wafers melted into a pretty pink, creamy ganache filling nestled into a simple tart shell. Topped with an artsy drizzle of dark chocolate, sprinkled with earthy bee pollen and delicately crunchy sea salt flakes.
---
1

pre-made Basic Tart Dough - fully baked (- find the recipe below in the notes)

10

ounces

Ruby Cacao Wafers

1 ¼

cups

heavy cream

2 tablespoons

honey

⅓

cup

dark chocolate chips

1

-

2

tablespoons bee pollen

1

-

2

teaspoons sea salt flakes
---
Instructions
Prepare and fully bake a homemade tart shell in a 9 ½" tart pan with a removable bottom. Get my Basic Tart Dough recipe here.

You want to fully bake the tart shell as this is a no bake filling. Once cooled, remove the tart shell from the pan and place on a cooling rack or baking sheet to fill.

Place the Ruby Cacao Wafers in a heatproof bowl and set aside.
Combine the heavy cream and honey in a pot and bring to a simmer over medium heat.
Pour the simmering cream and honey over the Ruby Cacao Wafers and allow to stand for 5 minutes. Then whisk together until smooth to make ganache.
Pour the smooth and creamy ganache into the fully prepared and baked tart shell. Place in the refrigerator for at least 2 hours to set up. You will know the filling has set when it barely jiggles when you give it a wiggle.
Once the filling has set, prepare the dark chocolate.

Heat about 2" of water in a double boiler. If you don't have one, MacGyver yourself one with a heat-proof mixing bowl atop a large heavy pot. The bowl should easily sit on top of the pot with at least a few inches between the water and the bottom of the bowl.


With the water simmering, add the dark chocolate chips to the upper pot or bowl. The chocolate will begin to melt after a minute or two, gently stir with a heatproof spatula until the chocolate is completely smooth and melted. Remove from heat.
Use a whisk to wave the dark chocolate back and fourth over the chilled tart creating an artsy drizzle.
While the dark chocolate is still tacky, sprinkle on bee pollen and sea salt flakes.
Allow the dark chocolate to harden before cutting and serving. Store in the refrigerator.
Notes
Use my Basic Tart Dough recipe for the tart shell. I used a 9 ½" tart pan with a removable bottom but this recipe would also work with a 14" x 4" rectangular tart pan with a removable bottom.
Prep Time:

30 minutes

Cook Time:

30 minutes

Category:

Dessert

Cuisine:

tart
Keywords: Basic Tart Dough, Chocolate Ganache Tart, Chocolate Tart, Ganache Tart, Ruby Cacao Ganache Tart, Ruby Chocolate Tart, tart