We recently wrapped up #TartSchool on my Instagram account after talking tarts for a week straight! It was such a blast and fun to see so many of my Instagram pals get involved and bake tarts along with me. Stay tuned because throughout the year I will be hosting many more #BakingTheGoodsWithBobs campaigns on my Instagram and I hope you will participate with us on the next round!
While baking all of the tart recipes during #TartSchool week, I realized that I don't have a Basic Tart Dough Recipe on my blog, blasphemy! I am not sure how that is even possible. So, I'm fixing that with this Basic Tart Dough recipe adapted from the Williams Sonoma Basic Tart Dough recipe that I have been using for years. Every baker should have a Basic Tart Dough recipe in their arsenal and a handy Pie Dough recipe, my go-to is my All Butter Vodka Pie Dough recipe. And now you're probably be thinking, what's the difference between tart dough and pie dough? I like to think of it this way, Basic Tart Dough is sweeter and more crumbly like a cookie. Pie Dough is more buttery with a tender and flaky texture, like a croissant. This Basic Tart Dough is enriched with egg yolk, sweetened with sugar and the heavy cream caramelizes while it bakes giving it a deeper sweetness and warmth. Pies tend to be baked in a deeper dish with sloped sides and tarts are usually more shallow, baked in a pin with straight sides often a removable bottom making for a beautiful presentation. Both pie dough and tart dough have their place, having a solid recipe for each will make you a better baker.
Tart recipes come in all shapes and sizes, some have a simple press-in shortbread crust like my Berry Mascarpone with Almond Shortbread Tarts and some are a little involved like the crunchy tart dough used in my Candied Tangerine Mascarpone Tart with Pistachio Chocolate Crust. This Basic Tart Dough is a roll-out dough which will require a rolling pin
and the blind baking process. But fear not, this tart dough is much less finicky than pie dough and blind baking is actually quite simple. If the tart dough tears or crumbles it can be easily patched back together and no one will be the wiser. Even if it cracks while it bakes! If you save your leftover tart dough, you can go back in and add a thin spackling of dough to the cracks, then bake it a couple of extra minutes to set the spackle! So smart, so easy.
I even took this Basic Tart Dough recipe to another level and tested a Gluten Free Basic Tart Dough version using the Bob's Red Mill Gluten-Free 1-to-1 Baking Flour
with fantastic results! I'm not gonna lie, it was a little sketchy transferring it into the tart pan
but I was able to patch it back up and press it into the pan
. It baked up beautifully and held it shape really well when I cut into the finished tart.
This Basic Tart Dough tastes pretty much like a sugar cookie and the filling opportunities are endless, if you can dream it, you can fill it. Plus you can use this Basic Tart Dough recipe for a standard 9 or 9.5" round tart pan
, a rectangular 14" x 4" tart pan
or 6 mini 4" tart pans
. You've got options, friends. I encourage you to learn the basics of the Basic Tart Dough and then allow yourself to get creative with your brilliant filling creations. I can't wait to see what you bake!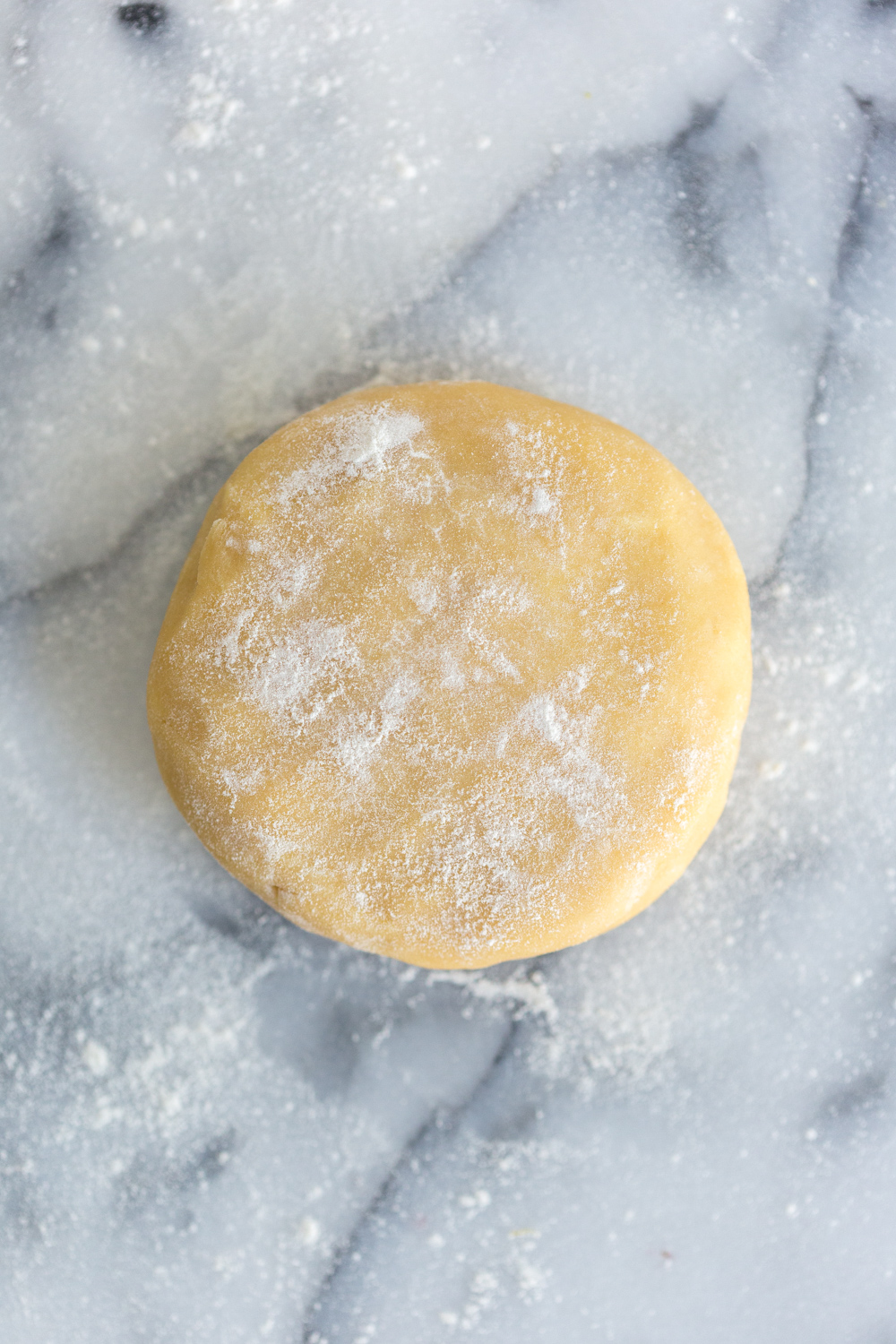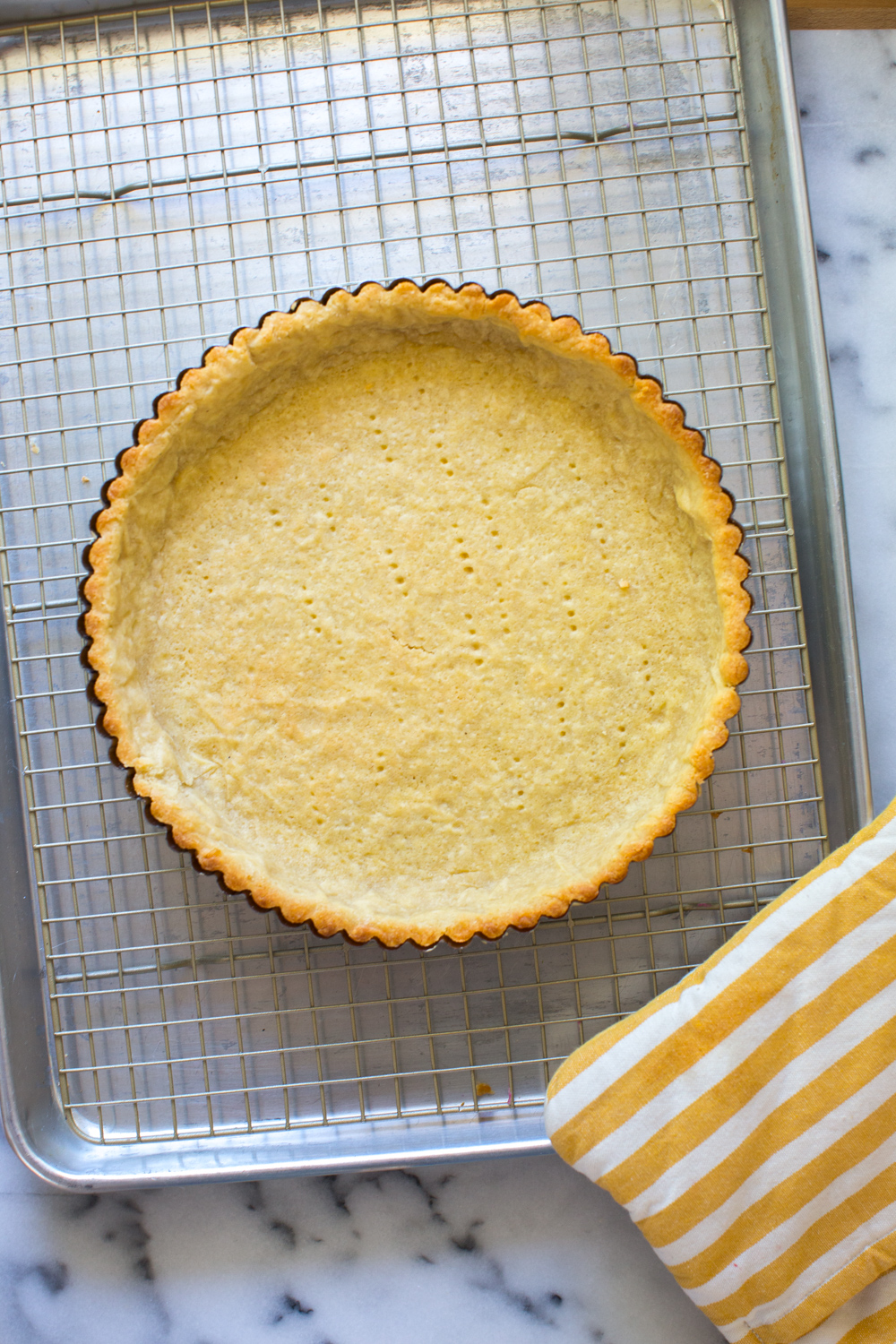 Print
📖 Recipe
Basic Tart Dough
---
Description
This easy Basic Tart Dough is crisp, rich, buttery & tastes like a sweet cookie. This versatile dough is an ideal base for all kinds of tasty tart fillings.
---
1

egg yolk

2 tablespoons

heavy cream or whole milk

1 teaspoon

pure vanilla extract

1 ¼

cup

all purpose flour

⅓

cup

granulated sugar (- or powdered sugar or brown sugar)

¼ teaspoon

fine sea salt

½

cup

unsalted butter (- cold and cut into ½" cubes)
---
Instructions
MAKING BASIC TART DOUGH
In a small bowl, whisk together the egg yolk, heavy cream and vanilla, then set aside.
In a large mixing bowl, whisk together the flour, sugar and salt.
Using a pastry cutter or 2 butter knives, cut the butter into the flour mixture until the texture looks like coarse cornmeal, the butter chunks shouldn't be larger than the size of peas.
Add the egg mixture and blend with a fork until the dough just pulls together.
Alternatively, you can make the dough in a food processor by pulsing the butter with the dry ingredients in a food processor until the texture resembles coarse cornmeal, the butter chunks shouldn't be larger than the size of peas. Add the egg mixture and pulse a few times until the dough just starts pulling together into a ball.
Transfer the dough to a lightly floured work surface, gather into a ball and pat to flatten into a disk. Wrap in plastic wrap and refrigerate at least 30 minutes, preferably an hour before rolling out. At this stage the dough may be frozen for up 3 months, if wrapped tightly.
To roll out - place dough on a lightly floured surface and flatten the disk with a few taps of the rolling pin. Begin by rolling out the dough from the center outward, then lift the dough and give it a quarter turn. Repeat and continue rolling and rotating - lightly dust the top of the dough with flour as needed. Roll out until the dough is about 1"-2" wider in diameter than your tart pan and about ⅛" thick.
To transfer to the tart pan, roll the dough back around the rolling pin, then unroll it centered over the tart pan. To neatly finish the edges of the tart, simply roll the rolling pin along the top of the pan. This will remove the excess dough in a snap! (Be sure to save that extra dough in case you need to fix any cracks after the tart shell bakes - see notes.) Prick the bottom of the tart shell with fork to prevent the dough from puffing up as it bakes. Transfer to refrigerator or freezer to chill while the oven preheats.
BAKING THE TART SHELL
Center rack in the oven and preheat oven to 375°F.
Press crumpled parchment paper or aluminum foil tightly against the crust, covering the edges to prevent them from burning. Fill with pie weights, dried beans or uncooked rice, making sure they're evenly distributed and fill the entire shell.
Bake the crust for 20 minutes, until the foil no longer sticks to the dough and the edges start to look golden. Gently remove weights by lifting the parchment or foil from the pie shell and set aside.
For a partially baked crust - bake for another 5 minutes without the weights until the the crust has a firm film on the top layer. If you are baking a tart with a baked filling, follow the tart recipe. You should be filling and baking at this point.


For a no-bake filling recipe, you need to fully bake the crust. So, bake for about 10 minutes longer until golden brown and dry. Transfer to a wire rack and let cool completely before filling.
Notes
This recipe can be used for one 9 ½" tart, one 14" x 4" rectangular tart or six 4" tartlets.
Be sure to save your dough scraps for fixing cracks that occur during the baking process. Leftover dough can be used as spackle to seal the cracks, just apply a thin layer to fill the cracks and bake for a few additional minutes until it is set.
I've had great success making a gluten free version of this Basic Tart Dough by swapping the All Purpose Flour for Bob's Red Mill 1 to 1 Gluten Free Baking Flour.
Recipe adapted from the Williams Sonoma Basic Tart Dough recipe.
Prep Time:

20 minutes

Cook Time:

30 minutes

Category:

Dessert

Cuisine:

tart
Keywords: Basic Tart Dough, Easy Tart Dough, Gluten Free Tart Dough, tart, Tart Dough