Jump to:
About Apricot & Plum Hybrids
We all know what plums and apricots are. But how many of you have heard of a pluot? Plumcots are new to me. Apparently there are also apriplums, apriums, angelcots and even something called very cherry plums. Who knew?
All of the above are hybrid fruits involving either plums or apricots with subtle differences in appearance, color and flavor profile. Pluots were familiar to me - plums + apricots, simple. But plumcots and apriums are also a blend of the two fruits. So what gives?
Proportions define the hybrid
The difference lies in percentage of each within the hybrid proportions. Plumcots are apriplums are old school, first gen of plum and apricot hybrids, made as a 50/50 split. Plumcots, which I used in this Apricot & Plumcot Goat Cheese Tart recipe, can be plummy in appearance but don't tend to have as deep of plum sweetness as pluots.  Pluots take it a step further and lean in towards the plum side of things with 75% plum dominance. Apriums and apriplums are heavier on the apricot spectrum with that golden hue and soft baby fuzz exterior. 
To top it all off, each hybrid has multiple varietals so things can get really confusing. Just know that whatever hybrid or variety of apricots or plums you decide to use in this Apricot Plumcot Goat Cheese Tart recipe, it will be gorgeous and delightful no matter what. If you want to nerd out over the science of it all, this popsugar article is helpful. Wikipedia knows a thing or two about the history and distinctions as well.
Simple overview of the recipe
This recipe allows the summery stone fruit to shine like a ray of sunshine atop the super simple tart base. The basic, press-in brown sugar crust comes together in minutes and looks flawless when made in a 9" removable bottom tart pan.  The smooth and airy filling is a simple blend of whipped goat cheese, Greek yogurt, orange zest and honey that sets up like a creamy dream in the fridge. Once the filling is set in, I top the tart with juicy stone fruit and a few sprigs of garden fresh thyme for earthy depth. Then I drizzled it with sweet, sticky honey just before serving. 
It's not too sweet
Thanks to the whipped goat cheese, this Apricot Plumcot Goat Cheese Tart isn't overtly sweet and the herby thyme it blurs the lines between sweet and savory. The crumbly shortbread crust tastes like a familiarly sweet cookie and balances the filling and fruit both figuratively and literally.
I first made this Apricot Plumcot Goat Cheese Tart for a photoshoot. It was a showstopper. Finally, once that martini shot was snapped, the crew sliced and devoured it within minutes.
This recipe plum delicious, no matter how you slice it. Or top it.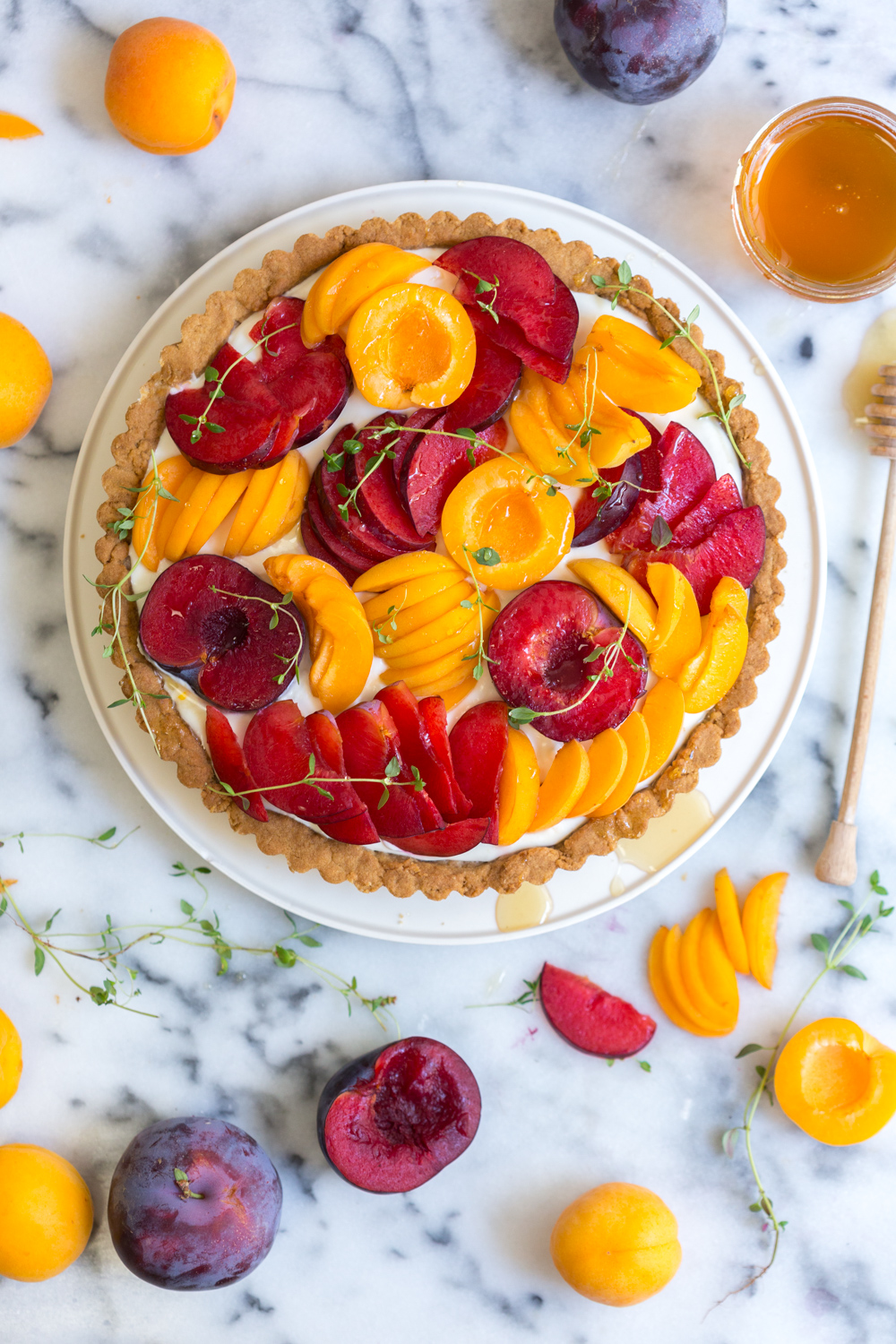 Print
📖 Recipe
Apricot Plumcot Goat Cheese Tart
---
Description
This Apricot Plumcot Goat Cheese Tart is quick & simple with an easy, press-in brown sugar crust, a creamy whipped goat cheese filling with a touch of honey & juicy slices of stone fruit with freshly snipped thyme. Not too sweet, not too savory. Just right.
---
BROWN SUGAR SHORTBREAD TART SHELL
½

cup

unsalted butter (- at room temperature)

½

cup

brown sugar

1 teaspoon

pure vanilla extract

1 ½

cups

all purpose flour

½ teaspoon

fine sea salt
WHIPPED GOAT CHEESE FILLING
1

cup

goat cheese (- at room temperature)

⅔

cup

Greek yogurt (- at room temperature)

⅓

cup

honey (+ a couple of tablespoons to drizzle)

1 teaspoon

pure vanilla extract

½

orange (- zested)

6

sprigs fresh thyme

4

plumcots (- sliced)

6

apricots (- sliced)
---
Instructions
BROWN SUGAR SHORTBREAD TART SHELL
Preheat the oven to 350°F.
Whisk together the salt and flour in a medium sized bowl and set aside.
In a stand mixer with the paddle attachment, beat the butter and brown sugar together on medium/high speed for about 5 minutes until light and fluffy, stop the mixer and scrape the bottom and sides of the bowl a few times. Add the vanilla and mix until fully incorporated.
Reduce the speed to low and slowly add the dry ingredients, scraping the bowl a couple of times. Only mix until the ingredients have just come together and the dough is still crumbly so it is easier to distribute in the pan.
Evenly spread the dough in the bottom of the pan then

lightly press the dough into place so it covers the bottom and slightly up the sides of the pan. Gently prick the dough with a fork.

Bake for about 25 minutes until the shortbread dough puffs up a bit and is a warm golden color all over. Allow the tart shell to cool in the pan on a wire rack.
WHIPPED GOAT CHEESE FILLING
In the bowl of a stand mixer with the whisk attached, whip the goat cheese for a few minutes until its light and fluffy.
Add the Greek yogurt, honey, vanilla and orange zest. Whip together until smooth.
Pour the filling into the cooled tart shell and smooth the top with a spatula. Chill in the fridge for at least a couple of hours to allow the filling to set.
Once the filling is set and doesn't jiggle anymore, top with sliced plumcots and apricots in any pattern your heart desires. Keep in refrigerator until ready to serve then top with a drizzle of honey and freshly snipped thyme.
Notes
You will need a 9" tart pan with a removable bottom for this recipe.
The tart will last up to a few days in the refrigerator but it will keep better and longer when topped with the fruit just before serving.
Prep Time:

25 minutes

Cook Time:

25 minutes

Category:

Dessert

Cuisine:

tart
Keywords: Apricot Plumcot Goat Cheese Tart, tart
Related Recipes