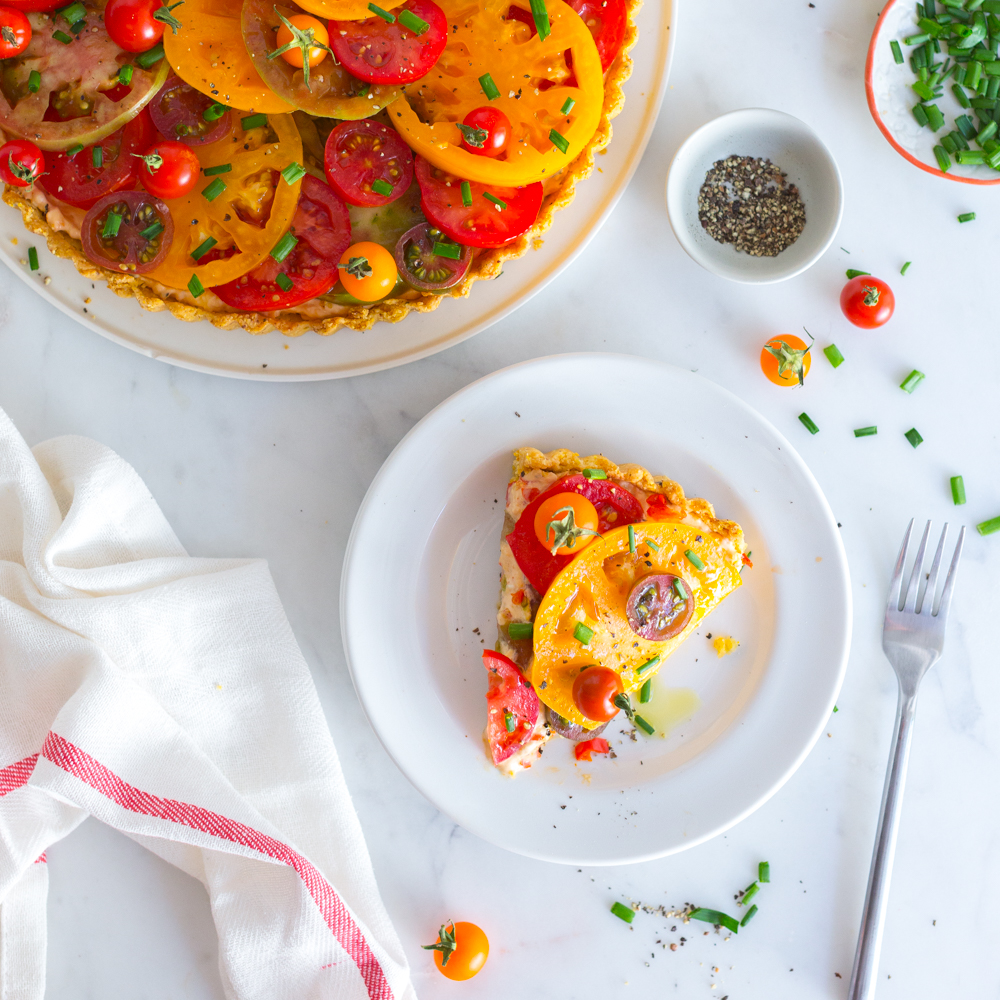 Pimento cheese? Do you love it? Do you hate it? There is no in between, it's one of those things that you either proudly devour or can't stand. Unless of course you're a closeted pimento cheese fan, and come to find out, there are a lot of you hiding behind the Ritz crackers
on the snack table. The thing is, this Heirloom Tomato Pimento Cheese Tart will convert even the most hardcore pâté of the south haters into double dipping pimento cheese connoisseurs.
I get it, many versions of pimento cheese contain questionable ingredients like processed "cheese" and copious amounts of globby mayo. I'm no fan of either so that's why I've replaced those ingredients with real Tillamook cheddar cheese
and rich, creamy Greek yogurt blended with silky cream cheese
. I keep it all pretty simple with mildly spicy and tangy sweet pimento peppers
, smoked paprika
, a few dashes of Louisiana Hot Sauce
, grassy chives and freshly ground black pepper
. Now that doesn't sound so bad does it?
Although the only time I spent in the south was a long weekend in New Orleans (read about it here), I can safely say this Heirloom Tomato Pimento Cheese Tart with a peppery cornmeal crust is a Southern food lovers dream. The crumbly cornmeal
crust filled with the sweet heat of the creamy pimento
cheese welcome the juicy tomatoes with the utmost southern hospitality.
The filling is all blended together into a smooth spread that's almost as crave-able alone as it is in this Heirloom Tomato Pimento Cheese Tart. However, the super savory shell is buttery and warmly peppered with a crisp cornmeal
crust that's balanced in both flavor and texture. But if I'm being honest, the shell and pimento cheese filling are really just a stage to entertain the real star of the show - the plump and juicy heirloom tomatoes. Every August means there is an abundance of the sun filled golden globes and I end up eating whole tomatoes like apples and cherry tomatoes like candy. Not to downplay the crust and filling in this drool inducing Heirloom Tomato Pimento Cheese Tart but tomatoes always take center stage in my eyes.
If you're a tomato fiend like me check out my BLT Galette with Pecorino Crust, Tomato Confit & Burrata Crostini, Cacio e Pepe with Cherry Tomatoes or my super summery fan fave my Heirloom Tomato & Grilled Corn Galettes with Cheddar Crust. But if you like spicy, sweet and devilishly addicting flavors - I highly suggest making this Heirloom Tomato Pimento Cheese Tart while the tomatoes are ripe!
And for all of the tomato inspiration you could ever need and then some, check out the long list of tomato focused recipes compiled by a bunch of talented food folks from bloggers to chefs and stylists to photographers listed at the bottom of this post!
Print
📖 Recipe
Heirloom Tomato Pimento Cheese Tart
---
Description
This super savory Heirloom Tomato Pimento Cheese Tart is a southern food lovers dream with a warmly peppered, crisp cornmeal tart shell filled with extra creamy, sweetly spiced pimento cheese filling and topped with a stunning array of summer fresh heirloom tomatoes.
---
BLACK PEPPER CORNMEAL CRUST
½

cup

unsalted butter (- cold and cut into ½" cubes)

¾

cup

all purpose flour

½

cup

fine ground cornmeal

1 teaspoon

fine sea salt

¾ teaspoon

freshly cracked black pepper

2 tablespoons

ice cold vodka

1 tablespoon

olive oil
PIMENTO CHEESE FILLING
4

ounces

cream cheese (at room temperature)

½

cup

Greek yogurt (at room temperature)

1 ½

cups

cheddar cheese (grated)

¼

cup

chopped pimento peppers

2 tablespoons

freshly chopped chives

½ teaspoon

freshly cracked black pepper

½ teaspoon

smoked paprika (- or plain paprika)
a few dashes hot sauce

2

-

3

large heirloom tomatoes

2

-

3

medium heirloom tomatoes

½

cup

cherry tomatoes
---
Instructions
BLACK PEPPER CORNMEAL CRUST
Preheat the oven to 400°F.
Whisk together the flour, cornmeal, black pepper and salt in a medium sized bowl and set aside.
Add the butter to the flour mixture and use a pastry blender or your hands to squish the butter in with the dry ingredients until pea sized granules start to from.
Slowly add the ice cold vodka and use a fork to mix until hydrated. Then mix in the olive oil until just combined. The dough should be a little rough and shaggy but hold together when squeezed in your hand.
Transfer the dough into a 10" removable bottom tart pan and press the dough into the pan evenly and up the sides. Prick the bottom of the shell with a fork.
Line with parchment paper or foil and fill with beans or rice to weigh the dough down.

Bake for 15-20 minutes until the edges begin to turn a golden brown. Remove the foil filled with beans and bake the crust for another 5 minutes until the edges are a deep golden brown and the bottom is fully baked and golden. Set aside and allow to cool.
PIMENTO CHEESE FILLING
In the bowl of a stand mixer with the whisk attached, whip the cream cheese and yogurt together until light and fluffy. Mix in the remaining ingredients until blended.
Gently transfer into the cooled tart shell then use a small offset spatula to smooth out the the filling and spread it to the sides. Chill in the fridge for at least 2 hours to allow the filling to set.
Line a baking sheet with paper towels. Slice the large, medium and a few of the small tomatoes into ¼" - ½' thick slices. Lay the tomato slices on the lined baking sheet and sprinkle liberally with sea salt - this helps to draw the moisture out of the tomatoes so it doesn't soak into your tart. Allow to sit at least an hour.
Once the filling it set, layer with sliced tomatoes, top with drizzle of olive oil, fresh chopped chives, crunchy salt flakes and freshly ground black pepper. Slice and serve!
Notes
Store in the refrigerator for up to 3 days.
Prep Time:

30 minutes

Cook Time:

20 minutes

Category:

Tart

Cuisine:

Southern
Keywords: cormeal tomato tart, cornmeal crust, Heirloom Tomato Pimento Cheese Tart, tomato tart
---
A big thanks to Becky of Square Meal Round Table & Annie of What Annie's Eating for organizing this tomato loving group under the tag #wesaytomatoes on Instagram. Now excuse me while I make all of these juicy tomato recipes before tomato season ends!