Try as I might, I'm just not one of those people who has figured out how to can, preserve, jar and vacuum seal fresh foods. Planning that far ahead doesn't seem to be in my DNA. But when it comes to Cherry Tomato Confit, I do what I can. I don't can, I freeze. 
Jump to:
What is tomato confit?
Confit just means that the tomatoes have been cooked and preserved in fat. In this case, it's olive oil.
How it works
All of a sudden, tomato season is closing in on us. While I can still get my hands on those sunny little cherry tomatoes at my local Farmers Market, I am loading up to roast up. This recipe for Cherry Tomato Confit is simple beyond belief. It's just a few sprigs of fresh herbs, some smashed up garlic, a hefty punch of flaky sea salt and a whole lot of tomatoes in a silky smooth bath of olive oil.
Combine all of that on a baking sheet. Add a few hours of low and slow roasting and you've got yourself a big ol' batch of saucy goodness. The best part is that there are so many ways to serve it. Toss it with pasta, top pizza with confit, or slather it on toasty baguette. Try my Tomato Confit & Burrata Crostini.
Preserve the summer sun
I am planning ahead slightly. First by roasting a large batch and dividing it into freezer proof storage containers. Then I'll pull these out and toss them with a bowl of warm pasta on cold winter nights. I am certain I will be missing those sun-filled tomatoes and summery herbs desperately this winter. So, this confit recipe uses a mix of bright lemon thyme, fresh oregano and peppery basil to amp up the summery cherry tomato flavors. Also, try rosemary, sage or some other heartier herbs for a more wintery flavor story.
Canning or freezing tomato confit
While canning is ideal, freezing the confit works great too. So if you're strapped for time and pantry space like me, roast up a big batch now and freeze individually sized portions of this Cherry Tomato Confit for your seasonally-affected self this winter. I promise it will undoubtedly bring some sunshine to the darkest winter days.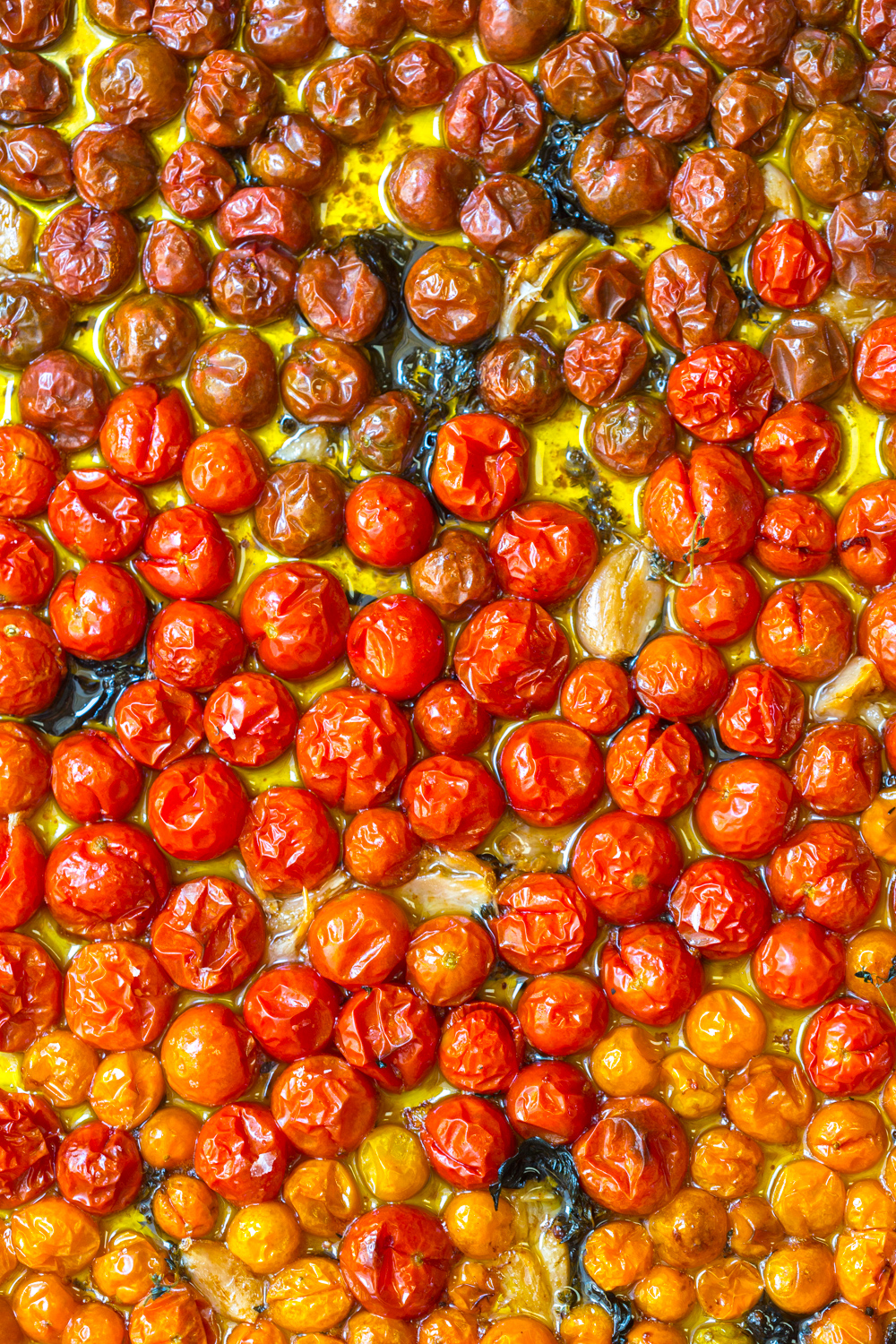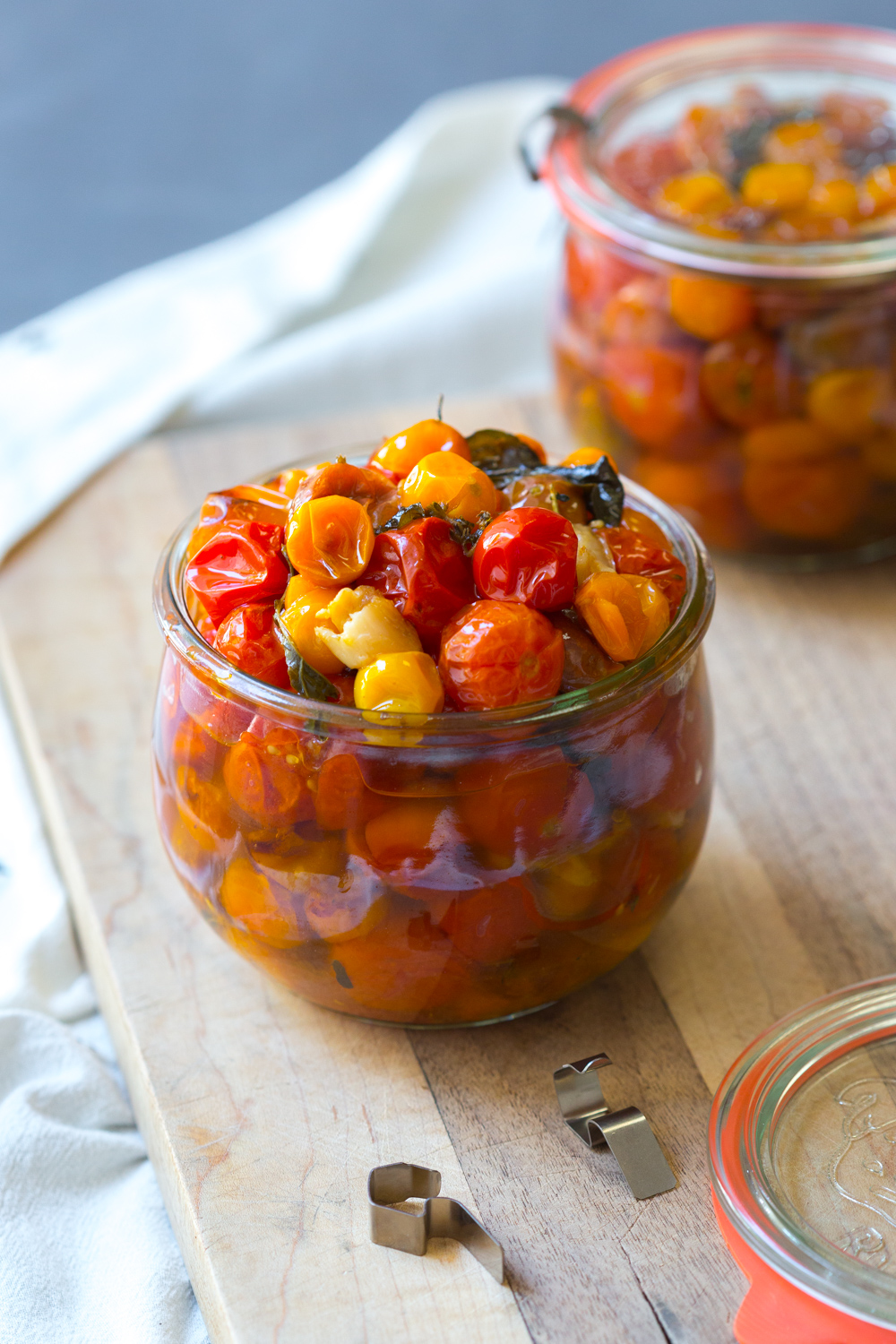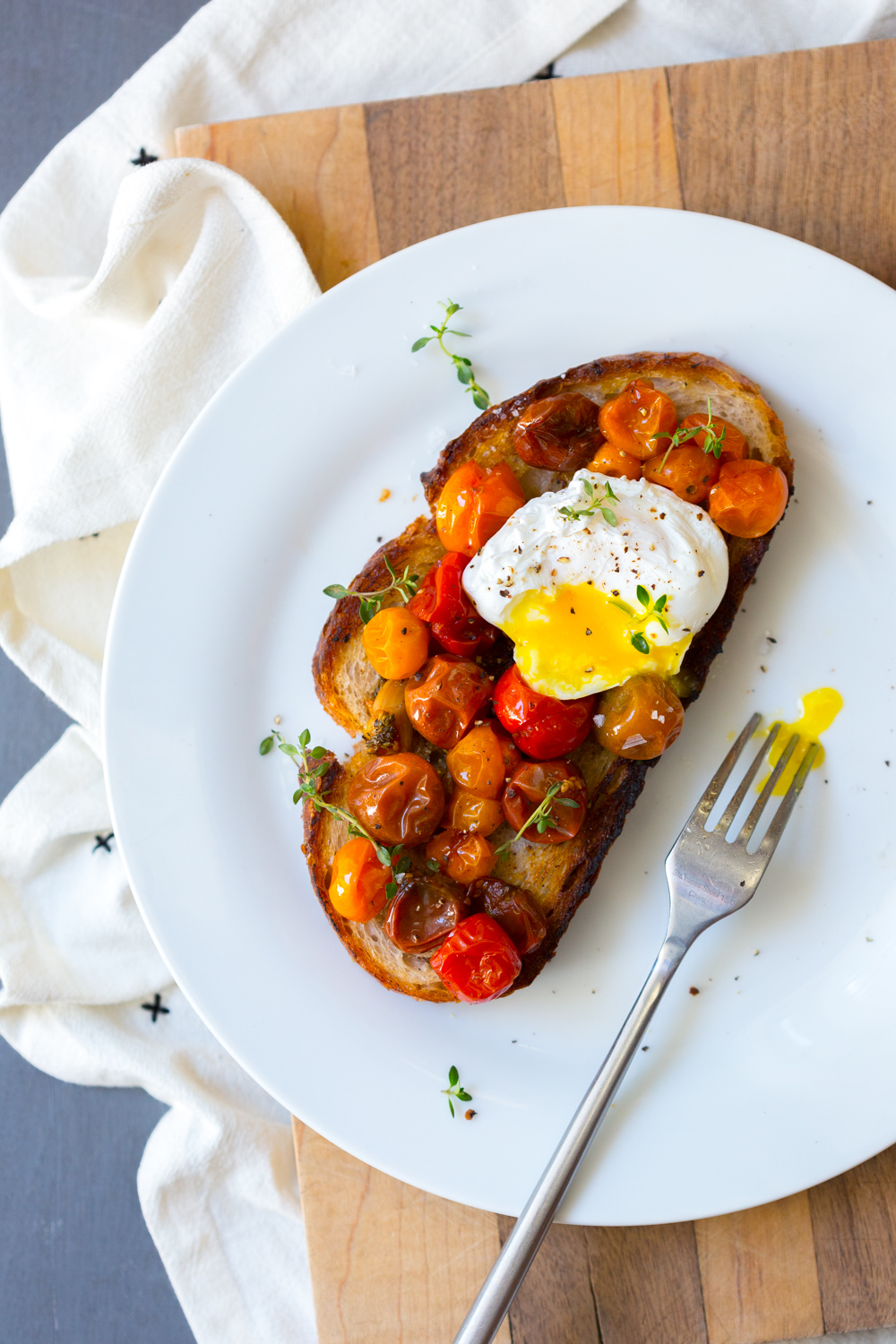 Print
📖 Recipe
Cherry Tomato Confit
---
Description
Slow roasted cherry tomatoes burst with rich, caramelized flavors melded with fragrant garlic and herby undertones in a luxuriously smooth olive oil bath. Perfect for preserving fresh summery flavors to slather crusty bread, toss with pasta or as a flavorful pizza sauce.
---
3

pints

cherry tomatoes (- mixed or all one type)

1

cup

olive oil

4

-

6

cloves garlic (- peeled & smashed)

10

-

12

leaves fresh basil

6

-

8

sprigs fresh lemon thyme (- or plain thyme)

2

-

3

sprigs fresh oregano

1

-

2

teaspoons flaky sea salt
---
Instructions
Preheat oven to 250°F.
Place the prepped tomatoes in a shallow baking dish and season liberally with sea salt flakes. Sprinkle the smashed garlic, basil, lemon thyme and oregano over the cherry tomatoes. Drizzle the olive oil over the top and gently stir to coat.
Bake until the tomatoes begin to shrivel up and start to brown around the edges, 2-3 hours, gently turning and stirring the tomatoes periodically to prevent any burning.
Remove from the oven and allow to cool at room temperature. Remove and discard the garlic and herbs before storing as they tend don't preserve as well as the tomatoes.
Transfer to an airtight container and store in the refrigerator for up to 1 month, completely covered with olive oil to prevent air from reaching them.
Or divide amongst a few freezer proof containers and freeze for up to 3 months. The olive oil with harden and solidify in the refrigerator or freezer so be sure to bring tomatoes to room temperature before serving.
Notes
This recipe is highly adaptable, feel free to add onion, shallots, or swap herbs as you please.
Prep Time:

10 minutes

Cook Time:

2 hours