Huckleberries have haunted me for years. Growing up in Eastern Washington, huckleberry shakes, candies and jam were ever present and I didn't think much of them. Then I moved to Portland, OR and the huckleberry was soon replaced with Oregon's treasured Marionberry. I still missed my hucks now and again, but marion filled that void. Now, I live all the way down the coast in Southern California where huckleberries and marionberries are mere folklore to reminisce about with the few Pacific Northwesterners that live among us.
Huckleberries are tart little berries that taste like a hybrid, somewhere between a blueberry and raspberry. Mostly enjoyed by bears in the wild, these illusive berries are appropriately also known as purple gold. They're spendy little stinkers but they are worth their weight in purple gold.
After an exhaustive search for huckleberries while visiting Spokane last summer, I returned home with nothing but a jar of Huckleberry Jam that I featured prominently in this beloved recipe for Huckleberry Jammers.
I happened to be in the PNW at the peak of huckleberry season this summer, and the huckleberry hunt became my #1 priority. Sorry family and friends, I was on a mission. Unfortunately, I didn't have the time to go wild huckleberry picking, so I turned to the help of the world wide web.
I came across The Fruit Girl's Facebook page and noticed she was also on the hunt! I wrote her late that evening, explaining that I was desperately seeking huckleberries. Jen, the Fruit Girl, wrote me back right away to tell me she had the goods and would be stocked up at her Spokane Valley fruit stand the following day! Jen is fabulous, generous and kind. Plus, she has the nicest melons in town!
Now that I had the hucks, I needed a game plan. Somehow, I needed to squeeze in a day trip to Pasco, WA to visit my dear friends Julie & Joe and their over the top cute crew of 3 boys and a new baby girl. I ambitiously asked if we could all bake together and make a mess of Julie's spotless kitchen. Much to my surprise, she enthusiastically agreed! I prepped the dough for Huckleberry Hand Pies the night before and was on the path to Pasco the next morning. Julie and I caught up for a while, went to Joe's work for a mind-blowingly delicious lunch at the local taco truck and came back home to bake.
We rolled up our sleeves and rolled out the dough, then stamped out circles and carefully transferred them to the freezer to chill while the boys took a much deserved iPad break. When it came time to shape the Huckleberry Hand Pies, the boys blew me away with their natural knack to perfectly shape and crimp the dough, their virtuous patience and their ability to work together as a team. This crew is hands-down the best assistant hand pie baking crew in the biz. I would hire them in a heartbeat.
Parents never cease to amaze me, especially those who do it with such style and grace. Julie and Joe are the pinnacle of role model parents and their kids are each reflections of that fact. Someone really broke the mold with this family. I don't have kids of my own, so spending moments like these with my dear friends' families is time I cherish deeply. We made a giant mess and things took way longer than I expected, but we made the best darn Huckleberry Hand Pies any of us have ever had.
I intended to teach these kids a few things about baking but really, they ended up teaching me so much more. Kids are smart. Man, they are much more capable and intuitive than we give them credit for. Give them the rolling pin and they will roll with just about anything.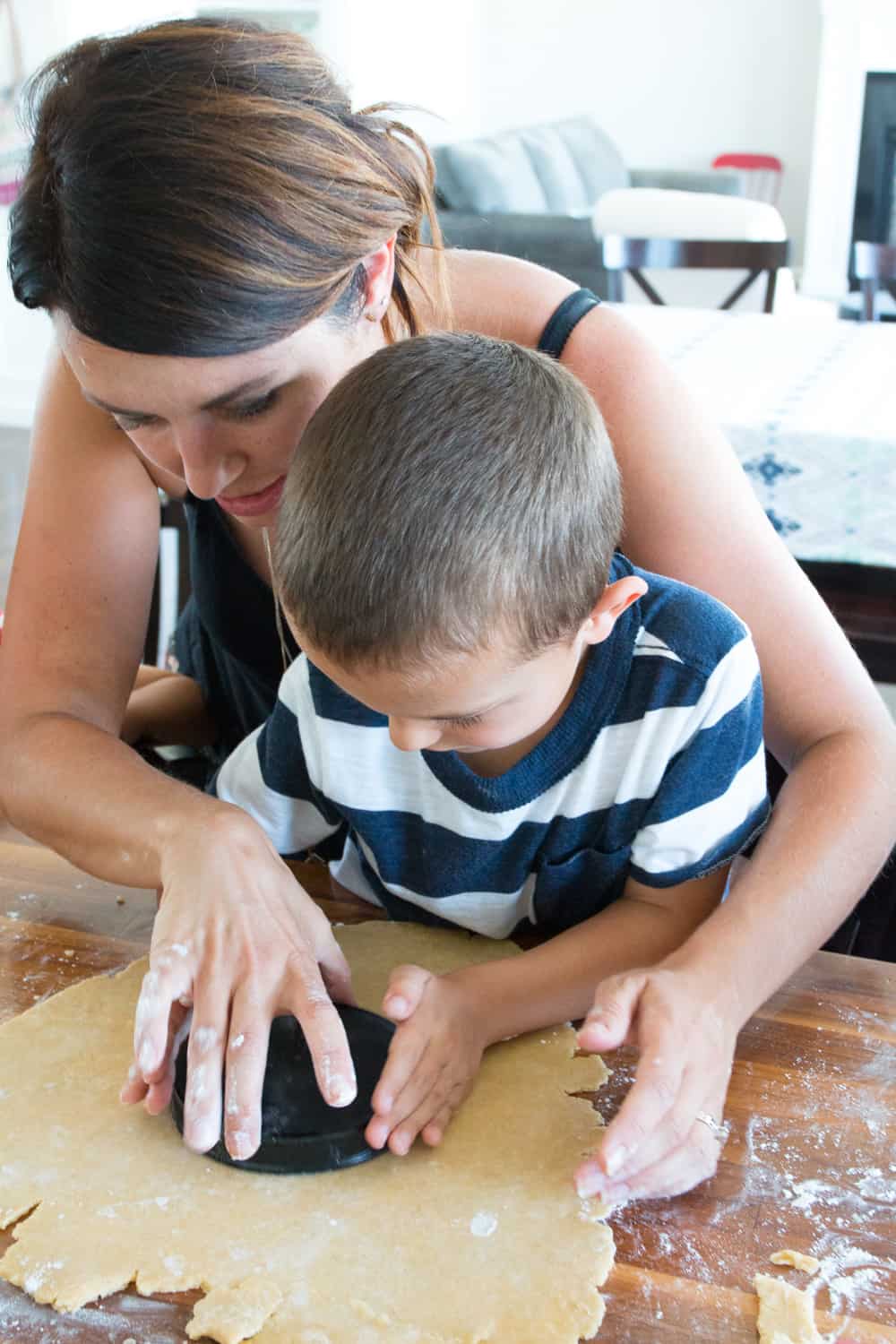 Print
📖 Recipe
Huckleberry Hand Pies
---
Description
Hand Pies get the purple gold treatment when filled with a bright, tart and juicy huckleberry filling.
---
FILLING
huckleberries (or alternate berries - 3 cups)
lemon - zest and juice of 1
sugar -

1

cup

tapioca starch - 1 tablespoon
EGG WASH
Large egg - 1
water - 1 teaspoon
salt - dash
sparkling sugar (turbinado sugar or granulated - 2 tablespoons)
---
Instructions
PIE DOUGH PREP
Once your pie dough has chilled, on a lightly-floured counter, roll one disk to ⅛"-¼" thickness.
Using a 5"-6" round cookie cutter or other round template stamp out circles of the rolled dough. Gather the dough scraps together, form a disk and re-roll, cut more dough rounds.
Transfer the dough rounds to a lined baking sheet, and chill in the refrigerator for about 30 minutes. Repeat the rolling, cutting, and chilling process with the remaining disk of dough.
HUCKLEBERRY HAND PIE FILLING
Place the huckleberries in a mixing bowl. Add the zest and juice of one lemon, sprinkle wish sugar and toss to coat. Stir in the tapioca starch and allow to sit for 15 minutes.
SHAPE & BAKE
Preheat oven to 375°.
Remove the chilled dough rounds from the refrigerator and let stand at room temperature for a few minutes until just pliable.
Spoon about 2 tablespoons of huckleberry filling onto one half of each round of dough. Lightly brush a small amount of cold water around the edges of the of the dough rounds, then fold the round in half creating a half-moon shape.
Gently seal the edges by pressing together. Then create a decorative crimp by pressing the edges of the dough together with the back of a fork.
Repeat process with remaining dough rounds. Place the hand pies back on the lined baking sheet, and return to the refrigerator or freezer to chill for another 30 minutes.
Whisk 1 egg, 1 teaspoon of water and dash of salt together in a small bowl.
Remove the chilled hand pies from the refrigerator. Using a pastry brush, lightly brush the hand pies with the egg wash and sprinkle with granulated, sparkling or turbinado sugar. Cut three small slits in the top of each hand pie.
Bake until the hand pies are golden brown, about 20 - 25 minutes, rotating the pans halfway through.
Remove the pies from the oven, and let stand to cool before serving.
Notes
*Alternatively, blueberries, raspberries, blackberries, marionberries or a mix of berries can be substituted if huckleberries aren't readily available to you.
*Since I was baking this version with small children, I swapped out the vodka in the pie dough for apple cider vinegar. Both work well and evaporate quickly, creating a crispy flaky pie crust.
Prep Time:

2 hours 20 minutes

Cook Time:

25 minutes