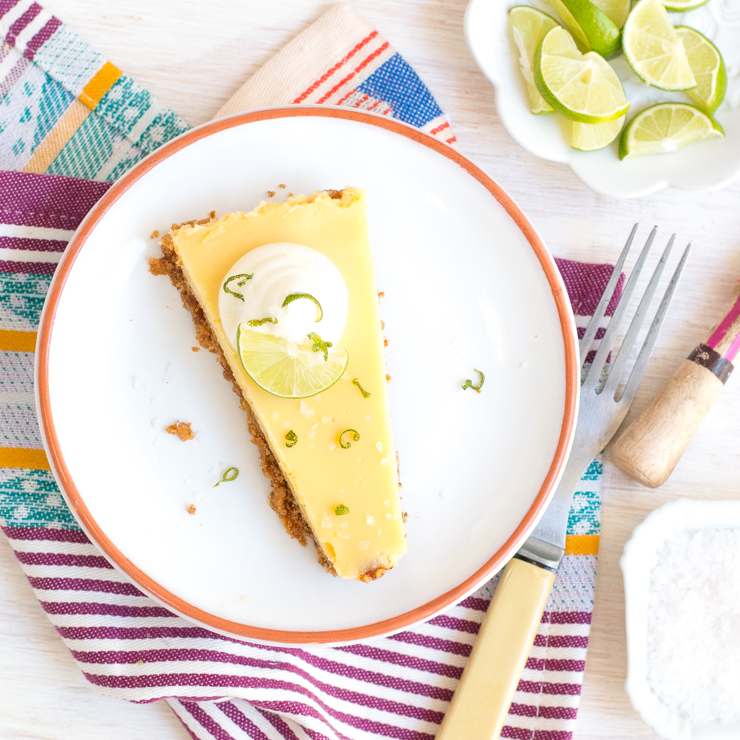 April was a crazy whirlwind, it came in like a lion and went out like a bear. Travel, a nasty sickness and big projects took over, and sadly the ol' blog was put on the back burner.
I just realized that Cinco de Mayo has snuck up on me and it's only two days away! There was no way I was going to let my favorite holiday slip by without baking up a celebratory dessert (and hitting a few shots of tequila in the process). While I still have a long laundry list of to-do's, today I was day-drinking while I worked because I needed a break – and a drink.
Since it's Cinco de Mayo season, I wanted to get in the spirit with one of my favorite spirits, tequila. And since it's been a while, I figured I should probably get into the kitchen and bake up something crazy delicious.
One of my favorite and most popular recipes is my Margarita Cupcakes. They are a little involved, and this tart has similar flavors but is much faster to prepare. The recipe below combines a tangy key lime filling with a tequila chaser and a satisfyingly crunchy salted pretzel crust, topped with tequila-laced whipped cream.
I've adapted my Key Lime Tequila Tart with Pretzel Crust from the Sunrise Key Lime Tarts recipe in the Baked Elements cookbook by pastry wiz duo, Matt Lewis and Renato Poliafito. I tweaked the recipe to fit into a single, 14" x 5" loose bottom rectangular tart pan instead of 8 small individual tarts, mostly because it's less work this way and it's my first down day in longer than I can remember. Less work = more time for this:
There is not a whole lot of story here. I'm not going to wrap it up with a "the more you know", Full House, sitcom style lesson and leave you with a small sip of advice. When life gets a little overwhelming, get in the kitchen, shoot some tequila, and bake your heart out. It's the sweetest form of therapy there is. If tequila isn't your thing, pop a Topo Chico and you're golden!
Also, don't drink too much tequila or you might over-bake your dessert because you are too busy dancing around and somehow didn't hear the timer beep and then you have to wait until you sober up so you can start over. I speak from experience here.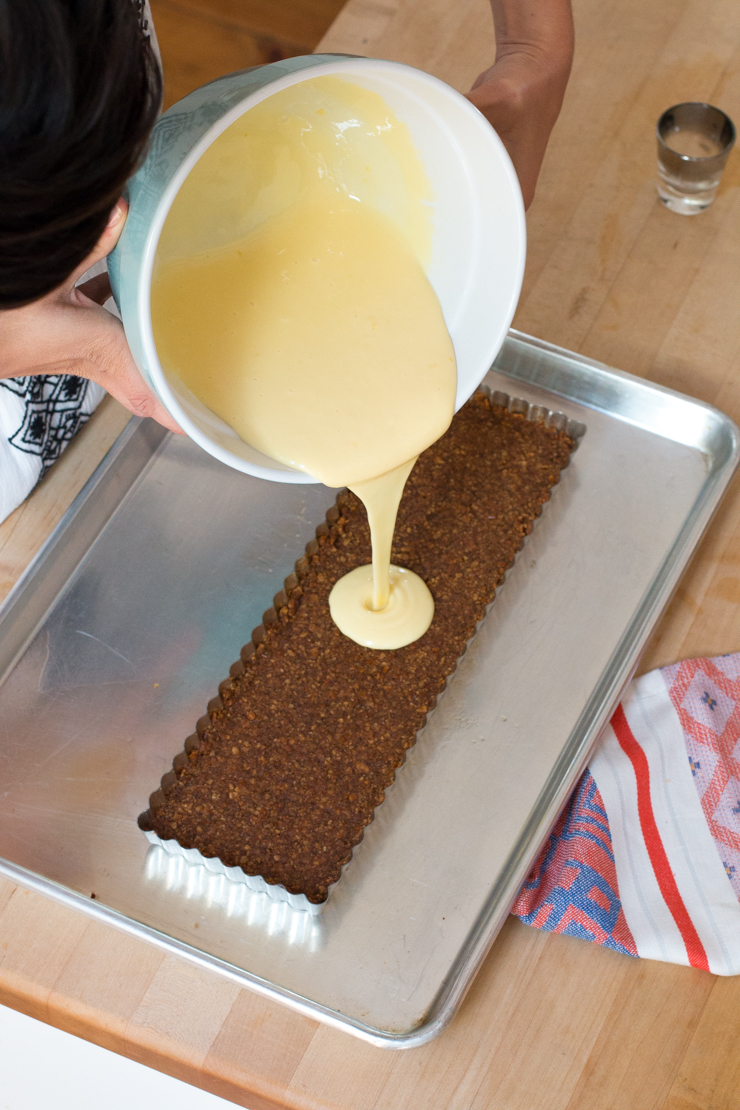 Print
📖 Recipe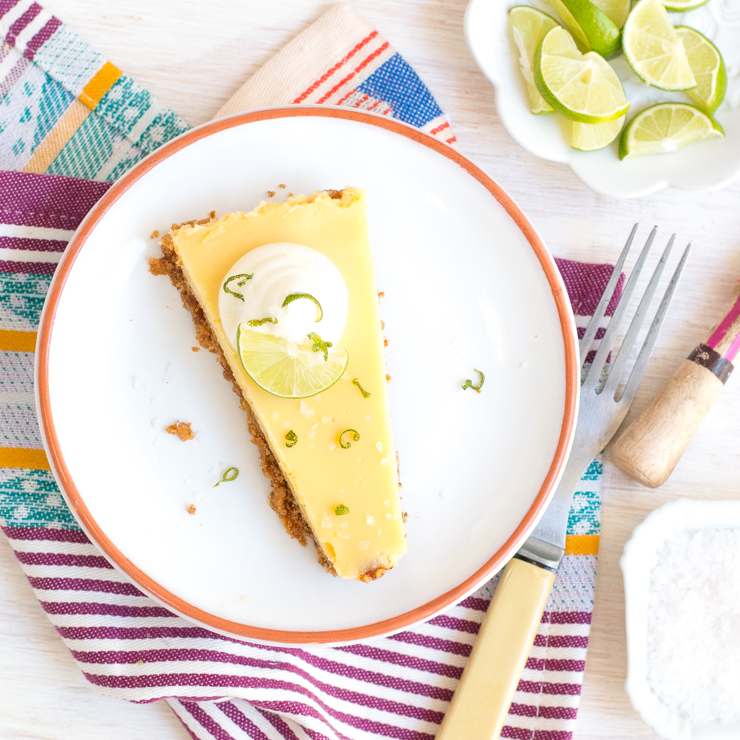 Key Lime Tequila Tart with Pretzel Crust
---
Description
This bright and zesty Key Lime Tequila Tart with Pretzel Crust combines a tangy key lime filling with a tequila chaser and a satisfyingly crunchy salted pretzel crust, topped with boozy tequila laced whipped cream.
---
Pretzel Crust
unsalted butter - 1 ½ sticks (12 tablespoons)
light brown sugar (firmly packed - 2 tablespoons)
salted pretzel twists -

3

cups
Key Lime Tequila Filling
large egg yolks (at room temperature - 3)
sweetened condensed milk - 1 (14 ounce can)
freshly squeezed key lime juice - ⅓ cup (about 15-18 key limes)
good quality tequila - 3 tablespoons
Tequila Whipped Cream
heavy cream -

1

cup

granulated sugar - 2 tablepoons
tequila - 1 tablespoon
whole key limes for topping - 2-3
Maldon sea salt flakes (for topping - 1 tablespoon)
---
Instructions
Pretzel Crust
Preheat the oven to 325° F.
Lightly grease a 14" x 5" loose bottom rectangular tart pan with butter or vegetable oil. Place the tart pan on a baking sheet.
Pulse the pretzels in a food processor until they are fairly finely ground, with some larger pea-sized chunks remaining. Pour into a large mixing bowl.
In a small saucepan, melt the butter over low heat. Continue to heat, stirring frequently, until the butter starts to foam up and brown bits begin to form. Whisk in the brown sugar and stir until fully dissolved. Remove from heat and set aside.
Pour the butter mixture over the ground pretzels and stir to combine. The mixture should look like wet sand. Transfer the crumb mixture into the prepared tart pan and use a spatula to spread the mixture evenly into the pan and up the sides slightly.
Bake the tart on the the baking sheet for about 15 minutes, until it starts to turn a deep brown and looks set. Set aside and allow the crust to cool completely.
Key Lime Filling
Turn the oven up to 350° F.
In a medium sized bowl, whisk together the sweetened condensed milk and the egg yolks until smooth. Add the fresh squeezed key lime juice and the tequila and continue whisking until completely smooth.
Gently pour the filling mixture into the cooled pretzel crust shell and smooth out the top with the back of a spatula. Bake for 12-14 minutes until the filling is set and doesn't jiggle when you shake it.
Place on a cooling rack and allow tart to cool completely. Once cooled, transfer to the refrigerator and allow the filling to set for at least 2 hours.
Tequila Whipped Cream
Chill the metal bowl and whisk of a stand mixer in the freezer for at least 10 minutes.
Pour the heavy cream and tequila into the chilled bowl and whisk on a medium-high speed for about 1 minute.
Add the sugar and beat for a couple more minutes until soft peaks form.
Chill in the refrigerator until you're ready to serve the tart.
Serve
Gently push up on the tart loose bottom of the tart pan to release from the sides.
Carefully cut the tart into wedges (about 9 with sacrificial half slices on each end).
Top each slice with whipped cream, lime zest, a thinly sliced lime pinwheel and an optional sprinkle of flake salt (if you're the "with salt" type).
Serve with a shot of tequila, obviously.
Prep Time:

30 minutes

Cook Time:

30 minutes