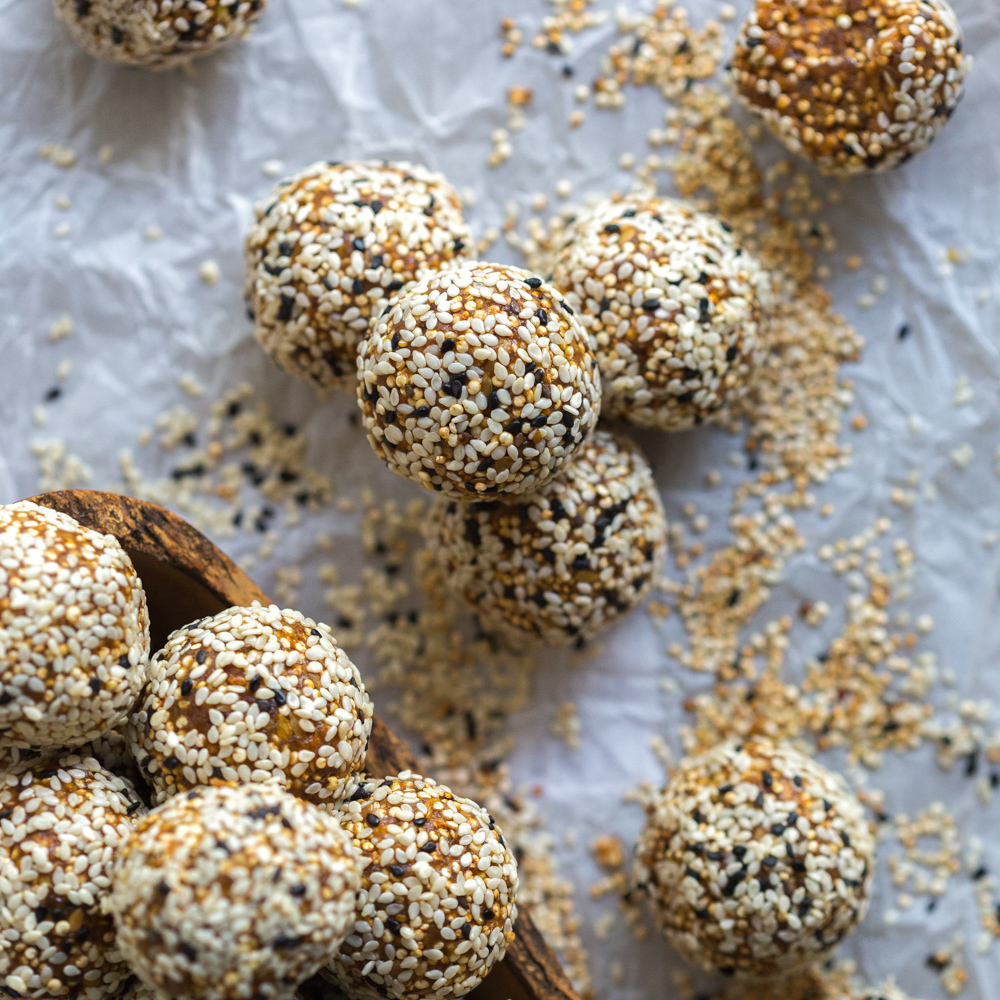 This is a baking blog so the copious amounts of butter, refined sugars and generally fattening good stuff are inevitable. But every once in a while, I like to lighten the load. This one is for my friends with dietary restrictions out there, it's healthy-ish while being simultaneously gluten free, vegan and nut free - all wrapped up into a single recipe. Now is when the skeptics, like myself, roll their eyes. However, despite being free all of all those things, these Quinoa Date Tahini Energy Balls are pretty damn delicious and that's coming from a dairy addicted skeptic.
I am still feeling the effects of the holidays and instead of going hard and cutting out everything I love, I am giving myself a bit of grace as I ease back into a healthier way of life. So far this year I've gone for a few runs, practiced some low key yoga at home and focused on veggies with healthy proteins for dinner. It's been nice and the pressure has been way low. I need to watch it because what always gets me are those days when I am too busy to stop and actually eat a meal for lunch. I generally end up mindlessly snacking throughout the afternoon which leads to my bad habit of overindulging on all things cheese. It's not the cheese that concerns me, it's the sheer volume of cheese I am capable of consuming. It's a problem, people.
So the time has come and I am buckling down on my insatiable cheese addition. These Quinoa Date Tahini Energy Balls are here to save the day with deep, spicy flavors, crunchy, toasted quinoa
and slight bitterness of the roasted tahini
, they almost pass as savory. The understated sweetness comes from the natural sugars in the dates
and the deep, molasses like characteristics of the Just Date Syrup
. The spicy flavors bring depth to the Quinoa Date Tahini Energy Balls but the texture is a whole other layer.
I bet you didn't know you could puff your own quinoa
. Well, it's true and it's ridiculously easy and kinda fun to make. The chewy base of blended tahini
, dates
and date syrup
comes to life with the crunchy, textural bite from the puffed quinoa. It seems like many energy ball recipes lack texture and a mushy ball of mystery ingredients isn't always appetizing. The mix of textures in these Quinoa Date Tahini Energy Balls is a key component to satisfying hunger spells without that feeling that you're chewing on tasteless cardboard.
I am a big fan of energy balls as evidenced by my collection of energy ball recipes, Super Power Energy Balls, Blueberry Almond Energy Balls, Sunflower Seed Energy Balls, Muesli Almond Energy Balls and one of my most popular recipes of all time - my Date Almond Coconut Protein Balls. It's safe to say energy balls are a staple around my house as they are the perfect little popper to get you through those long, draggy afternoons or motivate you to strap on your running shoes and head out for a long run. I promise if you take the 15 minutes to make these Quinoa Date Tahini Energy Balls, you will find yourself reaching for these in times of hunger needs rather than whatever soulless, prepackaged junk food you have lying around. These easy, no-bake energy balls are a game changer.
Whether you are a gluten free vegan with a nut allergy and aversions to refined sugars, or just a regular schmo like me, looking to lighten your load a bit in 2019, these Quinoa Date Tahini Energy Balls are just what you need to stay satisfied and not feel like you're missing out on the good things in life.
If you've never heard of or tried Just Date Syrup
, be sure to check it out at justdatesyrup.com. My sweet friend Sylvie is the founder and creator of Just Date Syrup and she's done extensive research on the health benefits of date syrup. If you don't have any yet and want to make this recipe asap, you can sub in another syrup of your choice - maple, agave, etc. Or honey, but if you use honey, technically it won't be a vegan recipe anymore.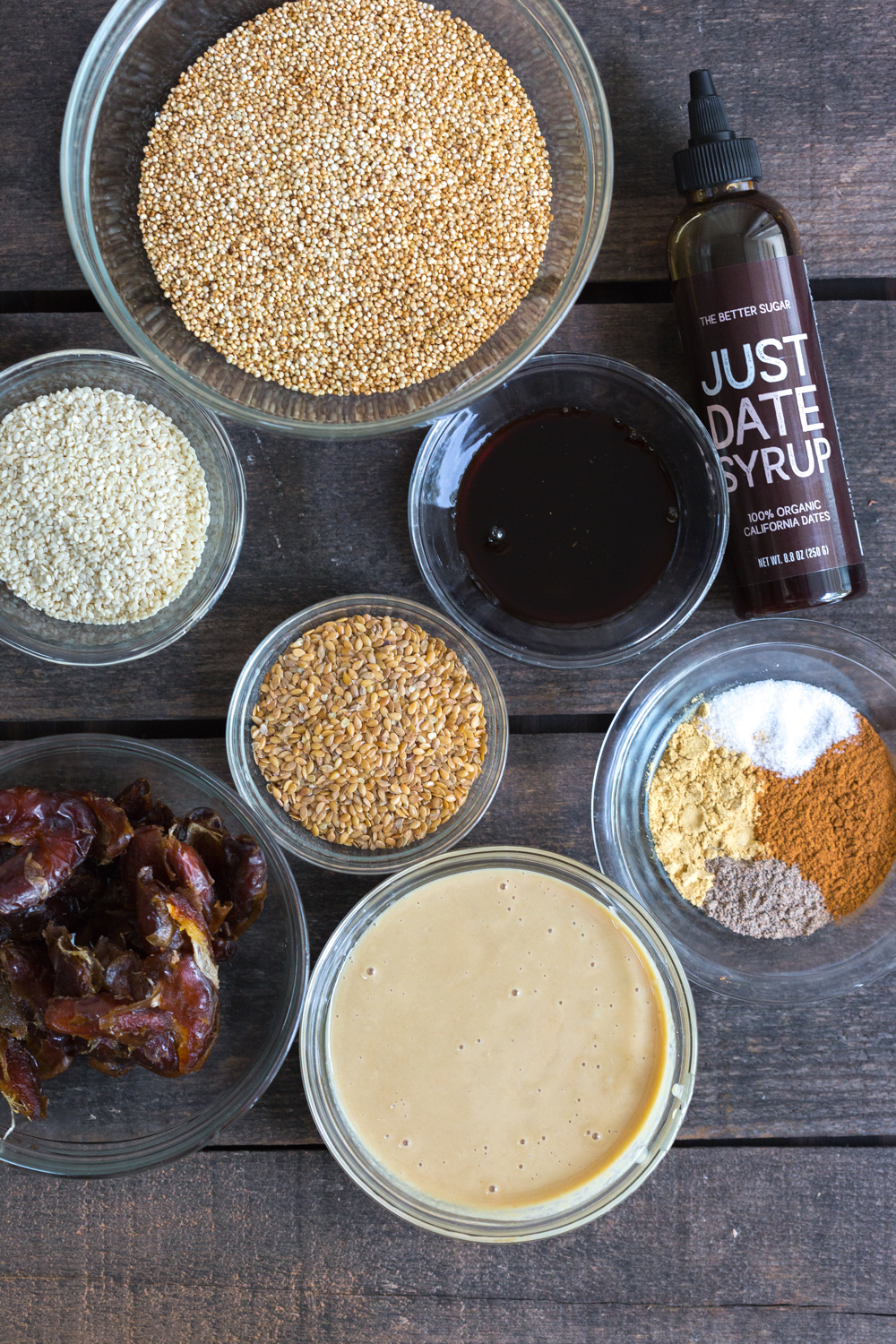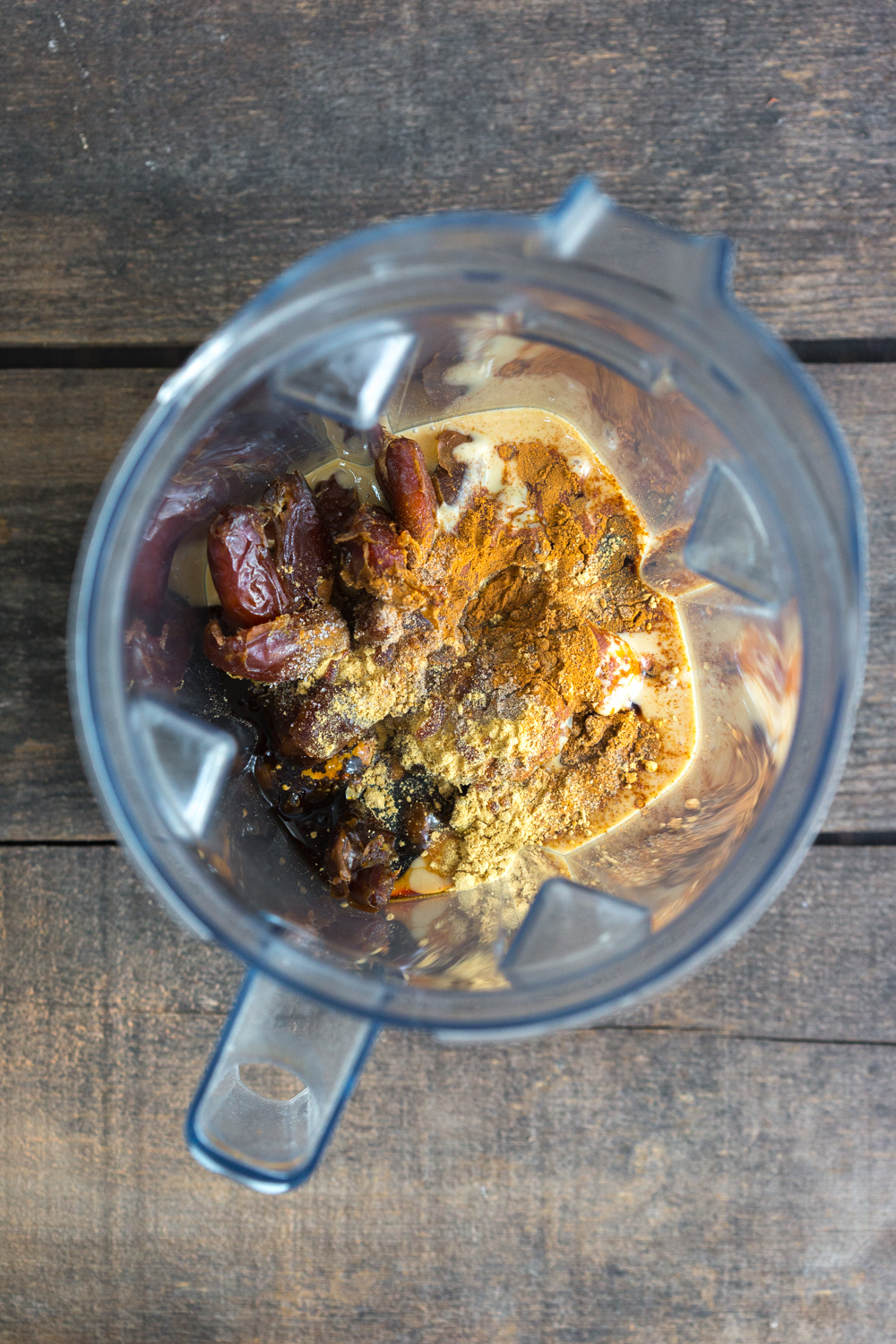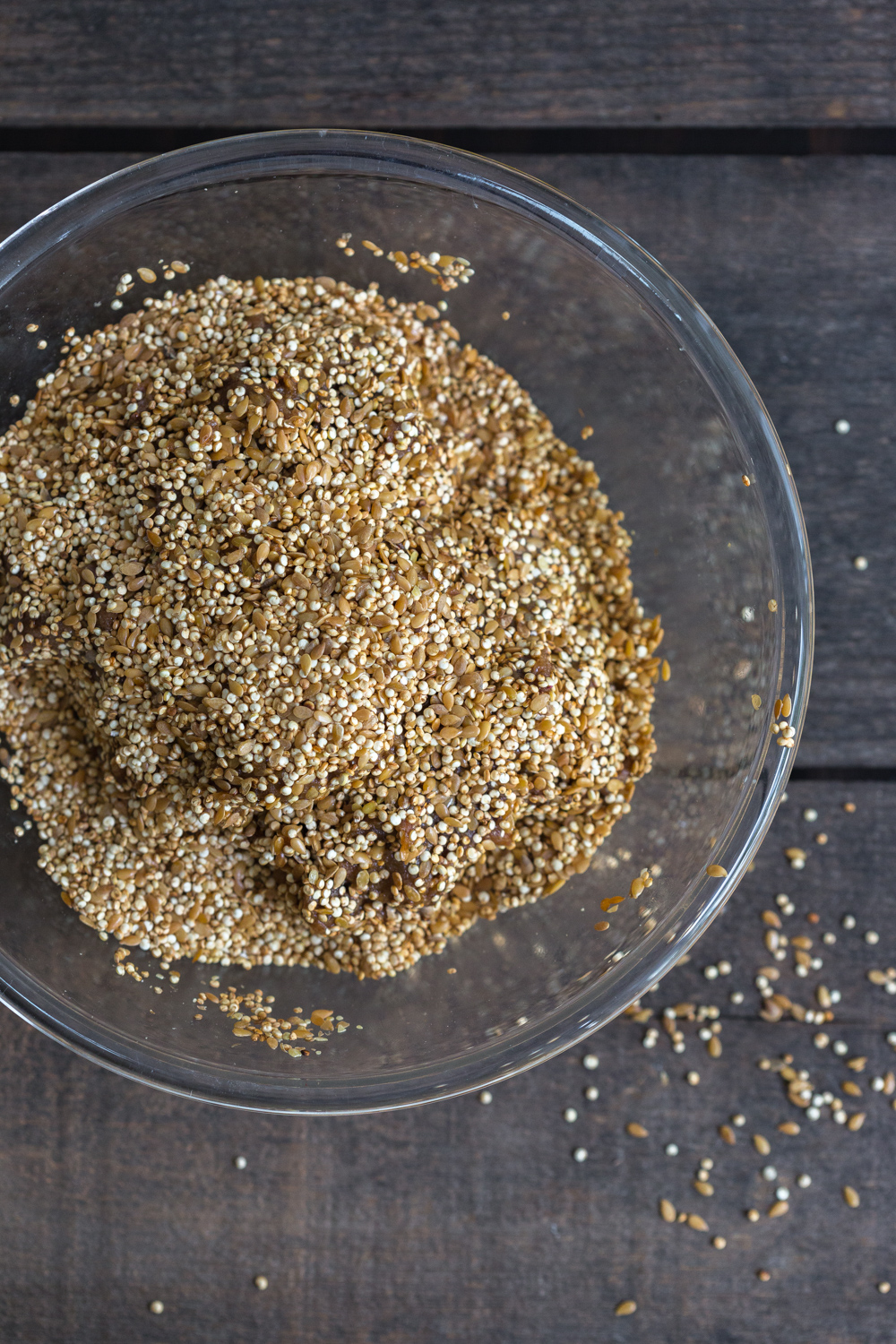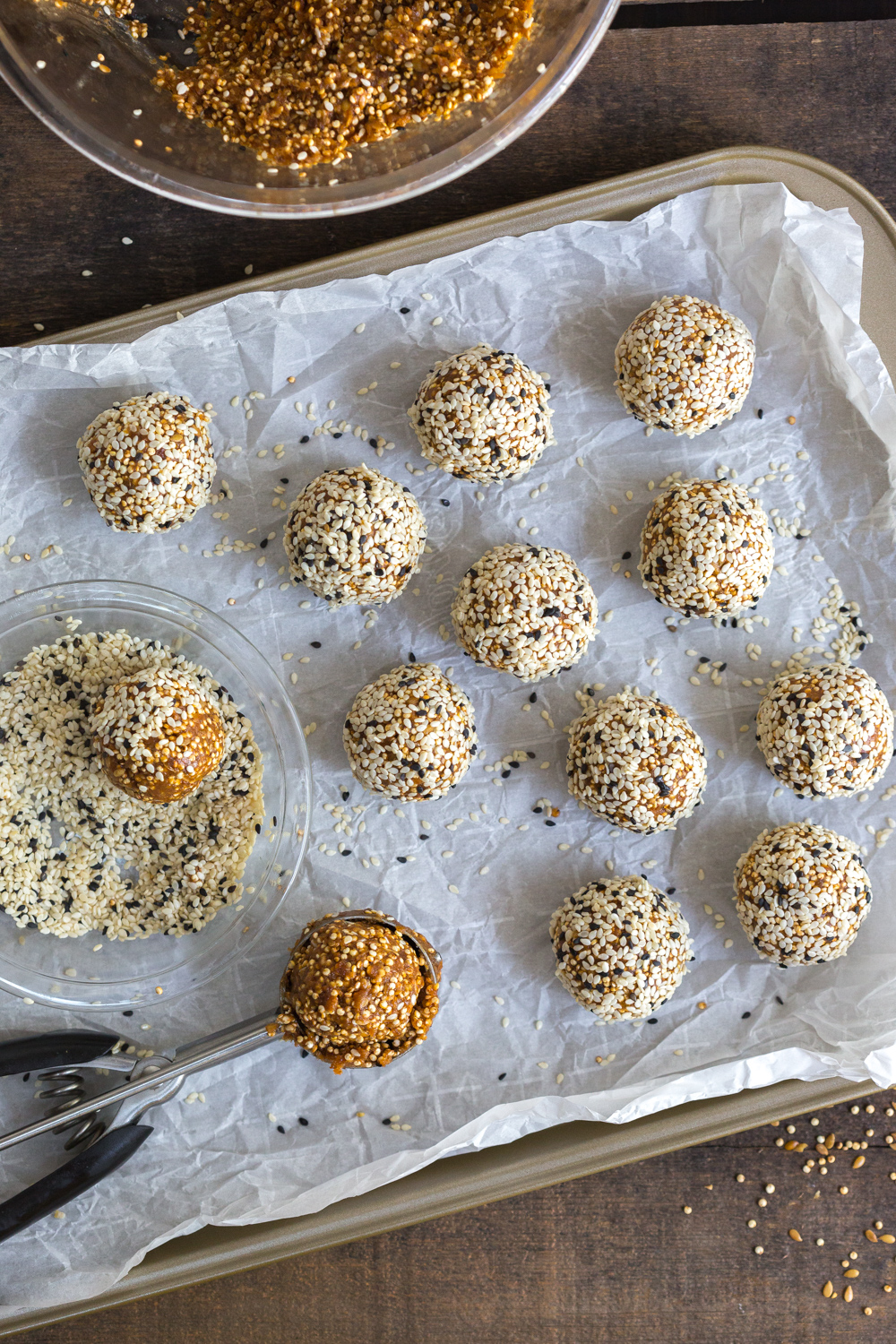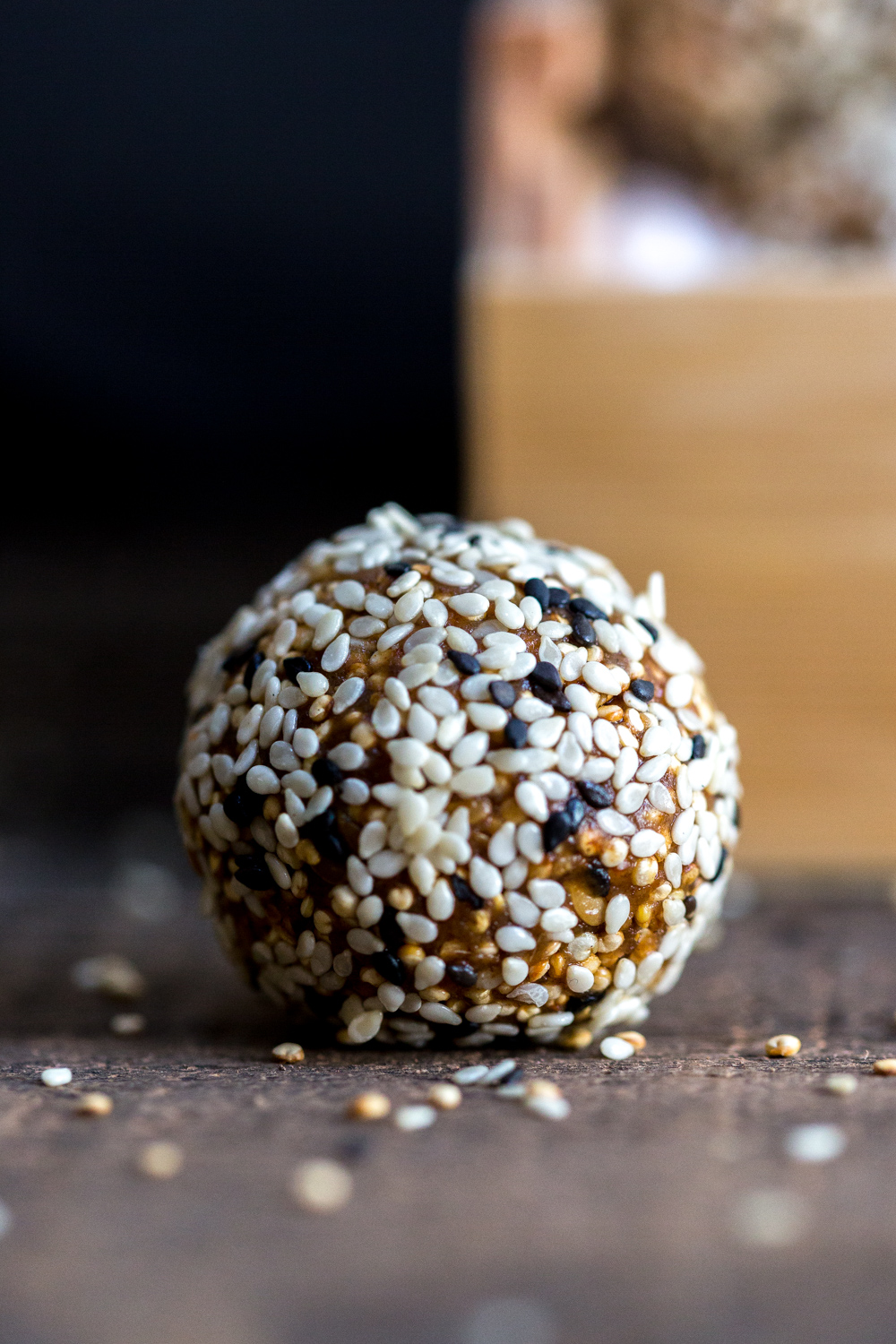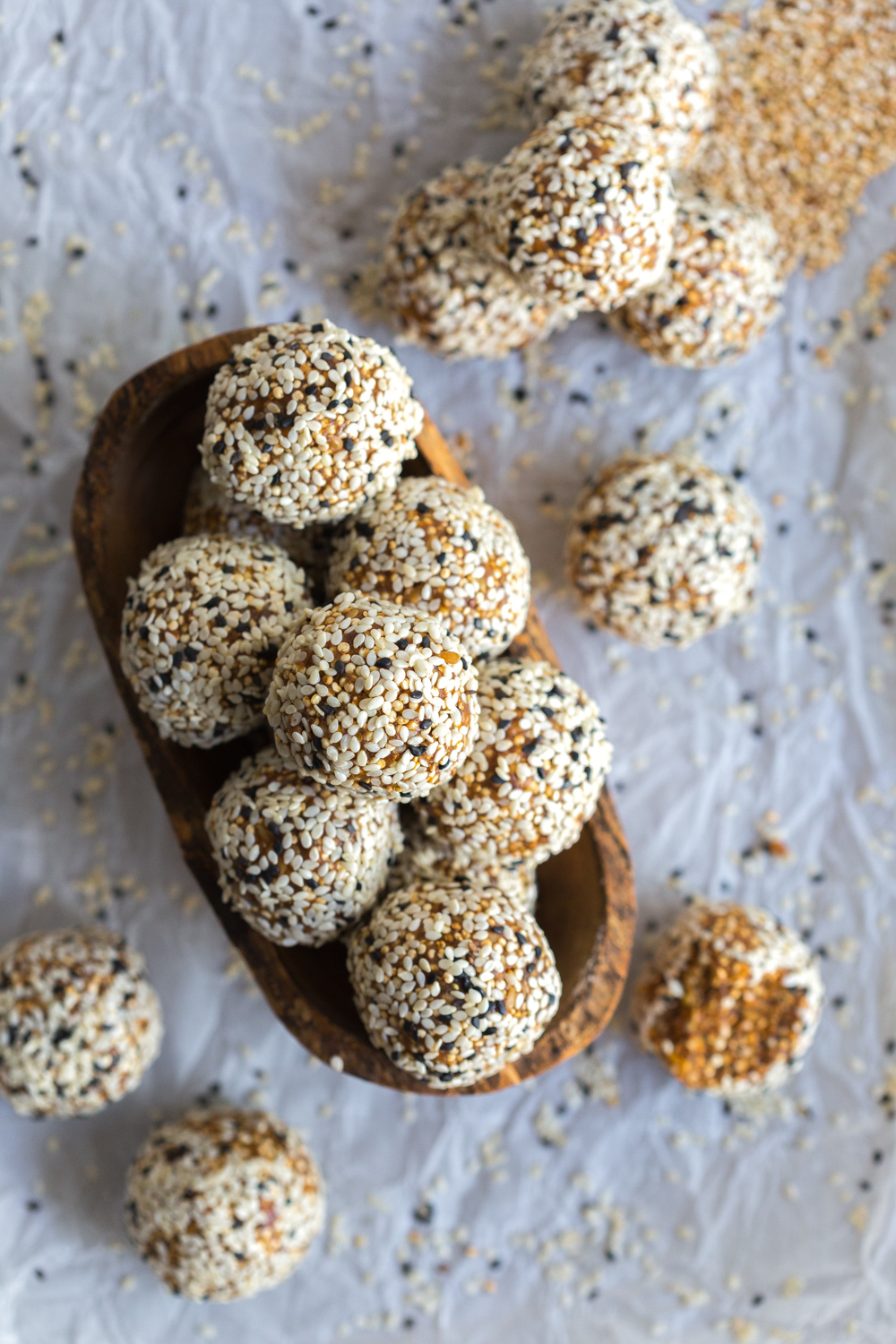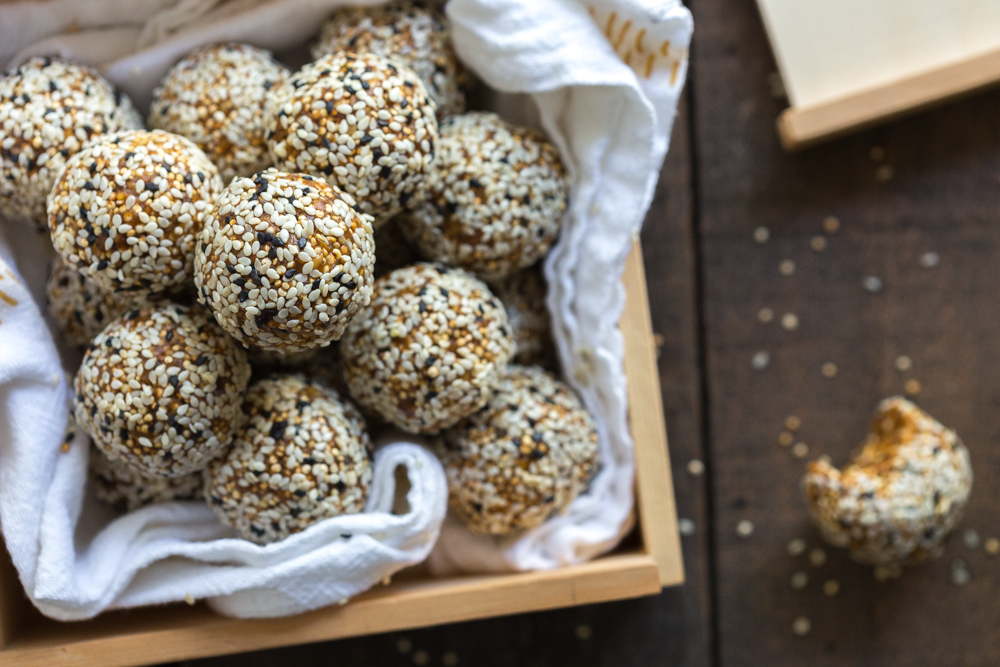 Print
📖 Recipe
Quinoa Date Tahini Energy Balls
---
Description
These Quinoa Date Tahini Energy Balls will keep your energy up with warm spices in a chewy date & tahini base studded with crunchy, puffed quinoa & sesame seeds.
---
1 ¼

cups

quinoa (- dry)

1

cup

Medjool dates (15-ish) (- pitted)

¾

cup

tahini

¼

cup

date syrup

¼

cup

flaxseeds

1 ½ teaspoons

ground ginger

1 ½ teaspoons

ground cinnamon

¾ teaspoon

ground cardamom

¾ teaspoon

fine sea salt

3 tablespoons

sesame seeds (- black, white or mixed)
---
Instructions
Heat a heavy, deep pan over medium - high heat until it's ripping hot and almost smoking. Add a few grains of quinoa to test how if your pan is hot enough, they should start to puff and pop right away.
Then add a layer of quinoa to the hot pan, just enough to cover the bottom in a single layer without overlapping. Turn the heat down to medium, gently swirl or stir the quinoa grains by shaking the pot to prevent burning.


You can see and hear them pop, continue shaking until they look golden and smell toasty and have mostly stopped popping. It should only take a minute. It happens quick so be careful not to burn them.


Once the popping stops, immediately pour the grains onto a baking sheet to cool down.
You may need to work in batches.
*Keep in mind, the puff is very subtle, they look almost the same as dry quinoa but puff up a little bit and take on an airy and crunchy texture.
Add the pitted dates, tahini, date syrup, spices and salt to a blender or food processor and blend until it becomes a smooth mass.
Remove from blender and add to a large mixing bowl.
*Some tahinis are more oily than others, so if the mixture seems excessively oily, gently dab up the excess oil with paper towels.
Add the flax seeds and cooled, puffed quinoa and stir until fully combined.
Use a medium cookie scoop to shape 18-ish energy balls. Roll the balls in sesame seeds to finish. That's it, so easy!
Notes
Store in an airtight container in the refrigerator to keep fresh up to a week.
Prep Time:

15 minutes

Category:

Snack

Cuisine:

Energy Balls