For years, whenever I close my eyes and imagine the perfect, be-all and end-all of bakeries, it looks a little something like this...
On an old dirt road in the middle of nowhere America, a beacon of baked goods gleams like a mirage in the desert. I imagine a turn of the century market that's been abandoned for years but still has the charm and welcoming stature of its early days. A building everyone in town knows but nobody has cared to love for years.
This familiar relic would be tactfully restored into an era-appropriate yet modern space, decked out with top of the line baking equipment and a custom-built oven for bread baking. It would be furnished in a vintage industrial style with warm woods, well worn farm tables, and an outdoor space that begs you to stay all afternoon.
The pastries and breads aren't fussy or fancy, but rustic and satisfying. People would come from far and wide to sample a hand-formed maple walnut scone or a fresh-from-the-oven apple cheddar hand pie. It is a place where the customers are as loyal as labradors and appreciated more than they'd ever know. The coffee (Stumptown, of course) is strong, the bread is warm, the pastries are buttery, the atmosphere is inviting, and the people are sweet. This is my dream bakery... and I think I just found it in real life.
I stumbled upon Bob's Well Bread Bakery in the itty bitty town of Los Alamos, located some 40 miles north of Santa Barbara, CA. My husband and I just moved to SB and we were out exploring the neighboring towns one afternoon.
I kept hearing that Solvang, a Danish-style town, was a bakery-laden must for me to visit. We went, and while it was charming in an old-world and touristy sort of way, I wasn't blown away by any of the bakeries that I came across. We decided to charge on in search of beer at the Firestone Walker Brewery in Buellton followed by pizza at Full of Life Flatbread, a delightful restaurant I had recently read about in a magazine, in the town of Los Alamos.
After a smooth and refreshing coldie in the warm sun, we drove from the brewery into the one horse town of Los Alamos. I did a triple take as we cruised past what appeared to be the bakery of my dreams on the main street in Los Alamos. I was convinced had to be an illusion. We immediately whipped the car around.
It is real, and it is beautiful. As we walked inside, my heart nearly skipped a beat and I was instantly smitten with this thoughtfully designed bakery with loaves of fresh baked rustic breads and a glass case full of goodies. I took a lifetime to decide what to order, and as I stood there slack-jawed, the owner, Bob, approached and explained his natural fermentation process for the bread. Immediately, we could tell this guys knows his stuff and has an undeniable passion for baking.
The bakery had just opened three weeks prior and was warmly welcomed by the locals. After chatting with Bob and his lovely wife for a few minutes, we bought a chocolate croissant to enjoy out on the patio, some bagels, and a loaf of the pain au levain to take home. The croissant was gone in seconds and the bagels and bread did not last long after we got home. Everything was beyond delicious. I am still in shock that this bakery exists in real life. Nearly every detail is what I have imagined a dream bakery to be, from the beautifully restored building to the rustic baked goods and everything in between. Bob's Well Bread is my bakery soulmate.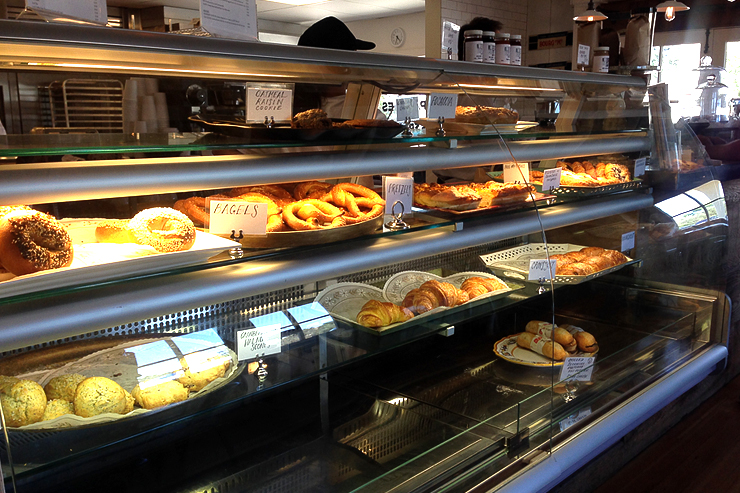 After nibbling off slices of the pain au levain for a couple of days, I decided to use a couple thick slices to make one of my favorite childhood recipes, eggs on a raft with sauteed cherry tomatoes. Also known as, egg toast, eggs on a boat, egg in a hole or eggs in a basket.
As a kiddo the recipe was plain and simple, white bread with an egg fried right in the hole. I wanted to take that basic recipe and bring it from a Huck Finn style raft to full on, white water ready, eggs on a raft. Using more grown up style bread (pain au levain) and some interesting ingredients to give it character, this version of eggs on a raft is like floating down a fantastic river of fresh flavors.
The egg whites lightly caramelize on the toasty bread and gets an acidic burst of sweetness from the sautéed cherry tomatoes. Pecorino provides a salty bite and the chives bring an herby freshness. The toasty round center is absolutely perfect for dipping into the sunny river of runny yolk.
This eggs on a raft recipe is simple, so high quality ingredients are essential. If you aren't lucky enough to be within a 60 mile radius of Bob's Well Bread (it is worth that drive, at least) be sure to find a bakery that knows how to properly bake a rustic loaf of something delicious....or maybe even bake your own!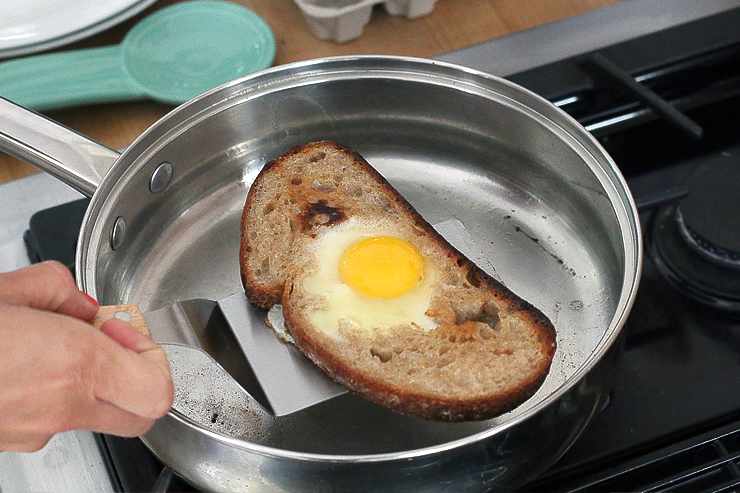 Print
📖 Recipe
Eggs On A Raft with Sauteed Cherry Tomatoes
---
Description
A grown up version of eggs on a raft with rustic bread, sautéed cherry tomatoes, salty pecorino and fresh herby chives.
---
pain au levain (or other rustic bread - 2 thick cut slices)
eggs - 2
cherry tomatoes -

½

pint

pecorino (finely grated - 2 tablespoons)
fresh chives - finely chopped - 2 teaspoons
butter - 2 tablespoons
olive oil - 1 tablespoon
salt - season to taste
freshly ground pepper - season to taste
---
Instructions
Begin by cutting two thick slices from a loaf of rustic bread. Using a 2.5" biscuit or cookie cutter, stamp out a circle in the center of each slice.
Add some butter to a large frying pan and heat to medium-low, add the the bread slices and rounds. Cook on both sides until they are golden and toasty.
If you can multi-task....while the breads toast, pour about 1 tablespoon of olive oil into a small frying pan and heat on medium-high. Add the cherry tomatoes and sauté, swirling and stirring occasionally until they start to burst and char slightly. Remove from heat and set aside.
While the tomatoes cook, gently crack eggs into the holes of the bread rafts. Allow to cook for about 3 minutes, the eggs should be fully cooked and sealed on the underside and may start to caramelize a bit.
Flip the entire raft over and cook on the other side for only about 30-45 seconds. If cooked too long the eggs will overcook and you wont have that beautiful sunny river of runny yolk.
Remove from heat and transfer to plate.
Top with a sprinkling of pecorino, freshly chopped chives and season to taste with salt and pepper.
Serve with the sautéed tomatoes on the side or right on top.
Prep Time:

5 minutes

Cook Time:

10 minutes