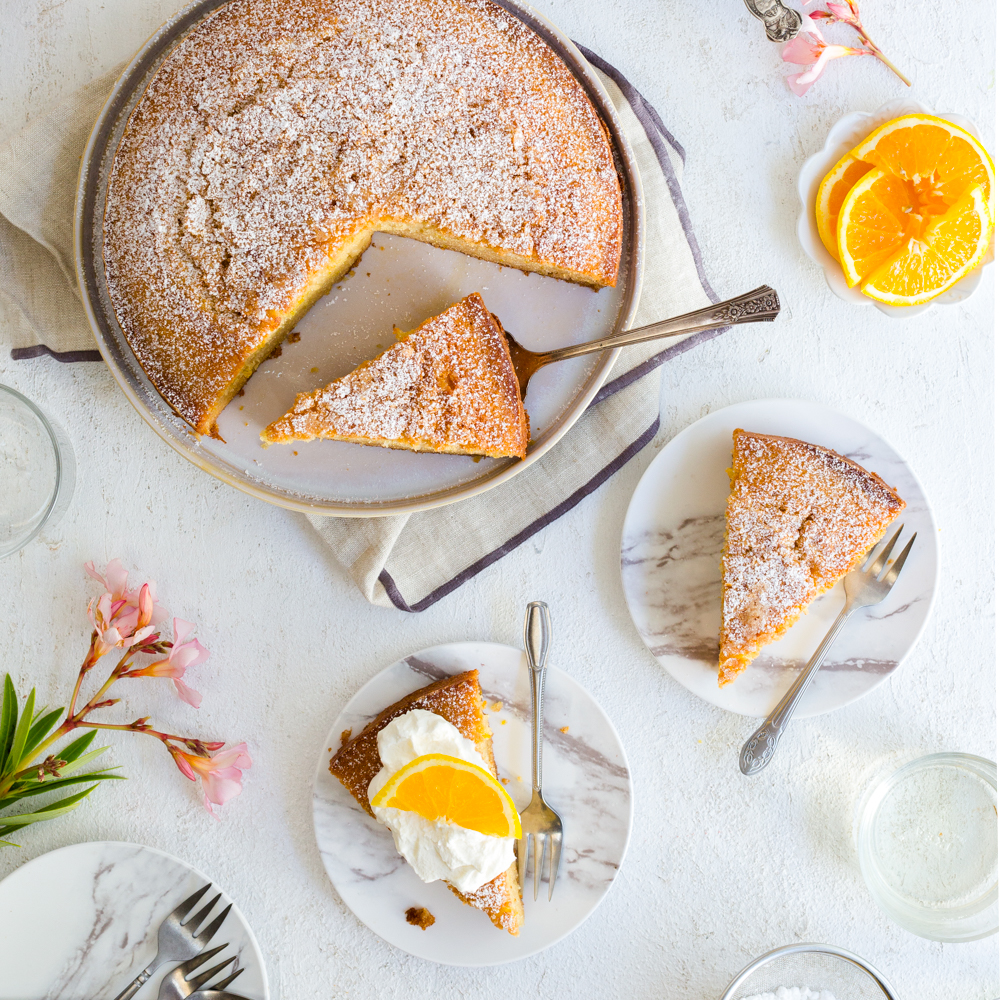 We all know the Italians do life right. From standing room only espresso in the morning to afternoons awash in an Aperol Spritz. Then there are all the usual suspects; the cheese, pasta, pizza and wine. We don't even need to get into it, the Italians win. I've always been a huge fan of the Venetian Spritz so I am forever searching for a way to transport myself to a sweltering afternoon on the canals of Venice, spritzing it up to cool it down. My Aperol Spritz Panna Cotta recipe is one of my favorite ways to evoke my inner Italian, other than the obvious cocktail version. And now, my new Orange Aperitivo Olive Oil Cake recipe intoxicates with all kinds of Italian inspiration. 
If the word Aperitivo in this Orange Aperitivo Olive Oil Cake is throwing you off, it just means a pre-dinner drink.
An alcoholic beverage that is meant as an appetizer, like a more sophisticated version of a happy hour. For Italians, it traditionally involves a bitter alcohol like Campari or Aperol. Something like an Aperol Spritz or a Negroni. This Orange Aperitivo Olive Oil Cake is infused with my latest favorite in the bitter aperitivo selection, Bruto Americano from St. George Spirits out of Alameda, CA. I find the flavor of the Bruto to be a little deeper with almost bourbon-y undertones. Aperol, without a doubt, is the more approachable option of the bunch, with a milder flavor and sweeter base. Campari is deeper with a more pronounced bitterness. So, it's up to you to find out what suits your tastes best. 
My love of the Italian Aperitvo runs deep, so I keep finding myself leaning into them with my baking. Earlier this month I posted my Glazed Campari Shortbread Cookies and you all have been going bananas over them! So, I just had to try bringing a little bitterness to a cake and came up with this Orange Aperitivo Olive Oil Cake.
I've made quite a few olive oil cake recipes over the years and sometimes they've come out dry or frankly a little boring. So I did some research and kept coming across the Food 52 recipe for Maialino's Olive Oil Cake. This cake is absolutely loaded with olive oil. It seemed like too much when I first saw the number, holy 1 ⅓ cups of that liquid gold! But then I remembered all of the dry olive oil cakes I've had and what a disappointment they've been. So I started here with the Food 52 recipe and changed a few things to create my new recipe for a super moist, Orange Aperitivo Olive Oil Cake that hits on all of the things I want in an olive oil cake recipe.
It is utterly ridiculous how easy this Orange Aperitivo Olive Oil Cake is to make. Honestly, it might just be the easiest cake I have on my blog. And aside from an Easy Bake Oven Cake or one of those microwave cakes, It's probably the easiest cake I've ever made. You literally sift together the dry ingredients, whisk the rest and then mix them all together in a bowl. Greasing and lining the cake pan with parchment paper might be the most time consuming part of this whole dang cake recipe! It's that easy, folks. 
Olive oil and citrus play so well together.
Since most Aperitivos are made with a mix of botanicals and citrus, oranges seemed like a natural ingredient to include in this cake. The richness against the brightness, combined with the bitterness makes for an interesting dessert that isn't quite as sweet as a traditional cake. Just the way I like it.
Orange zest and freshly squeezed juice imbue this cake with bright, citrusy goodness.
Any bitter apéritif can be used in this recipe. I used Bruto Americano but you could also swap in Campari, Aperol or something similar.
Olive oil gives the cake a rich flavor and a moist and smooth, almost custardy texture without feeling weighed down.
I add a bit more sugar to the top of the batter before baking the Orange Aperitivo Olive Oil Cake. Then just before serving, I hit it with a sprinkle of powdered sugar to sweeten the deal. I served it with whipped crème fraîche but a simple dollop of whipped cream works too. Top it with fruit if you'd like or add orange slices. This Orange Aperitivo Olive Oil Cake is totally adaptable and can match any season you serve it in. I suspect it would be pretty bomb with lemon and limoncello in place of the orange and apéritif too.
Whether you serve this Orange Aperitivo Olive Oil Cake as dessert, or in fact as an aperitivo, you're in for a treat. It's one of those cakes you can serve or snack on anytime, making every hour a happy hour!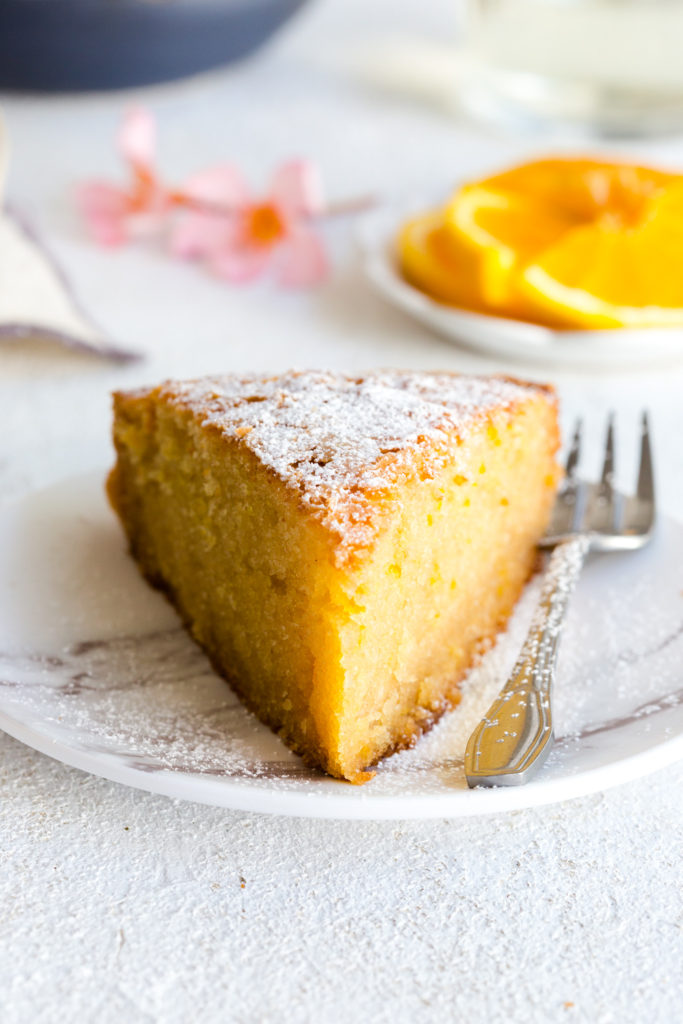 Print
📖 Recipe
Orange Aperitivo Olive Oil Cake
---
Description
This super moist & undeniably delightful Orange Aperitivo Olive Oil Cake is simple to make but full of flavor. It's rich & creamy with bright, zesty orange & a burst of botanical bitterness from the Aperitivo.
---
2

cups

all purpose flour

1 ¼

cup

+

2

tablespoons

granulated sugar (- divided)

1 teaspoon

fine sea salt

½ teaspoon

baking powder

½ teaspoon

baking soda

1 ⅓

cups

extra virgin olive oil

1 ¼

cups

whole milk (- at room temperature)

3

large eggs (- at room temperature)

1 ½ tablespoons

orange zest

¼

cup

fresh orange juice

¼

cup

aperitivo (- such as Aperol, Campari or Bruto Americano)

1

-

2

tablespoons confectioners' sugar
---
Instructions
Warm oven to 350° F. Grease a 9-inch cake pan or spring form pan that is at least 2 inches deep (it will spill over if it is smaller) with cooking spray or butter. Line the bottom and sides with parchment paper, grease and dust lightly with flour. (If your cake pan is less than 2 inches deep, use 2 pans.)
In a bowl, sift together the flour, sugar, salt, baking soda, baking powder. Whisk in orange zest.
In another bowl, whisk the olive oil, milk, eggs, orange juice and aperitivo.
Stir in the dry ingredients and mix until just combined.
Pour the batter into the prepared pan and sprinkle with remaining 2 tablespoons of granulated sugar. (If using 2 pans, divide the batter evenly between the two pans. remember to start checking for doneness after 30 minutes of baking.)
Bake for 50 minutes to 1 hour, until the top is golden and a cake tester comes out clean. Transfer the cake to a rack and allow the cake to cool in the pan for 30 minutes. (If using 2 pans, start checking for doneness after 30 minutes of baking, as the baking time will be shorter.)
Run a knife around the edge of the pan, invert the cake onto the rack and allow to cool.
Sprinkle with powdered sugar and serve with fresh whipped cream.
Notes
Adapted from Food 52's recipe for Maialino's Olive Oil Cake.
Serve it with whipped crème fraîche, whipped cream, whipped mascarpone, a scoop of vanilla ice cream or a dollop of tangy Greek yogurt.
Prep Time:

15 minutes

Cook Time:

1 hour

Category:

Dessert

Cuisine:

cake
Keywords: Aperol Olive Oil Cake, Cake, Easy Cake, Italian Cake, Olive Oil Cake, Orange Aperitivo Olive Oil Cake, Simple Cakes, Single Layer Cake