Eggs are really having a moment lately, and they aren't just for brunch anymore. It seems everything from salads and sandwiches to pasta and pizza are being served with a yolky gooey egg on top. Nearly every restaurant features an eggcentric dish, or five. I for one, am all about that egg. Now that I've mastered the poached egg, it seems like I'm always dropping an egg into the middle of that swirl. So, when I was approached by Blue Sky Family Farms to test out some of their humanely raised eggy-wegs I was (sorry in advance for this) eggstatic.
I am obviously into baking but I am also a pretty big fan of brunch, and eggs rule the brekkie game. Once the eggs from Blue Sky Family Farms arrived, the first thing I made with them was a breakfast strata. A strata is a casserole type dish, not that actor from a late 70's buddy cop show, similar to a frittata but involves day old bread that gets layered in with eggs, cheese and maybe a meat. They are simple to prepare and can feed multiple people from a single skillet.
Pretzels are also living in the limelight lately. They seem to be popping up everywhere from appetizer menus at hipster bars to burger buns at fast food establishments. I've always had a soft spot for a soft pretzel, even those terrible chewy and flavorless twists they sell at sports arenas. But a good pretzel bun is something special. I had some leftover pretzel buns that were a day past their prime so I decided to pair them up with the tasty eggs and bake them up in a hearty, German inspired Sausage Gouda and Pretzel Strata.
I gotta say, this strata was one of the best breakfasts I've had in a long time. The eggs blended up into a beautiful thick custard when mixed with the milk and gouda. The pretzels soaked up the custard and baked into a light and fluffy, creamy cloud that hugged the sausage bites and caramelly onions in all of the right places.
The eggs from Blue Sky Family Farms arrived safely, well chilled and without a scratch in the lot. If Blue Sky Family Farms were to do that egg drop competition we all did in grade school they would have Aced it and put the rest of our parachuting egg contraptions to shame. From the moment I opened the packaging, I knew these eggs were special. They varied in size and shades of brown, some with cute little freckles on top. When I cracked into a Blue Sky Family Farms eggs the yolks glowed like a bright ray of morning sunshine. I tested them every which way, poached eggs, soft boiled eggs, pecan pie filling, baked eggs, in a batch of cookies, and this Sausage, Gouda and Pretzel Strata. They did not disappoint.
On top of all of that, they are a company that is doing it right. They are at the head of their class when it comes to bringing up chickens in a humane and ethical environment, lovingly raising them in free range and pasture raised environments at small and local, family farms. The animals with plenty of room to roam and live a healthy and fulfilling chicken life. This info-graph breaks down the meaning of all of those labels and egg terminology a handy little graphical depiction.
I wasn't completely aware of the difference between Cage Free and Free Range, the information provided was very insightful and eye opening for me. It can be challenging to keep up with all of the lingo but we all benefit when we make it a priority. We shouldn't let a few bad eggs ruin the ethics of an entire industry for us.
The Blue Sky Family Farms proudly presented by Egg Innovations, originates "Ethical Eggs for the Humane Race." Egg Innovations is a 100 percent Free Range and Pasture Raised egg company that believes in moving Animal Welfare forward and bringing Family Farming back. For more information, please visit www.BlueSkyFamilyFarms.com and www.EggInnovations.com.
This is a sponsored post in partnership with www.BlueSkyFamilyFarms.com and www.EggInnovations.com. A big giant thank you to Blue Sky Family Farms and Egg Innovations for enlightening me and keeping me nourished with your tasty, ethical eggs for a couple of weeks. 🙂 Thanks for continuing to support the brands that help keep this site going.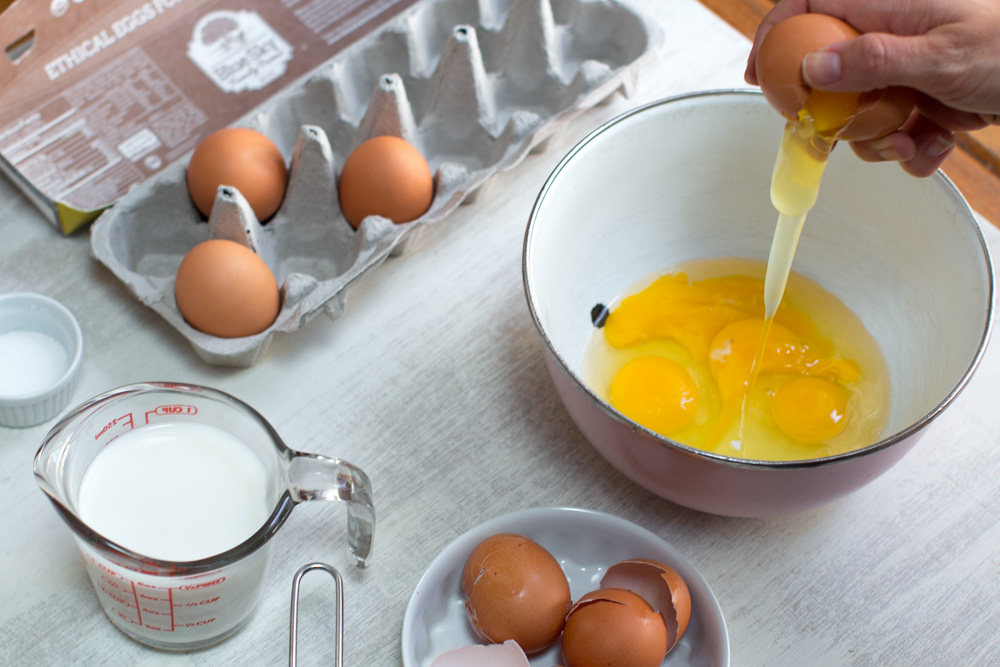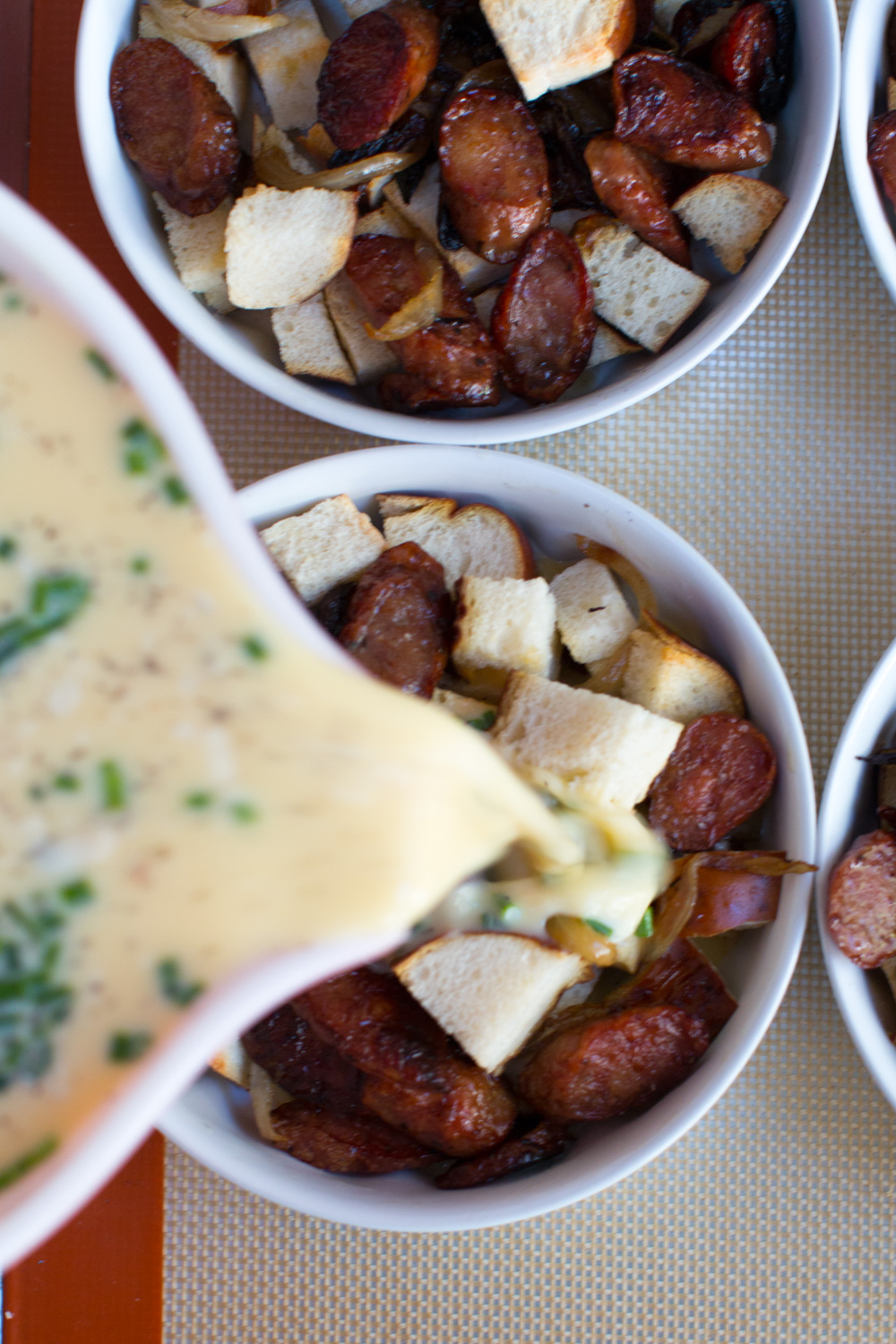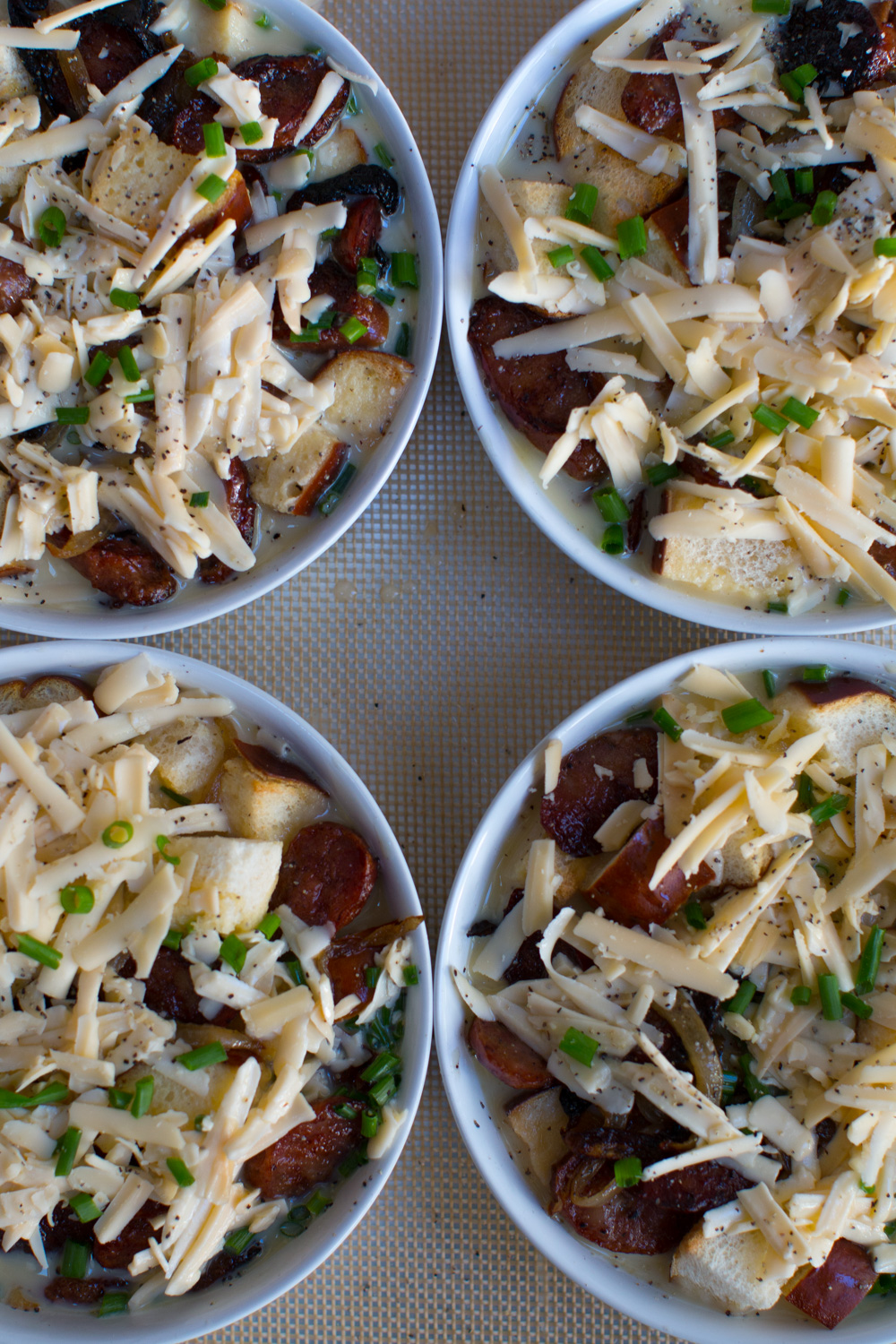 Print
📖 Recipe
Sausage Gouda and Pretzel Strata
---
Description
This Sausage Gouda and Pretzel Strata combines pretzel rolls, gouda, sausage and eggs to create a German inspired fluffy, custardy, eggcentric breakfast for 4.
---
olive oil - 1 tablespoon
sweet onion (thinly sliced - 1 small)
breakfast sausage or german sausage - 5-6 links
pretzel rolls (chopped in ½ - 4 cups)
eggs - 8 large
smoked gouda cheese (grated - 1 cup)
milk or cream -

1 ½

cups

chopped chives - 2 tablespoons
salt and pepper - to taste
---
Instructions
Preheat oven to 350°.
Slice day old pretzel rolls into bite sized chunks.
Warm olive oil in a large skillet over medium heat. Add thinly sliced onions and sauté until soft and translucent, about 5-6 minutes.
Slice the sausage into small bite sized bits and combine with onions in skillet. Cook over medium heat until browned on all sides, about 10-12 minutes. Remove from heat and set aside.
Whisk the eggs together and add milk or cream, half of the grated smoked gouda and salt and pepper to taste.
To assemble strata, arrange the bread chunks with onion and sausage bites divided evenly between 4 (6") ramekins or in a single casserole dish. Slowly pour egg mixture evenly over the top, then top with remaining cheese.
Bake the ramekins for 20-25 minutes or the casserole dish for 35-45 minutes until the top begins to puff up and brown, the cheese is bubbly and the filling has set.
Allow to cool a bit before serving and top with freshly chopped chives.
Prep Time:

35 minutes

Cook Time:

45 minutes