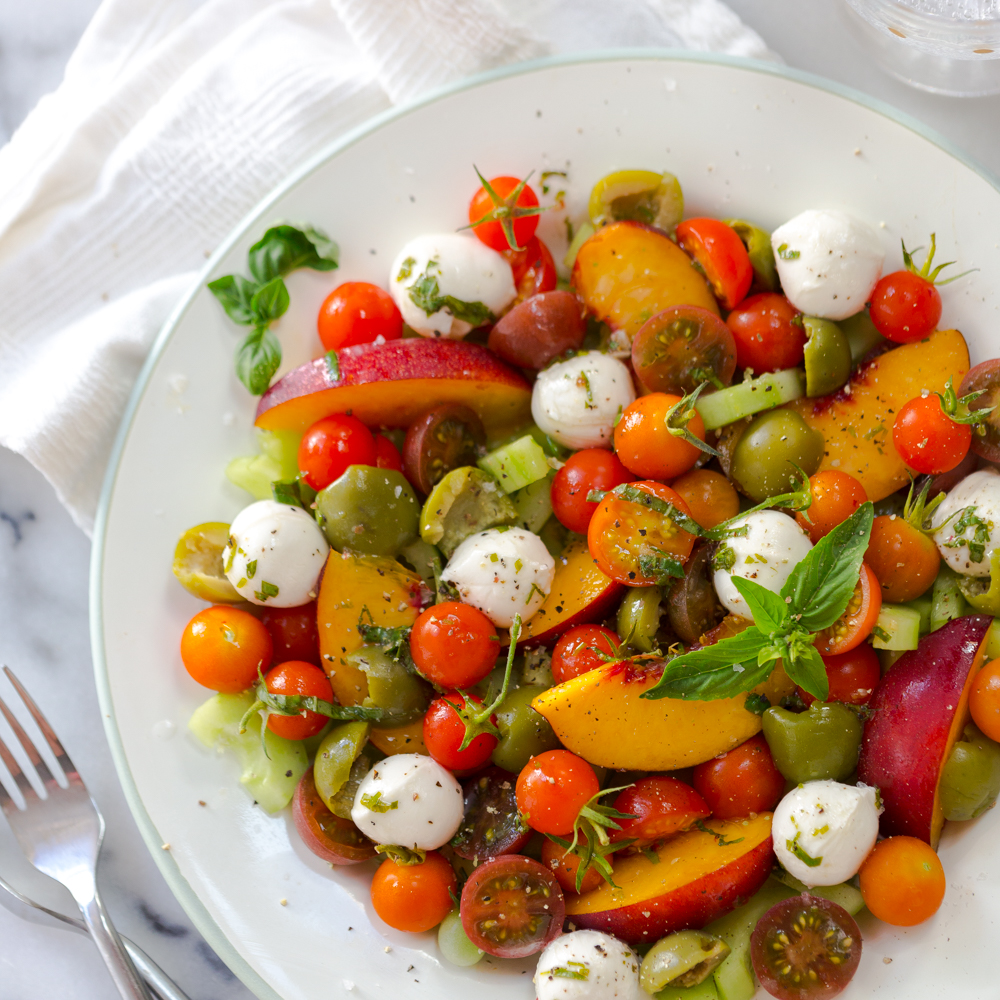 Every once in a while you strike it rich with a recipe on the first try. This Cherry Tomato, Nectarine and Mozzarella Salad recipe is one of those golden nuggets that just showed up shining. I think it's mostly thanks to the combination of bursting sun gold cherry tomatoes and the juicy, ripe nectarines. It's early August and both tomatoes and nectarines are peaking, so why not throw them together and make some magic?
While most of my recipes on here are indeed baked goods, sometimes I whip up with something that is too good not to share. Enter my Cherry Tomato, Nectarine and Mozzarella Salad. The world needs this summery salad in it's life. While my recipes generally feature step-by-step images showing the process of the steps - hello Heirloom Tomato Pimento Cheese Tart, I didn't have the time with this beauty. But, the recipe for this Cherry Tomato, Nectarine and Mozzarella Salad is stupid simple. I'm quite certain that you all are beyond capable of tossing a few things together in a salad bowl
without leaning on images to show you the way.
This Cherry Tomato, Nectarine and Mozzarella Salad is everything you want in a summer salad; it's bright, fresh, seasonal and a solid mix of salty and sweet. The combo of red and sun gold cherry tomatoes
gives the salad a sweet yet acidic base which matches up exquisitely with subtly tart and devilishly juicy, sweet nectarines. The cucumber brings a fresh crunchiness and serves as a nice backdrop to the other flavors happening in the Cherry Tomato, Nectarine and Mozzarella Salad.
I always like something briny and full bodied in my salads. So I opted to add in some green and meaty Castelvetrano olives
for a bit of depth. Sometimes I will even add a splash of the olive juice to the dressing to give it a fuller flavor. The dressing is as simple as it gets, good olive oil
, fresh lemon juice, crunchy sea salt
flakes and fresh ground peppercorns
- and maybe a bit of that olive
brine for an additional layer of flavor. Thinly sliced basil
brings herby freshness and pairs perfectly with everything on the plate. Then to finish it off, it's topped with soft and creamy hunks of Ciliegine mozzarella
that truly make this salad a meal. Serve this Cherry Tomato, Nectarine and Mozzarella Salad with some crusty bread and a glass of minerally white wine and you are set for the rest of summer, sweetie.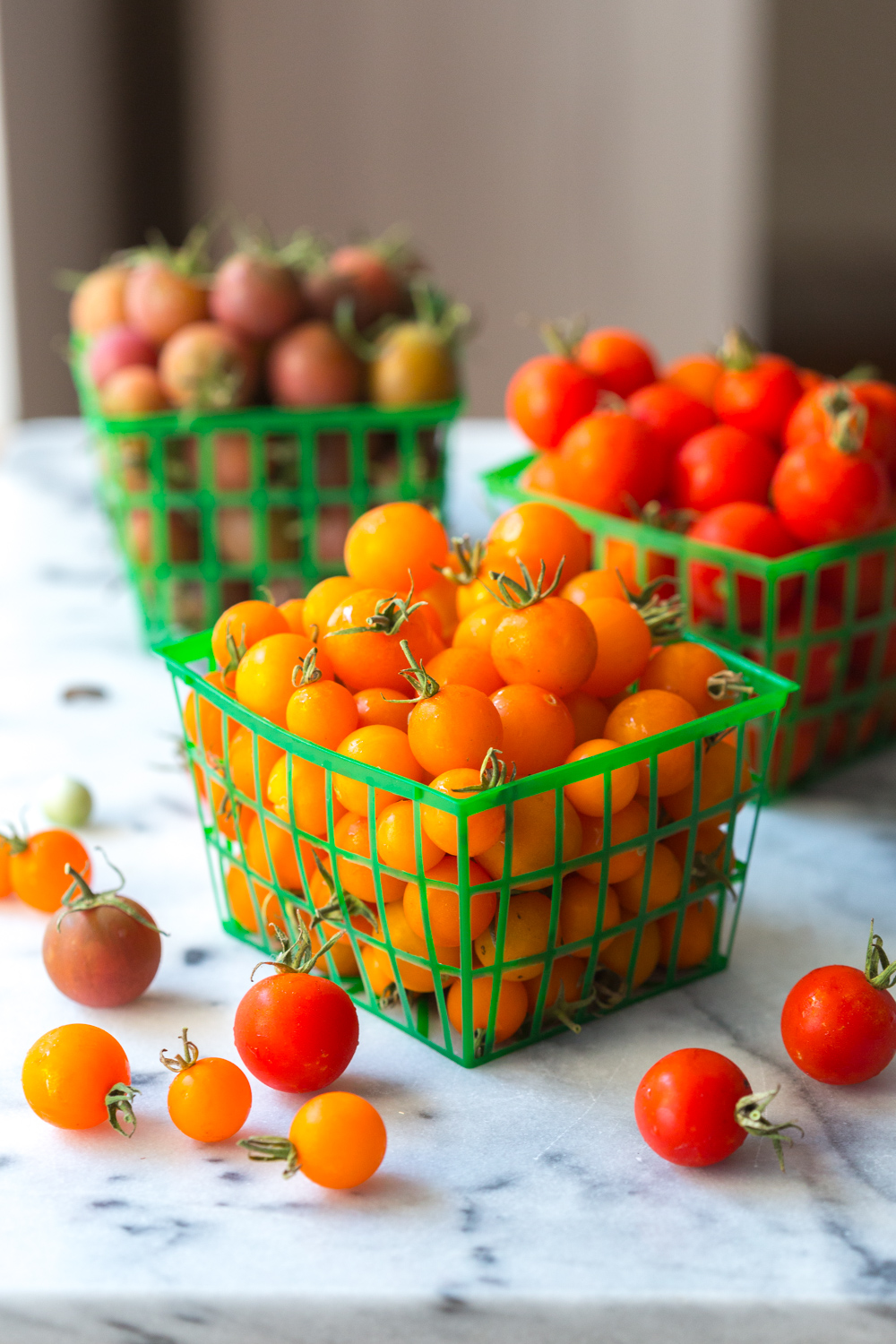 Print
📖 Recipe
Cherry Tomato, Nectarine and Mozzarella Salad
---
Description
If summer were a salad it would look a lot like this Cherry Tomato, Nectarine and Mozzarella Salad. Made with a seasonal mix of bursting cherry tomatoes, juicy ripe nectarines, crisp cucumbers, briny olives, fresh basil, creamy mozzarella & a simple lemon dressing.
---
1

pint

cherry tomatoes

2

ripe nectarines

¾

cup

mozzarella or Ciliegine (small mozzarella balls)

1

medium cucumber (split & seeded)

⅓

cup

Castelvetrano olives (pitted)

¼

cup

olive oil

2 tablespoons

fresh squeezed lemon juice

½ teaspoon

sea salt flakes

¼ teaspoon

fresh ground pepper

¼

cup

fresh basil (loosely packed)
---
Instructions
In a small bowl, whisk together the lemon juice, olive oil, salt, and pepper until it has emulsified. Set aside.
Slice the basil into thin little ribbons (a.k.a. chiffonade) by stacking the leaves, then roll them into a tight bundle. Then slice crosswise with a sharp knife, into thin strips. Sed aside.
Slice the nectarines into ½" thick slices. Slice half of the cherry tomatoes in half and leave the other half whole. Slice the seeded and split cucumber into ½" thick half moons. Slice the pitted olives in half. Tear the mozzarella into hunks.
Toss all of that in a bowl with the basil ribbons and mozzarella. Top with the dressing and lightly toss to coat. Top with salt and pepper as desired and serve immediately, preferably with a big hunk of crusty bread.
Prep Time:

15 minutes

Category:

Dinner, Lunch

Cuisine:

salad
Keywords: Cherry Tomato, Nectarine and Mozzarella Salad, nectarine salad, salad, summer salad, tomato salad