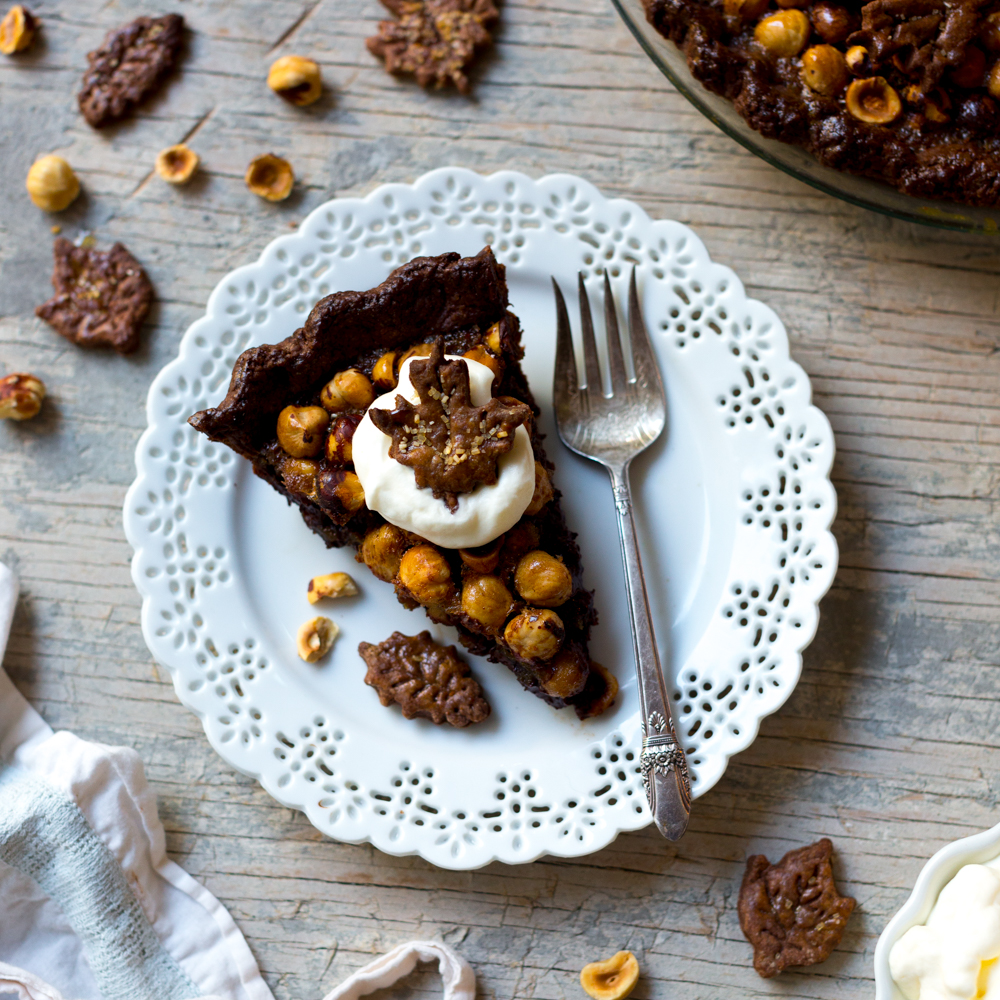 Have you ever had something queued up in your mind for months but the timing to bring it to fruition never aligned with your busy ass life? It's deep in there in the back of your mind and you're thinking about it often but life keeps getting in the way. I haven't been to an optometrist in years and my eyesight at night is laughable, plus my glasses only have one arm so they are more like a prop and less like a functioning aid in vision. I started drafting ideas for a cookbook a couple of years ago and I bet y'all can guess how far that's gotten. I've been wearing the same three tattered bras for literally years, I don't even think they are the right size. But who has time to go in and try on bras, honestly. And since my life has been such chaos for so long, my sweet husband bought me a gift certificate for a fancy hot stone massage over a year ago, bless his soul. Have I even looked at the calendar to book an appointment? Absolutely not. What is wrong with me?
Like that long list of outstanding life maintenance responsibilities, this idea for Chocolate Hazelnut Maple Bourbon Pie has gone by the wayside. I've been wanting to make this pie for over a year and a half. It's been floating around in my brain, politely reminding me to make it last year during pie season - which obviously never happened. This Chocolate Hazelnut Maple Bourbon Pie popped into my brain again as soon as the first fall leaf fell from the sky but that was back in September and now it's November. So, this week while work keeps piling up and I should be prepping for Thanksgiving dinner, I am over here recipe testing trying to get his Chocolate Hazelnut Maple Bourbon Pie all dialed in before Turkey Day!
Bad news, the first 2 rounds did not work out! Ughh, I ain't got time for this. But the third time was a charm and this recipe for Chocolate Hazelnut Maple Bourbon Pie is a winner! With a deep chocolatey all butter crust, a layer of smooth and melty dark chocolate chips
and warm toasty hazelnuts
swimming in a rich and creamy maple
and bourbon custard, it's hard not to love this recipe. Imagine Nutella
as a pie and you've got an idea of where this Chocolate Hazelnut Maple Bourbon Pie begins, then layer in the crunchy texture from the nuts, the smooth filling and buttery crisp chocolate crust and this pie is an instant classic.
It's been a long time coming but I am beyond proud of this Chocolate Hazelnut Maple Bourbon Pie, it was worth the wait but there is no reason to put it off any longer. I hope you all add this to your pie roster immediately because this Chocolate Hazelnut Maple Bourbon Pie is the missing piece on your holiday table. Sorry it took me so long to share it with you.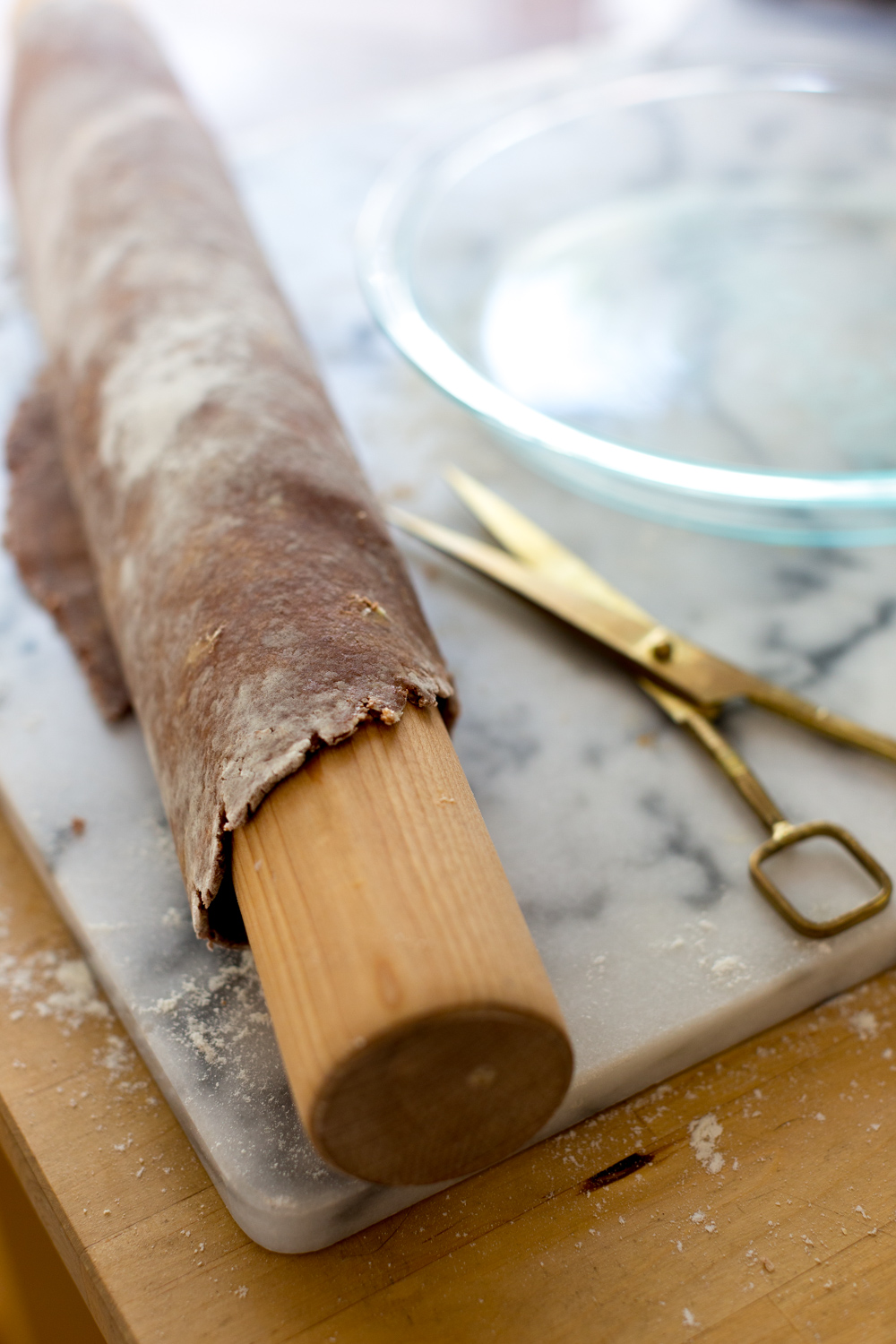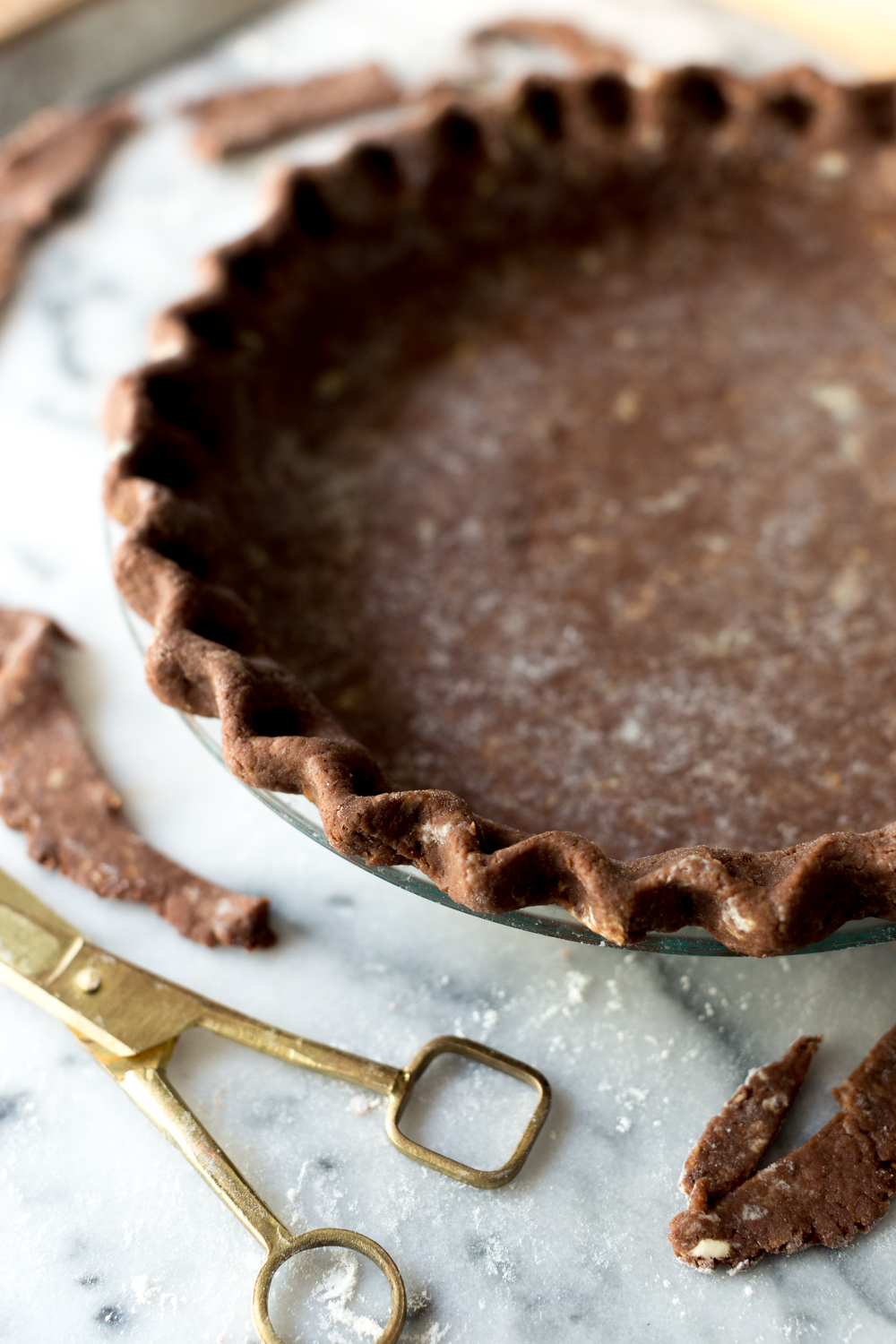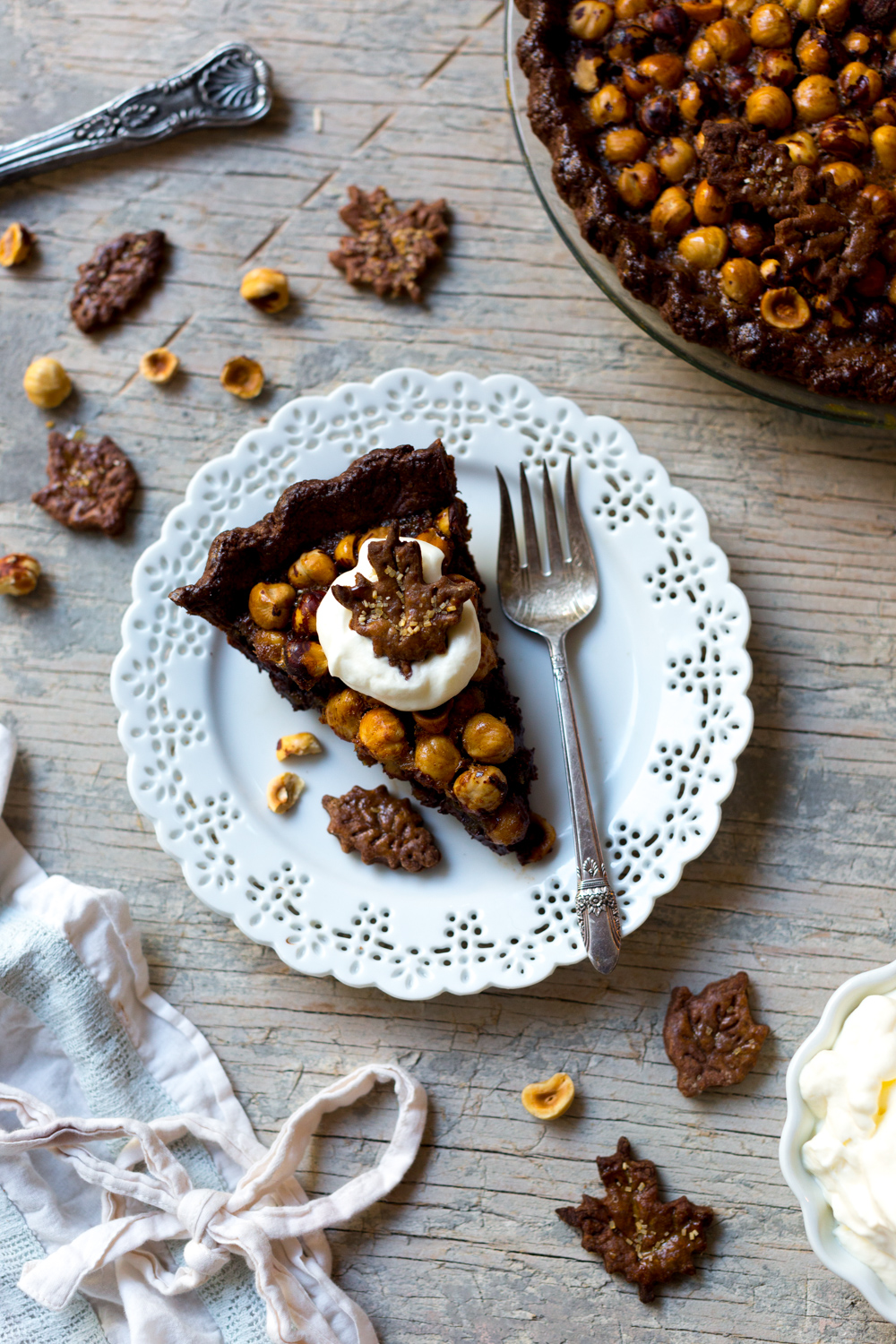 Print
📖 Recipe
Chocolate Hazelnut Maple Bourbon Pie
---
Total Time:

2 hours 15 minutes

Yield:

8 slices
Description
This Chocolate Hazelnut Maple Bourbon Pie has a deep chocolate all butter crust, dark and smooth chocolate chips & crunchy, toasted hazelnuts in a rich maple bourbon custard.
---
CHOCOLATE PIE CRUST
½

cup

unsalted butter (- very cold)

1

cup

+

2

tablespoons

all purpose flour

2 tablespoons

dark cocoa powder (- sifted)

2 tablespoons

sugar

½ teaspoon

salt

2 tablespoons

vodka (- ice cold)

1

-

2

tablespoons ice water

1

large egg (- at room temp)

1 tablespoon

turbinado or sparkling sugar
MAPLE BOURBON HAZELNUT PIE FILLING
¾

cup

maple syrup (- high quality)

½

cup

brown sugar

3 tablespoons

unsalted butter

2 tablespoons

bourbon

1 teaspoon

pure vanilla extract

1 teaspoon

salt

3

medium eggs (- at room temperature)

1

cup

dark chocolate chips

2

cups

hazelnuts (- whole & lightly toasted)
---
Instructions
PREPARE & BAKE THE CHOCOLATE PIE CRUST
Place the flour, sifted cocoa powder, sugar and salt in a metal or ceramic mixing bowl with high sides and whisk together.
Cut the butter into ¼"- ½" cubes and put back in the fridge to firm back up for a few minutes.
If you have a food processor, you can use it to mix the pie dough. Place the flour mixture and cubed butter in food processor. Gently pulse until the flour changes from silky to mealy; this should only take a handful of pulses so watch it carefully.
If you don't have a food processor, you can easily cut in the butter by blending the flour mixture with either a pastry blender, two butter knives or by squishing it between your fingers, just be careful that the butter doesn't start to melt.
If using a food processor, while pulsing, gently pour the vodka through the feed tube just until combined. At this point, I like to turn the crumbly dough into a large mixing bowl to check the hydration level of the dough by gathering a small fistful; if it holds together, it's ready. If it is dry or crumbly, slowly add the ice cold water, 1 tablespoon at a time, using a pastry blender (or the butter knife method). Test the dough by pinching it occasionally.
If you aren't using a food processor, use a pastry blender or fork to combine the vodka into the dough.

*Be careful to add only as much water as it takes to combine the dough into a ball or disk. The exact amount of water can vary depending upon the moisture content of the flour, the quality of the butter, and the weather. When it has the proper amount of water, the dough will come together without much effort or deliberate packing. If you need to add more water, make sure the ingredients are still cold.

Form the dough into a disk and wrap it in plastic wrap. Chill for at least 1-2 hours before rolling and forming.
*If you don't plan on using the dough within a few hours or on the day you prepare it, you can store the dough in the freezer.
Remove the dough disk from refrigerator and roll out onto a lightly floured surface into a 12" round about ⅛" thick.

Gently transfer the rolled dough into a 9" pan, leaving a 1-2" overhang all the way around. Tuck the edge underneath itself to form a ring around the edge of the pie plate.

Flute the edges by pinching the dough between your thumb and pointer finger on one hand and your pointer finger knuckle on the other. Use a fork to prick small holes into the bottom of the pie shell.

Don't waste the scraps, gather them together and reroll, then cut fancy leaf stamps or desired shape. Place on a lined baking sheet in the freezer.
Place the pie shell in the freezer and chill for at least 20 minutes.

Set oven at 400°F.
Place the frozen pie shell on a baking sheet and line with a layer of parchment paper or aluminum foil. Fill the lined shell with beans, pie weights or rice. Be sure the weights fill the entire shell and reach to the edges and up the sides.
Bake with weights for about 15 minutes, until the crust barely begins to turn a golden color and starts to look dry. Remove the lining and beans and bake for another 5 minutes until the bottom of the shell looks dry, too. Allow to cool on a rack.
If you have dough scraps and plan to add leaves, lightly beat the egg for egg wash. Gently brush the leaves with the egg wash and sprinkle with turbinado sugar. Bake on a lined baking sheet alongside the pie shell, until the leaves are crisp and a deep brown color, 10-15 minutes.
PREPARE THE FILLING
Turn the oven down to 350° F.
Start by whisking the brown sugar and maple syrup together in a heavy saucepan over medium heat until the sugar is fully dissolved. Remove from heat. Whisk in the butter, bourbon, salt and vanilla. Allow the mixture to cool.
Once the mixture has cooled way down, lightly beat in the eggs. Mix until the mixture is fully blended and starts to thicken. If the mixture is too warm, the eggs will begin to cook and the yolks will start to curdle. Yuck, don't do that.
BAKE THE PIE
Once the pie shell and filling have cooled, layer the chocolate chips on the bottom of the shell. Then top with the toasted hazelnuts. Carefully pour the maple bourbon filling over the top. Gently brush the edges of the pie crust with egg wash.
Place on a baking sheet and bake on the center rack of the oven at 350° for 40-45 minutes, until the filling is set; rotating the pan halfway through. The filling should be just barely jiggly in the center.
Place on a cooling rack and allow to cool for a least 2 hours before cutting. Decorate the pie with baked crust cookies in any design your heart desires. <3
Serve plain, with fresh whipped cream or à la mode with a simple vanilla bean ice cream.
Prep Time:

1 hour 30 minutes

Cook Time:

45 minutes

Category:

Dessert