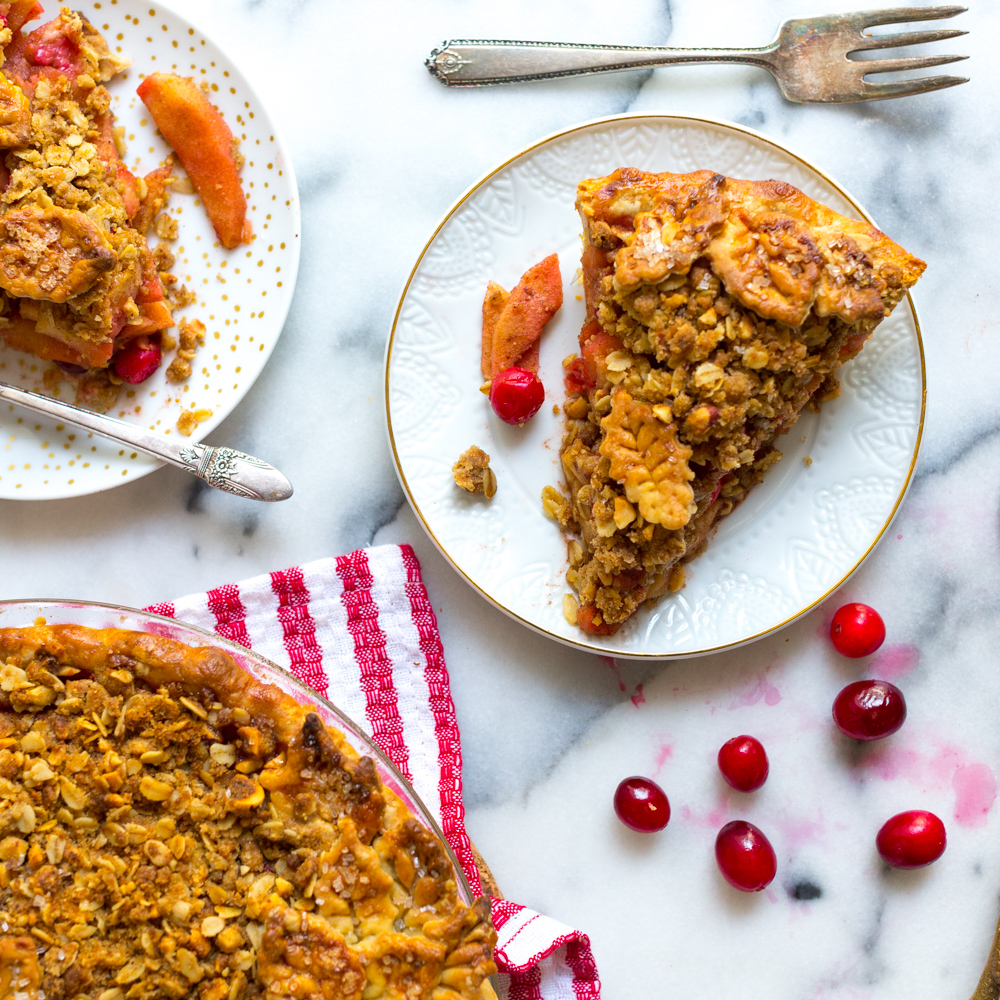 Are you all tired of the fancy pie crusts yet or are we still collectively digging them? I, for one, have always and will always be a fan. Not to sound trite but I've been decorating my pie crusts with leafy shapes for years, long before specialty kitchen stores caught on and started designing pie stamps
exclusively for this purpose. I've been using maple leaf cookie cutters and hand cutting my own leaves for literally decades. But I will admit, those pie stamps
have made my life a whole lot easier.

Here's the thing, as trendy as these leafy pie crust designs have become, they are downright stunning. I am not generally a fan of food trends but I always delight in a pie that's made from scratch and artfully prepared by a fellow extra miler. A creatively crafted pie crust is certainly not necessary but it always steals the show and I swear that extra work makes it taste just a wee bit sweeter.
This recipe for Cranberry Apple Brown Butter Crumble Pie isn't quite as involved as some of the designs out there but it fully utilizes every last scrap of pie dough by shaping it into a few pretty piles of leaves, while giving the crumble top even more texture and visual appeal. I think crumble pies are often overlooked these days, especially with the current obsession with decorative pie crusts. But, according to a highly scientific Instagram poll run by me, people are still way into eating crumble pies. Yay!
This Cranberry Apple Brown Butter Crumble Pie bridges the gap between that simple crumble top and an ornate crust design, with simple leafy elements that are easy to prepare and a flavor combo that's over the top tasty. While browning the butter for the crumble top isn't totally necessary, it adds a nice nutty depth to the textural crumble top. The oats
and toasty hazelnuts
add all kinds of crunch, while the brown butter brings a nutty depth of flavor to the topping. The spiced up apple and cranberry filling round out the sweet and sour edges in the filling of this Cranberry Apple Brown Butter Crumble Pie.
If you want to start incorporating some simple design elements into your pies this season, I suggest starting with this Cranberry Apple Brown Butter Crumble Pie recipe. Once you feel like you've got the hang of shaping out the dough leaves, check out my recipe for my legendary Apple Cheddar Pie and give it a spin! If you really want to dig deep into pie shaping, I've got a whole class on shaping and baking "Picture Perfect Pie - Modernizing the classic apple pie recipe with a leafy, sharp cheddar crust" over at Skillshare. In this video tutorial I share my secret weapons and top tips and tricks to making my Apple Cheddar Pie with a leafy crust. Whether you plan to get jiggy with a fancy crust or keep it simple by baking a rustic galette, I've got all of the pie, hand pie and galette inspiration for you this holiday season! As always, I am here to help along your pie journey. Feel free to drop me an email or DM over on Instagram.
May your Thanksgiving be as sweet and spicy as this Cranberry Apple Brown Butter Crumble Pie. Happy holidays and happy baking, ya turkeys!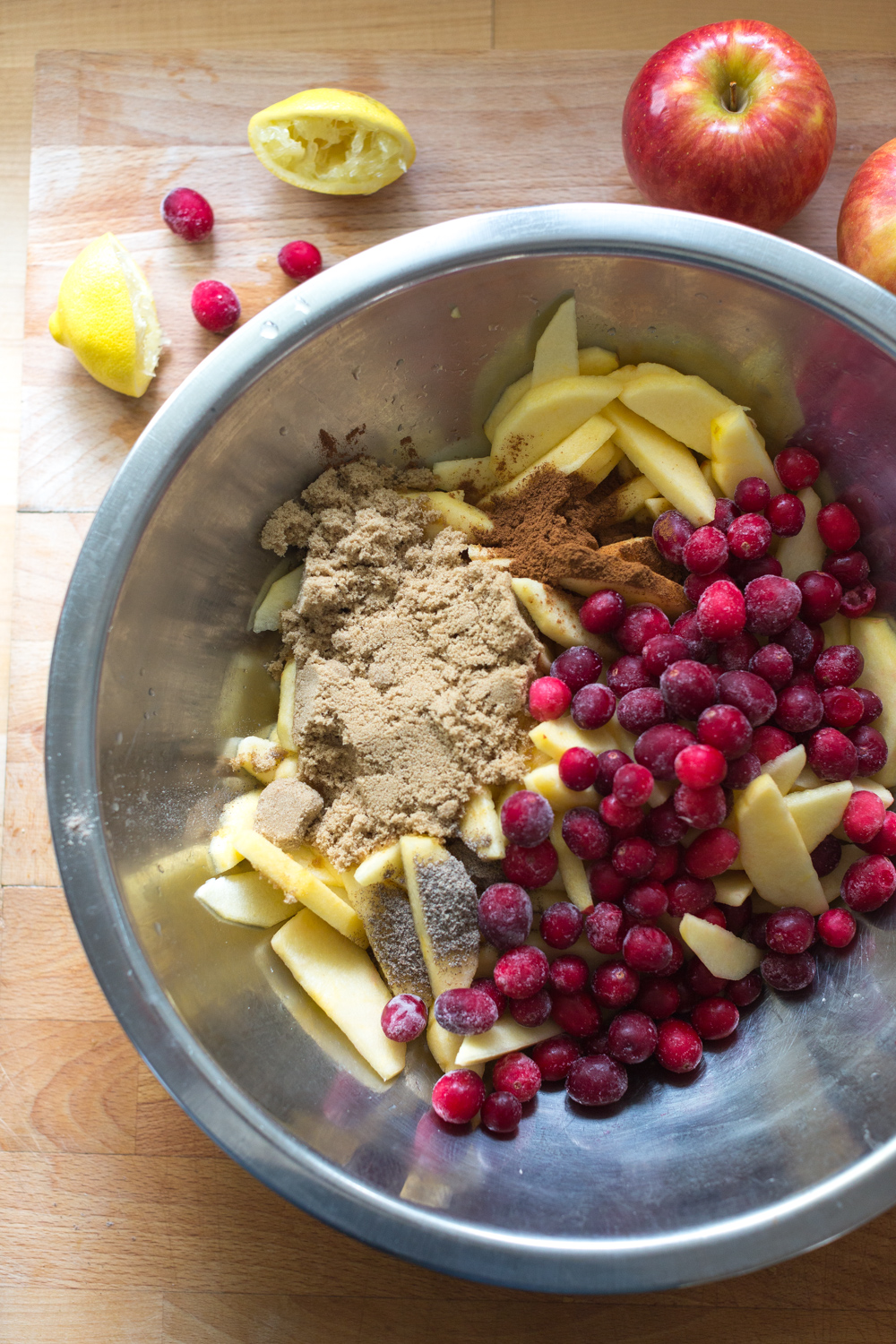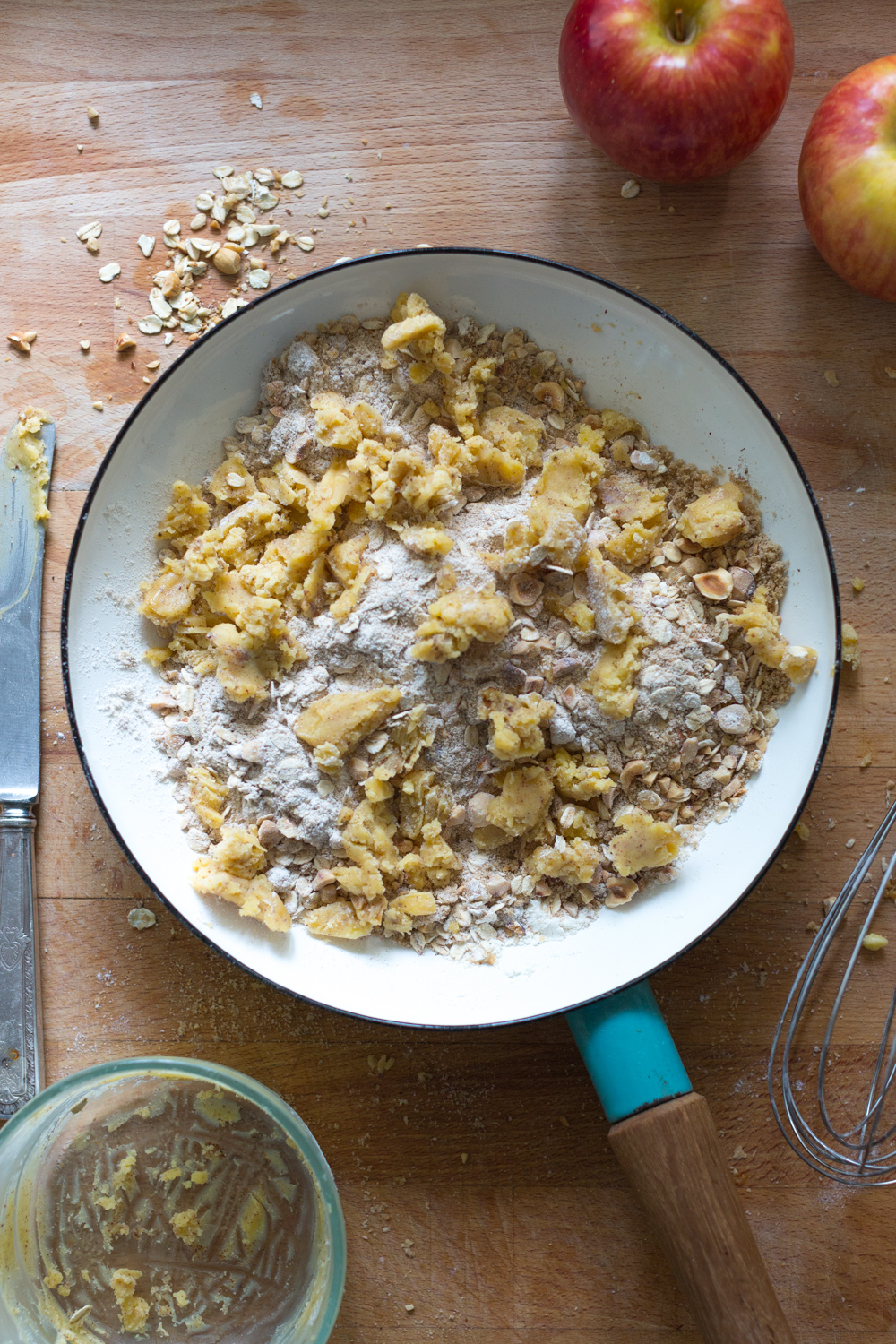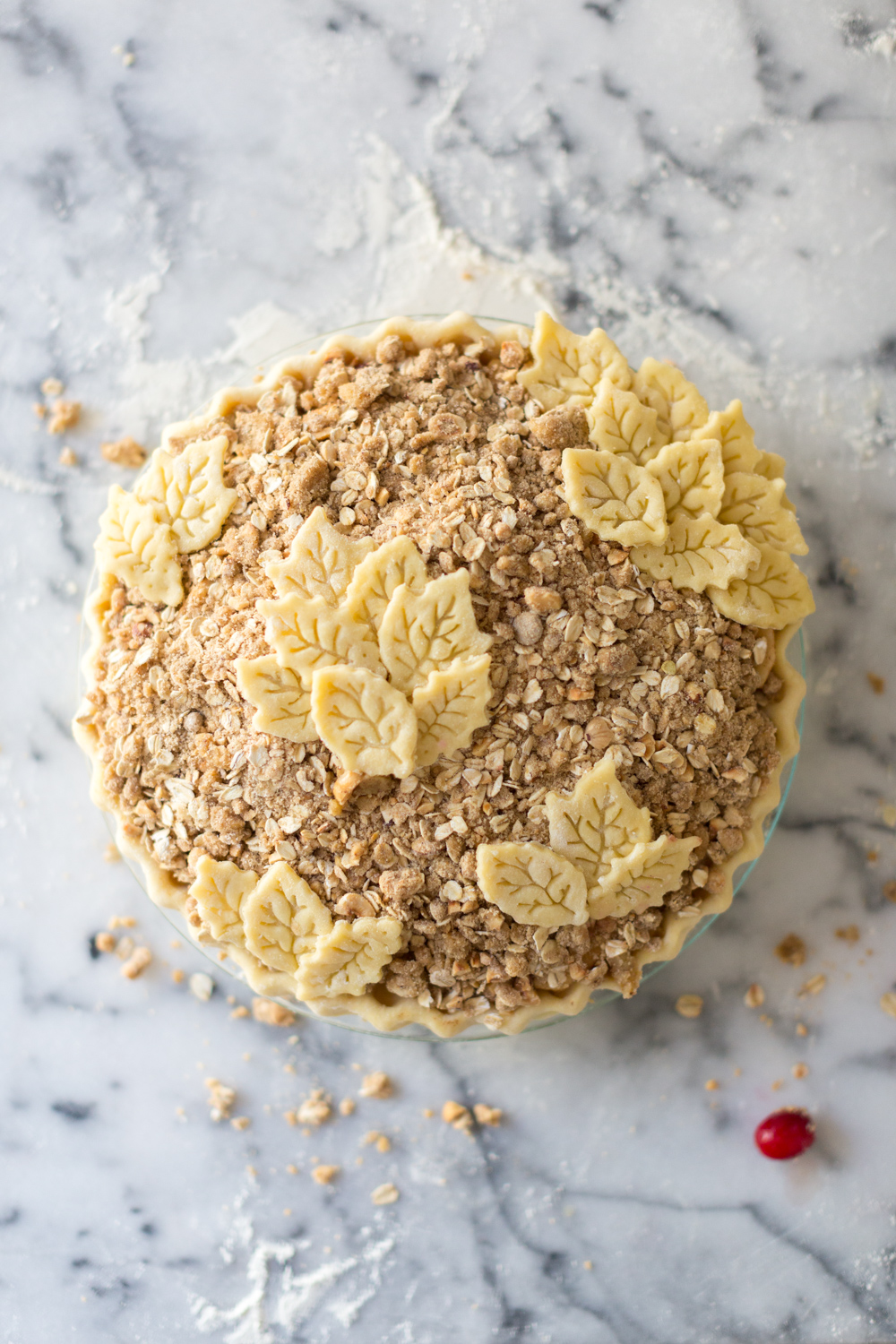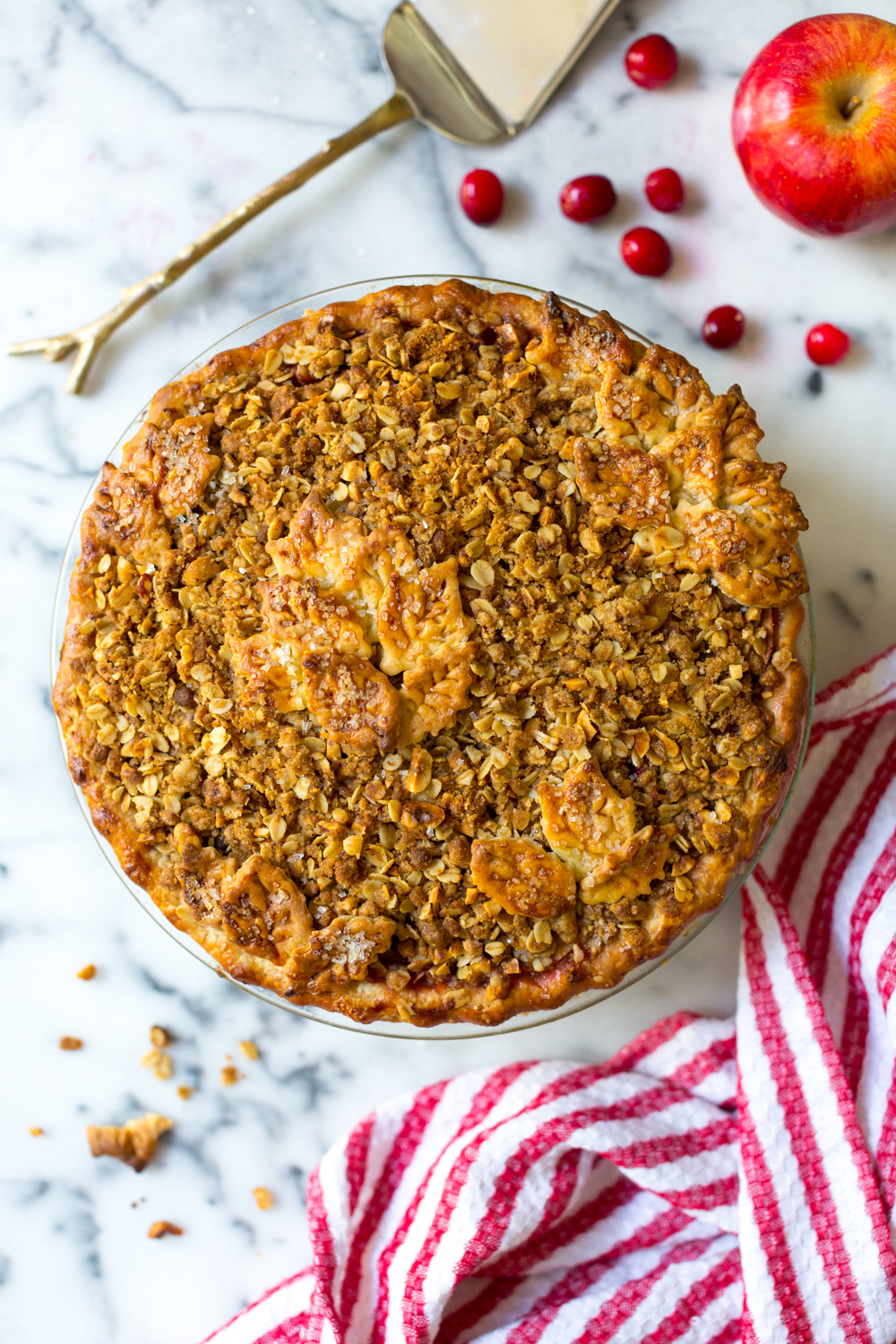 Print
📖 Recipe
Cranberry Apple Brown Butter Crumble Pie
---
Description
Sweet apples and tart cranberries get all cozy under a blanket of warm and spicy, hazelnut and oat crumble topping made with brown butter.
---
1

disk All Butter Vodka Pie Dough (https://bakingthegoods.com/2014/01/17/butter-vodka-pie-dough-recipe/)
CRANBERRY APPLE FILLING
6

-

8

medium apples (I used Autumn Glory Apples but Granny Smiths or Honeycrisp are also nice)

8

ounces

fresh or frozen cranberries

½

cup

brown sugar (lightly packed)

1 tablespoon

lemon juice

1 teaspoon

cinnamon

½ teaspoon

cardamom
CRUMBLE TOP
6 tablespoons

unsalted butter

½

cup

all purpose flour

½

cup

brown sugar (lightly packed)

½

cup

rolled oats

½

cup

hazlenuts (toasted and chopped)

½ teaspoon

salt

½ teaspoon

cinnamon

¼ teaspoon

cardamom

1

large egg

1 tablespoon

sparkling or turbinado sugar
---
Instructions
SHAPING THE PIE SHELL
You will need a single disk of prepared pie dough, you can't go wrong with my All Butter Vodka Dough Recipe. (This recipe makes 2 disks, I suggest making both and freezing the second one to have on hand for your next pie baking adventure).
Remove the dough disk from refrigerator and roll out onto a lightly floured surface into a 12" round about ⅛" thick.
Gently transfer the rolled dough into a 9" pan, leaving a 1-2" overhang all the way around. Gather the scraps, roll out the dough and cut small leaves to decorate the crust with.
Tuck the edge underneath itself to form a ring around the edge of the pie plate. Flute the edges by pinching the dough between your thumb and pointer finger on one hand and your pointer finger knuckle on the other.
Place the pie shell and leaf shapes (on a small lined baking sheet) in the freezer and chill while you prepare the topping and filling.
PREPARE THE CRUMBLE TOPPING
Chop the butter into a few chunks and add to a small saucepan warming over medium - medium high heat.


Slowly whisk or swirl the butter until it begins to turn a warm chestnut color and tiny brown flecks start to form on the bottom of the pan. This is a delicate process, so stay vigilant. You want the butter browned but not burnt. Just before it's ready the butter will start to foam up.
Remove from heat and transfer to a shallow, heatproof dish. Allow to cool for a few minutes. Stir the butter to redistribute the brown bits, cover and transfer to the freezer to chill and re-solidify for 10 minutes.
Remove the butter from the freezer and stir the butter mix again to distribute the brown bits. Return to freezer and chill again for about 30 minutes, until the butter is firm. Then

chop into ½" cubes.

Combine the chilled brown butter cubes, flour, sugar, oats, hazelnuts, salt, cinnamon and cardamom together in a large bowl. Use your hands to mash the butter into the other ingredients until coarse crumbles the size of peas form. Place in the fridge to keep chilled.
PREPARE THE CRANBERRY APPLE FILLING
Peel and core the apples, then cut into ⅛"- ¼" slices. Place in a large mixing bowl and toss with cranberries, lemon juice, sugar and spices. Set aside for at least 15 minutes so the juices begin to release from the fruit.
Preheat oven to 400°F, if baking right away.
ASSEMBLE AND BAKE THE PIE
Pour the cranberry apple filling into the bottom shell, forming a mound that is taller in the center of the pie.
Whisk the egg until blended. Gently brush the exposed, fluted edges of the pie with the egg wash. Sprinkle the crust with sparkling or turbinado sugar.
Top pie evenly with crumble topping. Then top with leaf shapes as desired. Gently brush the leaf shapes with egg wash and sprinkle with sugar.
Bake at 400°F for 20 minutes, then lower the temperature to 375°F and bake for another 35-45 minutes, rotating the pan halfway through. Bake until the filling is bubbly and the crumble topping turns a deep golden color, you may need to cover the edges and or/tent the pie to keep from over-browning. The fruit should be just soft when poked with a toothpick.
Allow to cool on a rack for at least 1 hour, preferably 3 hours, before slicing.
Notes
*Once this pie is shaped, you can freeze it whole before baking to preserve the shape or bake at a later date. Just be sure to add 10-20 minutes to the total bake time.
*While browning the butter in the crumble topping isn't totally necessary, it adds a warm and nutty depth of flavor to the pie.
Prep Time:

40 minutes

Cook Time:

1 hour 15 minutes

Category:

Dessert
I PARTNERED UP WITH A BIG BUNCH OF TALENTED BLOGGER PALS THIS NOVEMBER TO BRING YOU ALL KINDS OF CRANBERRY RECIPE INSPIRATION.
CHECK OUT ALL OF THE BEAUTIFUL AND DELISH #YESYOUCRANBERRY RECIPES FROM OUR BLOGGING SUPER GROUP BELOW!
What Annie's Eating Cranberry Gin Fizz
Square Meal Round Table's Cranberry Orange Streusel Pie
Easy and Delish -- Avocado Cranberry Hummus Dip
The Cooking of Joy's Cranberry Curd Tart
Jessie Sheehan Bakes - Cranberry Buckle
Ciao Chow Bambina - Cranberry Pecan Cracker Spread
Katiebird Bakes - Cranberry Sauce Breakfast Rolls
Crumb Top Baking's Cranberry Orange Overnight Oatmeal Muffins
The Baking Fairy - Vegan Cranberry Apple Bundt Cake
You Can Live Rich On Less - Cranberry Cherry Tarts
Sift & Simmer - White Chocolate Cranberry Cookies
Bappy Girl - https://bappygirlyum.blogspot.com/
Ronnie Fein - Baked Goat Cheese with Honey Sauce and Cranberries: http://www.ronniefein.com/blog/on-hanukkah-lets-not-forget-that-a-woman-played-a?rq=Cranberries
Lemon Thyme and Ginger https://lemonthymeandginger.com/baked-french-toast-apple-cranberry-compote
Cranberry Agua Fresca with Mint and Lime: http://www.holajalapeno.com/2016/11/cranberry-agua-fresca.htmlCranberry Pie with Dried Figs and Cashews: http://www.ronniefein.com/blog/honey-cashew-pie
Susannah Chen's Cranberry Pico de Gallo
Katherine in Brooklyn: Cranberry Cinnamon Buns
Pie Girl Bakes: Dark Chocolate Chunk Cranberry Cookies
Clean Plate Club: Glazed Cream Puffs with Cranberry Buttercream
Tiny Kitchen Capers: http://www.tinykitchencapers.com/white-chocolate-cranberry-oatmeal-cookies/
Le Petit Eats: Dark Chocolate Tart with Cinnamon Sugared Cranberry
Prickly Fresh's: Cranberry Crostini with Prosciutto & Port Salut
Zestful Kitchen: Naturally Sweetened Cranberry Curd
Simple and Sweet Food: Fresh Ricotta and Spiced Cranberry Crostini
Frosting and Fettuccine http://frostingandfettuccine.com/cranberry-cheesecake-bars/
Cosette's Kitchen: https://cosetteskitchen.com/recipe/orange-cranberry-scones