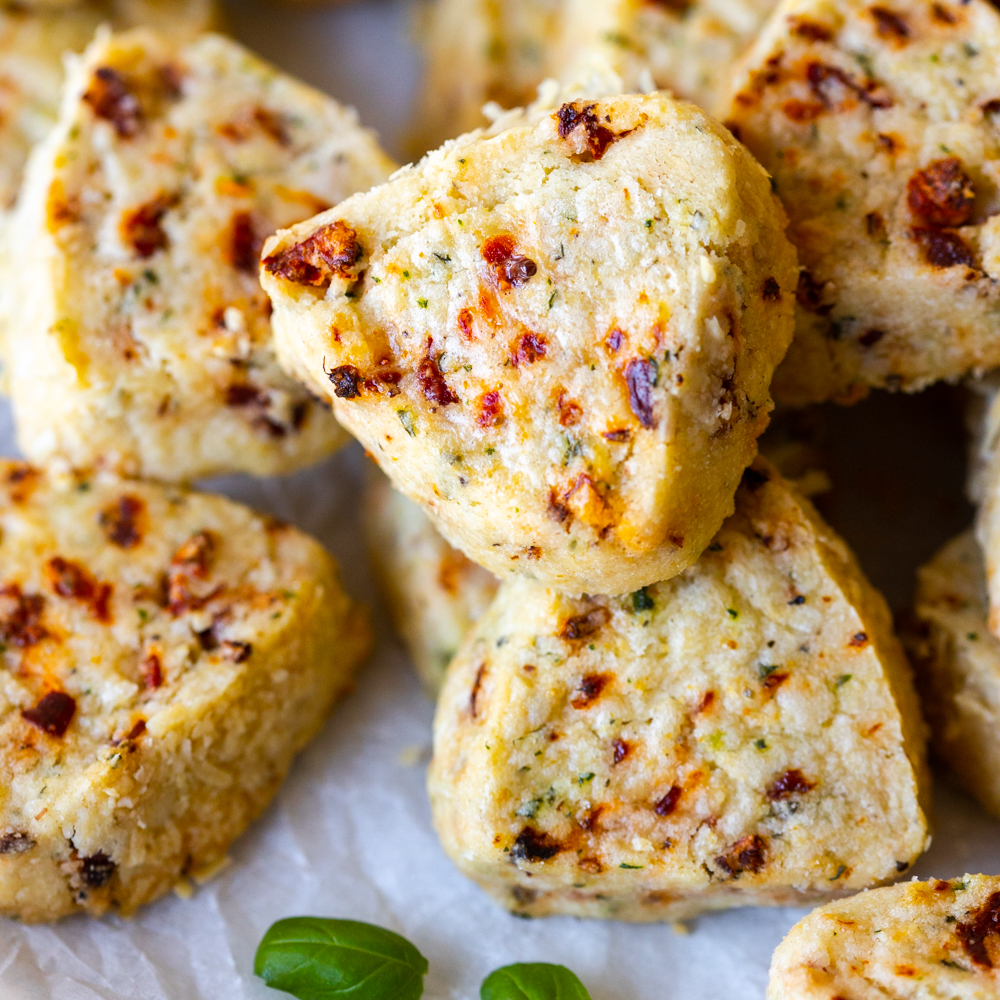 Are they cookies? Biscuits? Maybe crackers? Possibly pizza? Yes. They could be any of the above. But really the best name for these triangular flavor bombs is Shortbread Pizza Bites. These little niblets of snackability deliver sensational pizza flavor in every bite sized pyramid.
There is a jingle you may remember from the 90s that goes a little something like this "pizza in the morning, pizza in the evening, pizza at supper time...". It's actually embarrassing how often I sing the Bagel Bites commercial to myself but something like that just sticks with you. *Warning, if you click that link, you are likely to get sucked into a 90s commercial wormhole for the better part of your day.
These Shortbread Pizza Bites have me proudly belting out those lyrics in a nonstop loop every time I bite into one. Because, with pizza in a bite, you can have pizza anytime. Why do I suddenly feel like my next recipe on the blog will be pizza bagels? Who's in for that? ??‍♀️??
Savory loves a touch of sweetness.
These Shortbread Pizza Bites aren't focused on the sweetness like typical cookies but they do look like a cookie and quack a wholelot like a cookie. However, these bites lean deep into the savory sphere. I am a big believer in the power of balancing flavors with the opposite sides of the spectrum so these pizza flavored cookies have a kiss of sugar to enhance the savoriness. There are only 2 tablespoons of sugar in the dough, just enough to give them structure and provide an ever so slight snap to the bite. So the sweetness does play a key, yet understated role in the experience.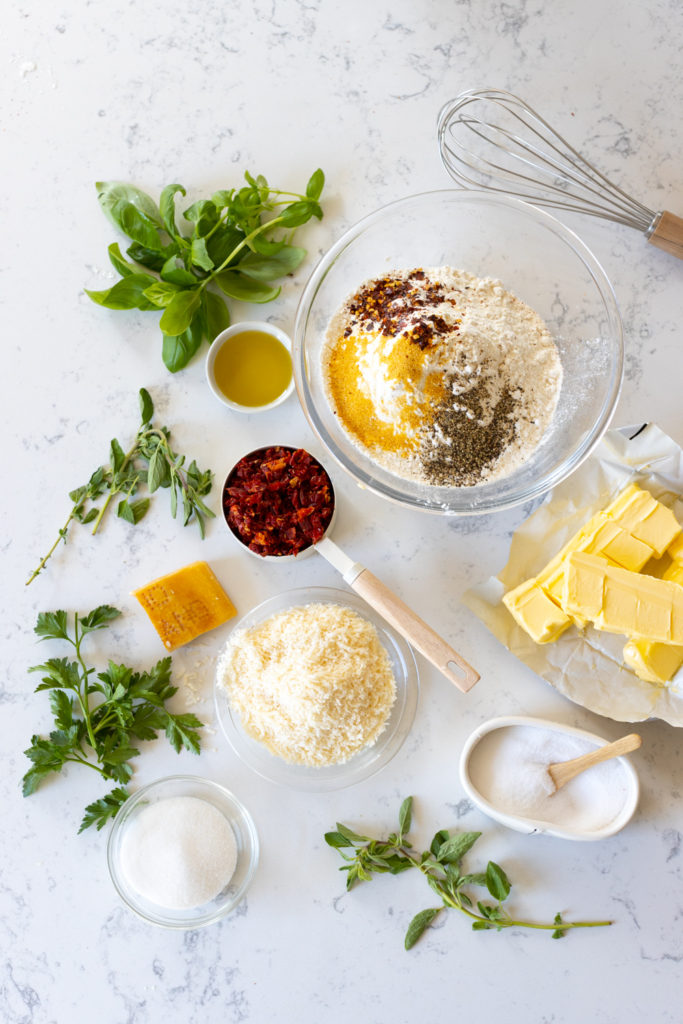 These Shortbread Pizza Bites are loaded with big time pizza flavors!
Parmesan Cheese - I mean, what is pizza without cheese? Parm packs a salty and savory punch.
Sun Dried Tomatoes - The tart and earthy flavor brings the pizza sauce essence without weighing the cookies down.
Fresh Herbs - I use a mix of Italian inspired oregano, basil and parsley. But feel free to bring in some marjoram, thyme or whatever herbs you like.
Garlic Powder - This really cements the savory flavor and rounds things out.
Pepper - Both freshly ground black pepper and crushed red pepper flakes give these biscuits a spicy bite!
Butter & Olive Oil - I know, butter doesn't come to mind when you think pizza but it's imperative to the structure of the bites. A splash of olive oil brings some earthy Italian flair.
There is nothing more satisfying to bake than an easy slice and bake shortbread cookie so I started with my OG Lemon Poppy Seed Shortbread Cookies recipe. Then I riffed away with dozens of different versions until I finally landed on the Shortbread Pizza Bites recipe I am sharing here! It was a rigorous process and my test kitchen was buried in pizza bites for days. It's a tough job tasting pizza bites all week, but I am happy to take on the burden.
To really drive home the pizza vibe, I rolled these bites into a log and then shaped that log into a pyramid. One edge of the pyramid gets encrusted with parmesan before the log is sliced into individual bite sized pizza triangles. Each bite looks like a mini slice of pizza, covered in toppings and coated with a bubbly edge of baked parmesan crust. Pizza never looked cuter.
You can have Shortbread Pizza Bites anytime.
So when exactly do you bust out the Shortbread Pizza Bites? Well, as the song says, "you can have pizza anytime!" These savory flavor bombs are an awesome after school snack and they will cover all of your late night cravings. If you're feeling sophisticated, bake up a batch to take your snack board spreads to new levels. A pile of Shortbread Pizza Bites will jazz up your boards with interesting flavors. And, the unique triangle shape with the speckled bits of Italian inspired ingredients will add intrigue to a basic board. They pair perfectly with brine-y olives and a crisp bottle of bubbles. I can personally attest to this stand out combo.
They may be small but each snacky bite packs a party. So go ahead, turn any occasion into a celebration with my Shortbread Pizza Bites! Might I suggest a youtube binge of commercials from the 90s. I'll bring the bubbles. ?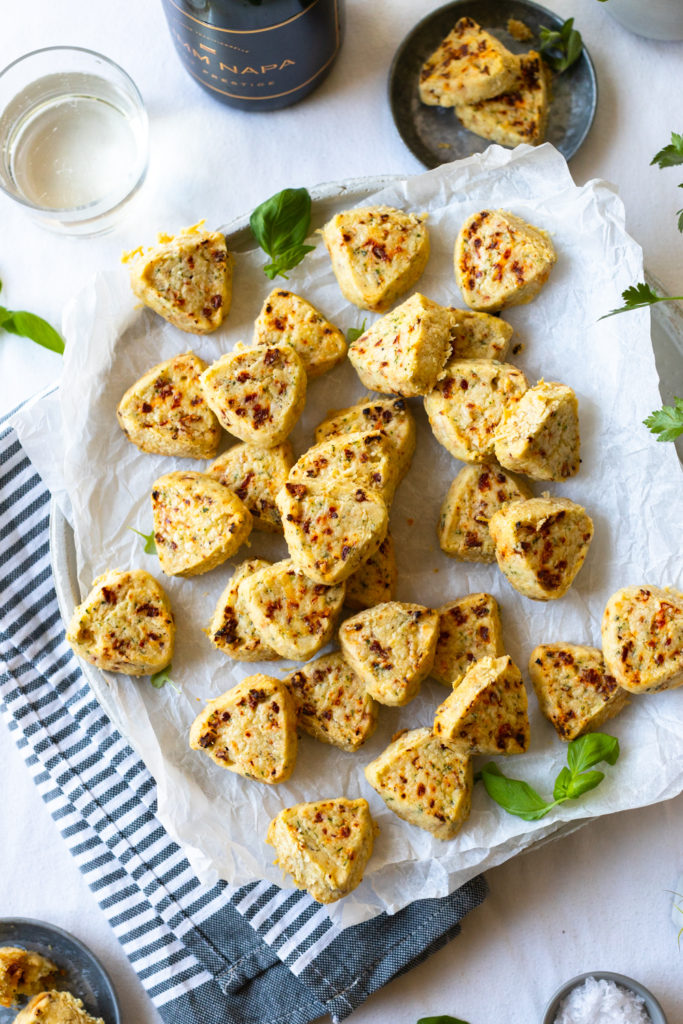 Print
📖 Recipe
Shortbread Pizza Bites
---
Description
Fresh herbs, sun dried tomatoes, garlic, red pepper flakes & parmesan cheese deliver sensational snackability in these savory Shortbread Pizza Bites.
---
2

cups

all purpose flour

1 ¼

cups

parmesan cheese, divided (- finely grated)

½

cup

sun dried tomatoes (dehydrated in a bag, not oil packed) (- finely chopped)

2 teaspoons

fresh oregano (- finely chopped)

2 teaspoons

fresh basil (- finely chopped)

2 teaspoons

fresh parsley

1 teaspoon

fine sea salt

¾ teaspoon

garlic powder

½ teaspoon

crushed red pepper flakes ((optional))

½ teaspoon

ground black pepper

1

cup

unsalted butter (- softened)

2 tablespoons

granulated sugar

1 tablespoon

olive oil

1

large egg
---
Instructions
Measure the flour, 1 cup of the grated parmesan (refrigerate remaining ¼ cup until you're ready to slice and bake), sun dried tomatoes, finely chopped herbs, salt, garlic powder, red pepper flakes and ground pepper into a mixing bowl and whisk together.
With the paddle attachment on a stand mixer, cream the butter, olive oil and sugar together on medium high speed for about 3-5 minutes, until fluffy.
With the mixer on a low stir, slowly add the dry ingredients and mix until just incorporated.
Turn out the dough onto a clean, lightly floured surface. Gather the dough together into a disk by gently patting, not kneading the dough. Tat to flatten the top. Once you have a round disk shape, use a knife or a bench knife to cut directly in half and set aside.
Use your hands to gather one of the dough halves into a rough log shape, then roll into a smooth log until it is about 1 1⁄2" in diameter.
Transfer the dough log to a sheet of parchment paper. To shape into the triangle, use your hands to gentle press the dough together into a peak along the top. Pinch the dough together at the top to create a point, and squeeze the sides between your hands to encourage the dough into a triangular shaped log. Rotate the dough log ⅓ of a turn and repeat the process. Keep rotating and squeezing the log until you have a 3 sided, triangular log.
Once you are happy with the triangle shape, place the log centered along the long edge of a sheet of parchment paper. Flip the dough triangle towards the the bottom edge, one side at a time to wrap the dough log entirely in the parchment sheet.
Then twist each end of the paper into pigtails in opposite directions (one towards you and one away from you) to form a locking mechanism. Smooth out the sides with your hands. Repeat with second dough.
Refrigerate the dough for at least 1 hour. This allows the dough to set up and hold its shape nicely when slicing and baking. *You can also freeze the dough at this point. Just remember to defrost it overnight in the fridge or at room temperature for about an hour before slicing and baking.
Preheat oven to 325° F. Make the egg wash by whisking the egg with 1 tablespoon of water.
Remove dough logs from the fridge and unroll on a cutting board. Brush the edges of the pyramid dough logs with the egg wash. Sprinkle remaining ¼ cup of grated parmesan along the length of one edge of the triangular dough log. Turn the log so one edge nestles on top of the sprinkled cheese, coating one edge in cheese. Gently press into the cheese to stick.
Using a sharp knife, slice the log into 1⁄2" thick cookies. You should get about 16-20 cookies per log. Arrange them on a Silpat mat or parchment paper lined baking sheet with at least 1 inch between each cookie. Lightly brush the tops with egg wash for an eggshell finish.
Bake for 18-20 minutes, rotating the pans halfway through the bake. They should come out with a golden edges and be firm to the touch.
Allow to cool either right on the trays or on a cooling rack.
Notes
*Store in an airtight container at room temperature up to 1 week.
*Dough can be refrigerated for up to 3 days or frozen for a couple of months. When baking from frozen, allow the dough to defrost overnight in the fridge or at room temperature for about an hour before slicing and baking.
Prep Time:

20 minutes

Cook Time:

20 minutes