What happens when you bring 5 Food Blogger / Lifestyle bloggers together for dinner? Magic. Dreamy, color coordinated, delicious magic. I know what you're thinking, that's what life looks like through an Instagram filter. But here's the thing, this is what life looks like somewhere between the sunset on summer and the head rush of the holidays. There is a little window of slow magic that happens every year but if you blink you might miss it. If you're able to embrace the moment with style and grace, there is no filter needed. This brief period brings bright crisp days, snuggly cold nights and a bounty of colorful beauty that seems to light the trees on fire from within. This is the time to take advantage, take a beat and take to the kitchen.
We couldn't let this magical moment pass without a celebration of the season, so my fave Santa Barbara blogger babes and I decided to gather together for a Fall Harvest Feast at our favorite local winery, Folded Hills. Together we to cooked up our dream dinner on the idyllic property nestled in the folding hills of Santa Barbara wine country. Surrounded by vineyards, pastures and the spunkiest little heritage pigs, majestic Clydesdales and elegant peacocks imaginable. This is my happy place. 
Viktoria of FOLD outfitted our table with her handmade, textural autumn-toned linens and that set the mood for the entire tablescape. Little known fact, Viktoria sells and rents her lovingly made linens through her website foldsantabarbara.com. Inspired by the linens, we all combined our serving ware, props and table styling techniques to create a bountiful backdrop for the harvest spread.
My experience/obsession with grazing boards came in handy for the appetizer course combining sharp cave aged Cheddar
, creamy Syrah soaked Toscano
and a wheel of hand brûléed Brie cheese
topped with candied pecans
, served with briny Castelvetrano olives
, chianti salami
, pistachios
, dried apricots
and bread from my favorite local bakery Oat Bakery. Cheese dreams really do come true, people.
Hana-Lee of the Santa Barbara-based wine and travel blog, Wander and Wine tossed together an autumnal salad loaded with seasonal Roasted Squash Salad with Warm Cider Vinaigrette and expertly paired each course with a lovely bottle of Folded Hills wine. Get her salad recipe and read about her pairings here.
Denisse, the super talented blogger and photographer behind Le Petit Chef baked up a show-stopping Root Vegetable Gratin that had me going back for seconds and maybe thirds.
Robin, the powerhouse blogger babe behind Cali Girl Cooking cooked up a stunning Red Wine Roast Chicken with Grapes and Herbs roasted to perfection with sumptuous grapes, loads of fresh herbs and earthy shallots. Have you ever seen a chicken look prettier?
And you know I can't be part of a fall gathering without packing in the pie, so I baked up a Spiced Up Grape Apple Pie to honor the fall and wine harvest inspiration. The juicy grapes burst with flavors of mulled wine in every bite.
A huge thanks to our pals at Folded Hills Winery for letting us take over their property for the day to enjoy this Fall Harvest Feast. Thanks to Tory of Folded Hills for her gracious help in organizing this perfect day and for being such a joy to hang out with and work with.
Big ups to our photographer for this Fall Harvest Feast - the uber-talented Silas Fallstich of fullframefoto.us.  Thanks for making our set up and us look good!
This Spiced Up Grape Apple Pie may sound a little different. We all have our go-to apple pie recipe but grapes? In pie? I for one had never had grape pie before. But, grape pie is indeed a thing and so is grape apple pie, aka grapple pie. Grapes can be so much more if we just give them a chance, and I'm not talking raisins. Roasting or baking grapes deepens the flavor and gives them an alluring complexity and texture. When baked with crisp and tart Granny Smith apples, they burst with character.
This Spiced Up Grape Apple Pie has a multifaceted flavor and texture situation happening that comes from the unexpected combo of the fruits combined with the brightness from orange zest and warming spices like cinnamon, ginger and a pinch of cloves
. The spices bake together with the lush, deep purple grapes and tart green apples into a warm filling with seasonal flavors reminiscent of mulled wine
. All of that gets baked between the flaky layers of my all butter vodka pie dough which creates the flakiest, most tender crust imaginable. Feeling fully inspired by the wine harvest season, I topped the pie with a weaved, leafy
crust and a cute little cluster of tender pie crust grapes.
Concord grape pies are popular on the East Coast but we don't often see Concord grapes out west so I went with a seedless Thomcord grape variety in this Spiced Up Grape Apple Pie. I used seedless Thomcord grapes from Trader Joe's but really any seedless red grape should work in this Spiced Up Grape Apple Pie.
I know we've all got our favorite apple pie recipes, my go-to is my famous Apple Cheddar Pie. I encourage you to try something new and unexpected this season, perhaps this Spiced Up Grape Apple Pie. This magical time of year deserves to be celebrated, and what better way than gathering your friends for a bountiful Fall Harvest Feast that's slowly savored and ends with a handmade Spiced Up Grape Apple Pie?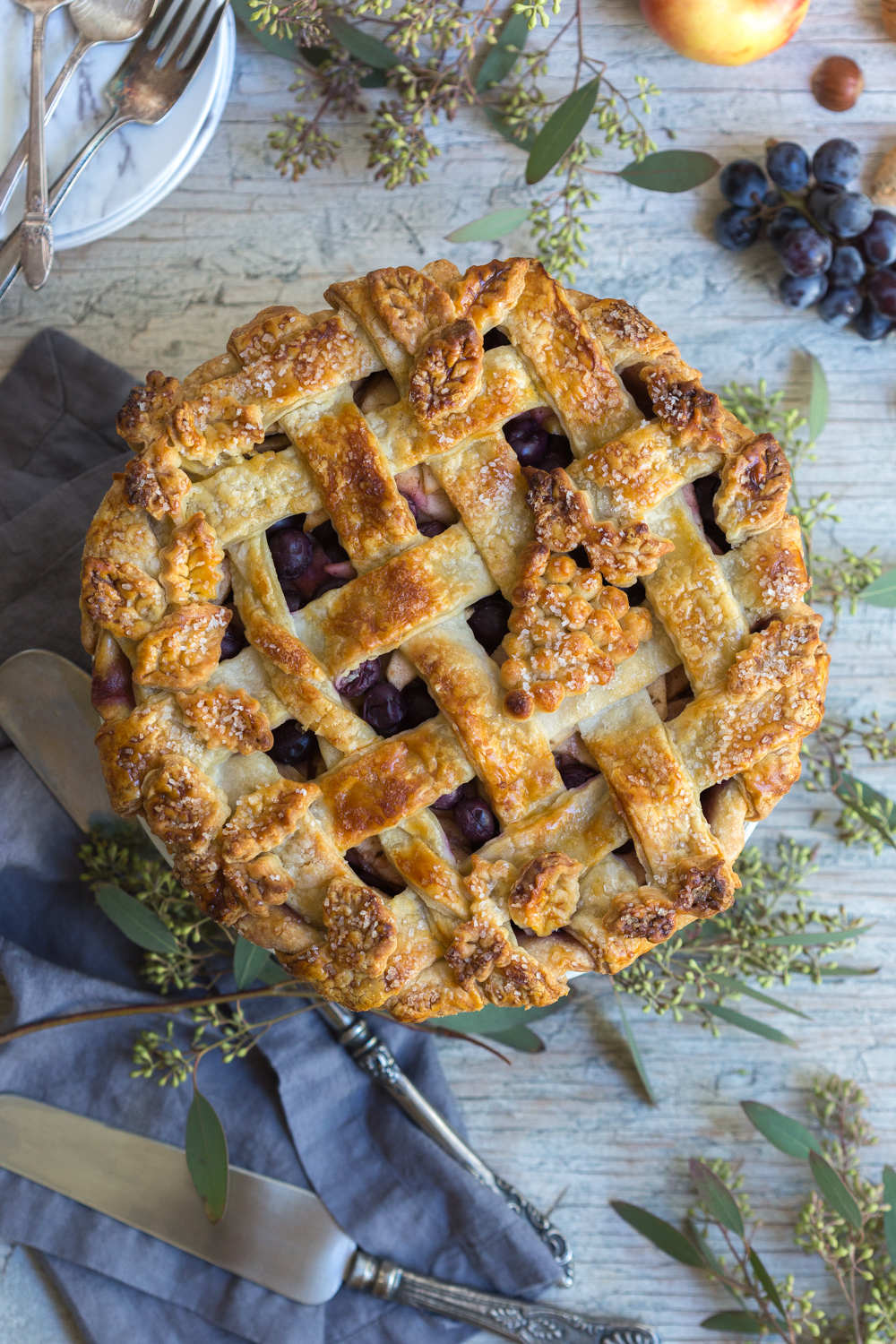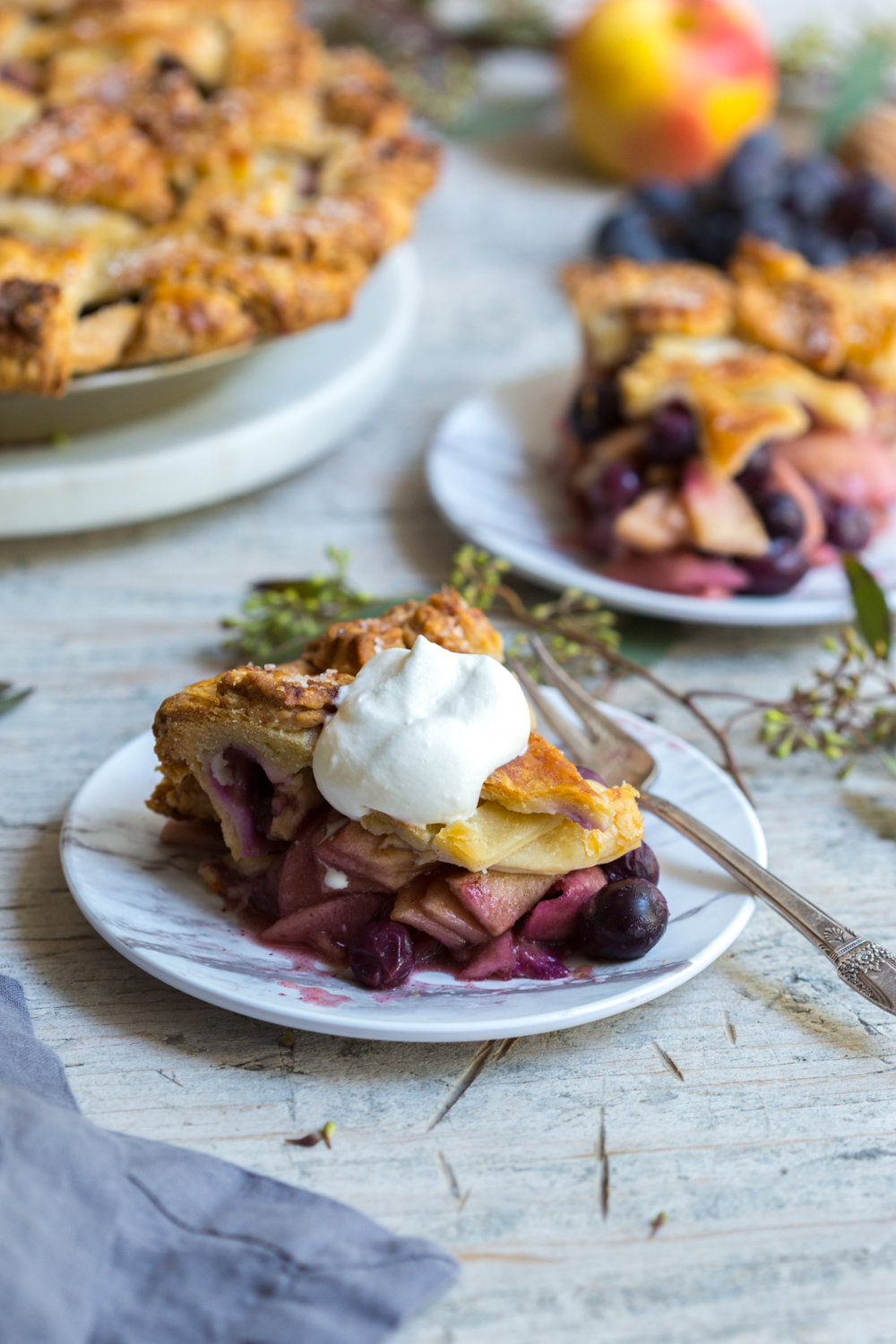 Print
📖 Recipe
Spiced Up Grape Apple Pie
---
Description
Tart apples and sweet grapes burst with flavor when baked with zesty orange and warming spices inside a flaky all butter pie crust, evoking flavors reminiscent of mulled wine. The perfect pie for a fall feast.
---
2

disks all butter vodka pie dough or favorite pie dough (-see recipe notes)

4

-

5

Granny Smith apples (about

2

lbs.)

3

cups

Thomcord or other seedless red grape (about 1 lbs.)

1

medium navel orange (zested & juiced)

¾

cup

granulated sugar

2 teaspoons

ground cinnamon

1 teaspoons

ground ginger

½ teaspoon

ground cloves

2 tablespoons

tapioca starch (or cornstarch)

2 tablespoons

cold butter (cut into ¼" cubes)
---
Instructions
You will need 2 disks of prepared pie dough, you can't go wrong with my All Butter Vodka Dough Recipe. (This recipe makes 2 disks).
If the dough is frozen, allow to thaw in the refrigerator overnight. Remove the dough disks from refrigerator and let it warm up for 10-15 minutes. Roll out the first disk onto a lightly floured surface about 11" round and ⅛" thick.
Gently transfer the rolled dough into a 9" pan, leaving a 1"-2" overhang all the way around. Trim the edges and gather the scraps together, wrap scraps in plastic wrap and store in the fridge.
Tuck the edge underneath itself to form a ring around the edge of the pie plate.
Place the pie shell a lined baking sheet in the fridge and chill while you prepare the topping and filling.
Roll the second dough disk into a round shape ¼" - ⅛" thick. Using a straight edge and a pizza cutter or small knife, cut the dough into 1" - 1 ½" wide strips. Transfer to a lined baking sheet.
Gather the scraps together and cut out leaf shapes or make a little grape cluster if you'd like. Place on the lined baking sheet with the strips and chill while you prepare the filling.
*If the dough is getting too soft, chill in the fridge for a few minutes to firm back up.
Peel and core the apples, then cut into ⅛"- ¼" slices. Place in a large mixing bowl and toss with grapes, orange zest & juice, sugar and spices. Set aside for at least 15 minutes so the juices begin to release from the fruit.
In a small bowl, stir the tapioca starch together with a few tablespoons of the fruit juices to form a slurry. This will help thicken the filling so you don't end up with a soggy bottom pie. Then toss the slurry with the fruit.
Spoon the spiced up grape apple pie filling into the bottom shell, forming a mound that is taller in the center of the pie. Then dot the top with ¼" butter bits.
Arrange half of the dough strips horizontally over the filling, evenly spaced out. Use the longer strips in the center and the shorter strips towards the edge.
Gently fold back every other strip just past the center and lay another long strip across the pie, perpendicular to the horizontal strips. Unfold the strips to their original position, back over the top of the perpendicular strip.
Going in the same direction, fold back the strips that weren't folded back the first round, lay another perpendicular strip on top, them fold them back to their original positions.
Repeat the process on the other side of the pie. Be sure you are alternating the strips that are folded back so that they weave in and out, over and under.
Trim away any extra long edges. Tuck the edge underneath itself to form a ring around the edge of the pie dish. Flute the edges by pinching the dough between your thumb and pointer finger on one hand and your pointer finger knuckle on the other.
If you have extra pie dough, re-roll to create more leaves and arrange the leaves and grape cluster on top of the weave in any pattern your heart desires.
You can bake right away but I highly recommend freezing the pie whole to retain the shape. I like to freeze for at least 1 hour before baking but if you can't at least freeze the pie while the oven preheats.
Preheat the oven to 400° F.
Place the pie on a lined baking sheet. Just before baking, whisk the egg until blended. Gently brush the top and fluted edges of the pie with the egg wash. Sprinkle with sparkling or turbinado sugar.
Bake at 400° for 20 minutes, then lower the temperature to 350° and bake for another 30-45 minutes, rotating the pan halfway through. Bake until the filling is bubbly and the crust turns a deep golden color, you may need to cover the edges and or/tent the pie to keep from over-browning.
*if baking a frozen pie, it may take an additional 10-25 minutes to bake thoroughly. You can test to see if it's ready by inserting a toothpick or skewer, if the apples feel soft, it's ready. If they are still pretty firm, keep baking until the apples are soft.
Allow to cool on a rack for at least 1-2 hours before cutting, I know it's hard.

Slice and serve with fresh whipped cream or a scoop of vanilla ice cream.
Prep Time:

1 hour

Cook Time:

1 hour

Category:

Dessert
Keywords: Spiced Up Grape Apple Pie